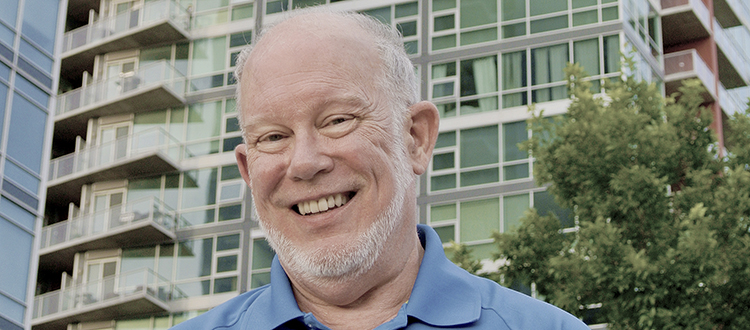 Beltline Communities president Rob Taylor says the popular area outside of downtown continues to focus on creating a vibrant community with high-density, urban living at its best. Photo courtesy Rob Taylor.
April 15, 2016 | Kathleen Renne
An urbanist's paradise
Evolution of Beltline area only the beginning, say advocates
True urban living: that's how Beltline Communities president Rob Taylor describes the resident experience just south of downtown.
Taylor has seen Calgary's Beltline district – bounded by the CPR tracks on the north, 17th Avenue to the south, 14th Street to the west and the Elbow River in the east – evolve extensively since he first moved into West Connaught in 1983. (The Beltline is made up of four neighbourhoods: West Connaught, Connaught Centre, Victoria Centre and East Victoria.)
"There has been a tremendous amount of development in the Beltline. We're very much focused on creating a vibrant community with high-density, urban living."
"When the Beltline community district was formed in 2003, the Beltline was still considered 'the other side of the tracks,'" said Taylor.
Since 2004, Taylor estimates around 14,000 residential units and more than two million square feet of commercial space have been added to the area.
"We've become a mainstream urban district nationally," he said.
Vancouver-based Qualex-Landmark is an early investor in the Beltline, having completed five residential condo towers in the district since 2002. The company is currently selling Park Point, its sixth residential condo tower in the Beltline.
"We have observed over the last 14 years that the Beltline has gone through a significant transformation in the way of high-density, residential development and infrastructure improvements," said Qualex-Landmark vice-president of planning and marketing Parham Mahboubi.
"These are some of the reasons why the Beltline is a highly liveable urban community and still has tremendous growth potential."
"There's still a massive amount of vacant land. We could still see the population of the Beltline double, particularly north of 11th and 12th Avenues."
Taylor said the Beltline has undergone something of an evolution: as more people have moved into the area, the district has improved and, in turn, continues to attract even more residents.
And while the 2014 Calgary Census puts the Beltline's population at 21,357 people, Taylor believes the area still has room for an ever-expanding population.
"There's still a massive amount of vacant land. We could still see the population of the Beltline double, particularly north of 11th and 12th Avenues," he said.
Despite the recent growth, Taylor said the composition of its residents has virtually stayed the same. According to the last civic census in 2014, 87 per cent of Beltline residents are between 20 and 64, with only six per cent above 65 years old
"The urban demographic is stable. People may come and go, but the demographic remains essentially the same," he said.
"There have always been two large bulks of people in the Beltline: young professionals in their mid-20s to late-30s and a very substantial belt of retirees and empty nesters.
Mahboubi added buyers in Qualex-Landmark's Beltline-area condo towers come from a wide demographic spread.
"Our buyers include young, first-time homebuyers, move-up buyers, downsizers, retirees, investors and even some families. The majority of these buyers are between 25-55 and are professionals," he said.
One change Mahboubi has noticed, however, is, "in some of our earlier projects, we experienced a higher ratio of investors to end users. Our most recent project, Park Point, has seen a shift to end users."
Mahboubi added the company has also observed a large proportion of its homebuyers come from within the Beltline.
Taylor said this reflects how the area has changed from a transient community to one in which people are staying for longer periods of time.
"I run into more and more committed urban dwellers who want to stay in the area, even when they have kids," he said.
With all the recent growth in the Beltline, Taylor said the area is turning its attention to infrastructure, including adding new parks, improving streets and continued residential development.
"People are still investing in the Beltline, but there's a shift toward major national developers and discretionary rental properties," said Taylor.
Cidex Group of Companies and Wexford Developments, for example, recently completed The Arch, a luxury rental tower at 1115 Ninth St. S.W. Grosvenor Ltd. also recently acquired a lot at 1405 Fourth St. S.W. for a mixed-use residential development.
"We are only seeing the beginning of how great the community is and can become," said Mahboubi.
Tagged: Beltline | Calgary Real Estate News | Calgary Community | Calgary Real Estate | communities | densification | Density | Feature | Homeowners | neighbourhoods | Qualex-Landmark | urban living | YYCRE
---
---
Connect With Us