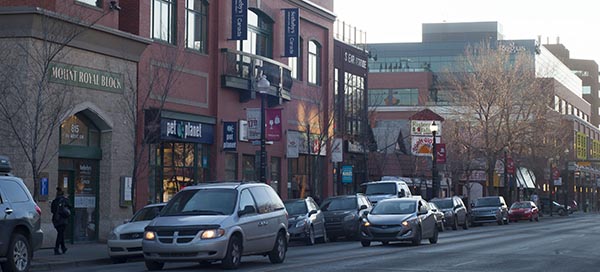 Inglewood was named the Greatest Neighbourhood in Canada in 2015 by Great Places in Canada. CREB®Now file photo
Jan. 20, 2017 | CREBNow
The 'In' crowd
Inner-city communities offering residents plenty to get excited about
From the historic streets of Inglewood to the shopping district along 17th Avenue, Calgary's inner city represents an eclectic and ever-changing mix of stories, style and substance. After all, these are areas where 100-year-old brick buildings seamlessly interchange with high-rise construction cranes.
Yet for those who live in Calgary`s inner city, it isn't just their surroundings and amenities that make it special. It's the people.
"Sure we have our night markets, Christmas celebrations and kitschy shops, but what makes Ramsay and Inglewood an exceptional place to live are the people," said local resident Natalia Jezierska.
"I think that's what makes Ramsay an excellent place to live. You can have the owner of a $2-million house sitting right next to someone on the bus living in assisted housing and they don't treat each other any differently."
Inglewood was named the Greatest Neighbourhood in Canada in 2015 by Great Places in Canada, further instilling its place as a sought after destination for those looking for a place to call home.
In 2016, Calgary followed with St. Patrick's Island winning Great Public Space.
The competition included 32 nominations and more than 14,500 votes from Canadians across the country over a seven-month period.
To the east of downtown, East Village is nearing completion as Calgary's newest, and oldest, community. Group Germain and Homes by Avi began construction of a $40-million co-developed hospitality project in November. Meanwhile, construction continues on the new Central Library. And the curtain was finally dropped earlier this year to reveal the much-anticipated National Music Centre.
"The urban lifestyle is becoming increasingly attractive, with walkability and the convenience of access to amenities."
Calgary Municipal Land Corp. (CMLC) chairman Lyle Edwards, whose company is behind the community's development, noted CMLC is also looking at opportunities beyond East Village and working with the City to identify further areas.
"At the behest of the City, we have been studying projects like the West Village, 17th Avenue International Avenue and transit-oriented development to identify where we can lend our support to their plans," he said.
Since 2007, the CMLC has worked to revitalize the East Village. A similar revitalization is imagined for Calgary's West Village, the area bounded to the north by the Bow River, to the east by 11th Street S.W., to the south by the CPR railway tracks and to the west by Crowchild Trail.
City planners have said West Village was a long-term notion considering there is still build-out opportunities in the Beltline and East Village. Yet Edwards noted that's fast changing, especially as the East Village nears completion and several new projects in the Beltline, such as Park Point by Qualex-Landmark Group at 11th Avenue and 12th Street S.W., eat up existing inner city space.
"The urban lifestyle is becoming increasingly attractive, with walkability and the convenience of access to amenities," said Mohammed Esfahani, president of Qualex-Landmark. "We are achieving success by tapping into the growing trend of new urbanism as an increasing number of Albertans opt for downtown living."
Tagged: 17th Avenue | Calgary Community | calgary munipal land corp. | Calgary Real Estate | Calgary Real Estate News | Central Library | CMLC | Downtown | East Village | Group Germain | Inglewood | Inner City | National Music Centre | park point | Qualex-Landmark | Ramsay | walkability | West Village | YYCRE
---
---
Connect With Us