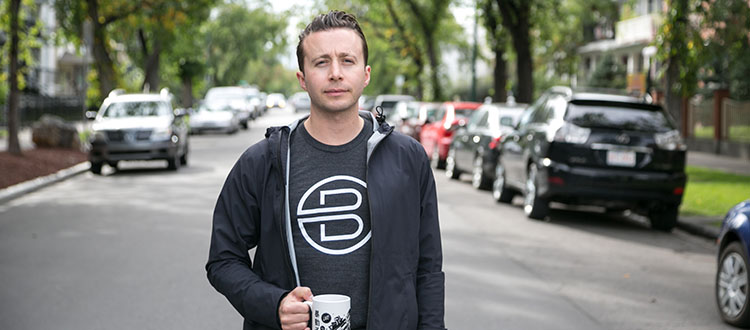 Peter Oliver, president of the newly established Beltline Neighbourhoods Association, said the area's walkability has fostered a stronger sense of community. Photo by Michelle Hofer/for CREB®Now
Sept. 07, 2016 | Alex Frazer Harrison
Pushing the parking optional concept
Builders believe buyers will eventually see benefits of sans auto
Condo buyers in Calgary's Beltline will soon see vehicle ownership as a peripheral requirement, but it will still take some time for the current mindset to change, says a developer who brought the notion of "parking optional" to Calgary.
The Beltline – which stretches from 14th Street S.W. to the Elbow River and the rail tracks south to 17th Avenue, plus the Stampede Grounds – is one of Calgary's hottest and most densified communities. And many new condo buildings, first planned several years ago, are just now starting to spring up despite the downturn.
Although the N3 development in East Village received plenty of press recently for not including parking, it was Toronto-based Lamb Development Corp.'s 6th and Tenth project in the Beltline that first brought the concept to Calgary, said president and CEO Brad Lamb.
"When we first bought the land, we floated the idea of the one-bedroom (suites) not getting parking ... we fought a little with the City about that," said Lamb, adding that providing at least some parking required digging the deepest residential garage in Calgary.
"It was a hugely expensive thing. Even then, we said if you're buying a 518-square-foot, one-bedroom below the 18th floor, you can't have parking. Once we did it, the next two or three projects (in the Beltline) started offering parking as optional on smaller units."
The Beltline's close proximity to downtown makes having a vehicle optional for many who can get around fine either by foot, transit (the established LRT passes through on the east and the current Green Line plan calls for the future north-southeast track to run down part of 10th Avenue), or taking the ever-expanding cycle track network.
For Calgarians who do have occasional auto needs there's also the option to rent a vehicle or sign out out a Car2Go, said Lamb.
The challenge is, "buyers want parking; investors don't care," he added. "I don't think you'll be successful in a large scale in Calgary without offering parking to some of the apartments ... (but) people will come to terms with the idea."
Park Point near Central Memorial Park, built by Vancouver's Qualex-Landmark, is another development where parking stalls are optional in some cases.
"We do sell certain plans or groups of units without the option of having a parking stall due to limited parking," said Jordan Beach, vice-president of sales and service.
"These typically sell to the younger demographic or those who don't consider a car to be a necessity with all the amenities within walking distance."
That said, Beach confirms "parking is indeed a selling feature, especially with the mid-age to older demographic."
Going sans parking can save on purchase costs. Beach noted stalls are usually valued between $30,000 and $40,000.
For now, Lamb said, it's still a gradual process getting Calgarians used to a parking-optional home. His latest Beltline project, The Orchard, is a two-phase tower north of the Stampede Grounds that will have sufficient parking for its more than 400 suites (construction is set to begin next year).
Peter Oliver, president of the newly established Beltline Neighbourhoods Association, has lived in the area since 2003, and praises the idea of optional parking.
"Calgary is a very vehicle-dependent city and people come here and appreciate it because it doesn't require a car (to live here)," he says. "It's often quicker to get somewhere by foot or bike."
The cycle track system is seen as a commuter service, but Oliver added it's invaluable for Beltline residents crossing the neighbourhood. And the new Green Line, "has the potential to reach through the centre of the Beltline and give LRT access within a couple blocks of the neighbourhoods."
Being so walkable, Oliver said, has given Beltline "a strong sense of community. It's become less of a transient neighbourhood and more of a long-term choice for more and more people."
Tagged: Beltline | Beltlline Neighbourhoods Association | Brad Lamb | Calgary Real Estate | Calgary Real Estate News | Feature | Knightsbridge Homes | LRT | N3 | Parking | Peter Oliver | Qualex-Landmark | The Orchard | walkability | YYCRE
---
---
Connect With Us