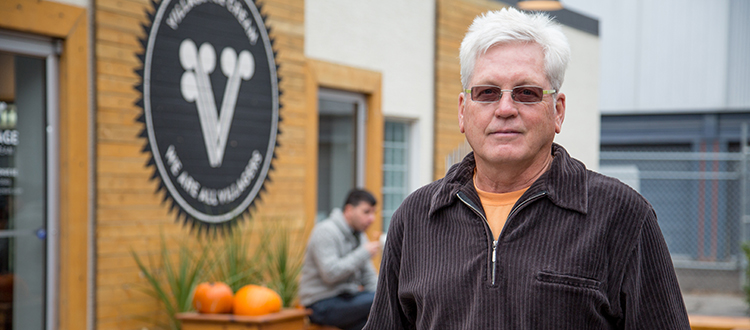 Calgary's northwest inner-city communities are becoming much more urban and desirable, says Richard White, author of the popular blog Everyday Tourist. Photo by Michelle Hofer/For CREB®Niow.
March 30, 2016 | Kathleen Renne
The next big thing
Where will Calgary's newest hot spot emerge?
People are always on the lookout for the next big thing, and that search extends to the world of real estate.
When it comes to reading the proverbial crystal ball as to which community will emerge as Calgary's next inner-city hot spot, the author of the blog The Everyday Tourist, Richard White, suggests one look north.
"The northwest inner-city communities are becoming much more urban and desirable," says White, explaining the growth of these communities has coincided with the relatively recent expansion of facilities like the Alberta Children's Hospital, the Foothills Medical Centre, SAIT and the University of Calgary campus.
"My observation has always been that the southwest is the bedroom for the oil patch...What happens in the northwest revolves much more around the hospital, the university and SAIT," White explains, identifying Montgomery, Mount Pleasant, Renfrew and Sunalta (which is actually in the southwest and is home to a new LRT station) as inner-city communities on the cusp of becoming hot spots.
White says, in general, the northern side of Calgary's inner city is well-suited to families like similar communities in the south.
"As soon as you get across the river, single-family homes dominate. Families are moving back into the inner city because there are new houses with the amenities families want," White explains.
There are, of course, varying criteria one can assess when determining if a community is emerging on the inner-city scene. White says the main factor he considers is new infill development, as well as which communities are holding their value, even in the face of the current economic downturn.
White says having a happening main street — as established inner-city hotspots like Kensington and Mission do — is also something to consider when determining which inner-city communities are growing in profile.
For Fairfield Commercial Real Estate's Michael Kehoe, a walkable eating and shopping strip is critical when identifying a hotspot.
"The walkability factor is the heart and soul of these districts. Merchants and restauranteurs create a vibrant street scene," he says.
One of White's picks for a community on the cusp, Montgomery, is already home to such an asset: it has its own main street along Bowness Road, as well as another commercial area along 16th Avenue.
"Montgomery is a very quirky place waiting to be discovered by hipsters," describes White.
Kehoe is also cautiously optimistic about Montgomery's future.
"Montgomery has always been the next big thing but, so far, it's never happened," he says.
However, he adds, as of 2011, Montgomery became home to Calgary's newest Business Revitalization Zone (BRZ). As such, Kehoe says, "the merchant citizens in Montgomery are motivated to make Montgomery a more interesting place," with businesses such as the trendy NOtaBLE Restaurant leading the way in introducing an upscale presence in the community.
"People have always said, 'Montgomery will have its day,' and that day may be closer than we think," Kehoe adds.
When it comes to another community, however, on White's list of emerging inner-city neighbourhoods, Mount Pleasant, Kehoe is somewhat in disagreement, evidence of the subjective nature of these definitions. Kehoe says
Mount Pleasant doesn't meet his criteria for a hot spot designation because it lacks a vibrant street scene. Instead, Kehoe points to his picks: East Village and International Avenue along 17th Avenue SE.
"With the growth of Chestermere and with all the people funneling along International Avenue, the future looks bright for that area. It's Calgary's last bastion of edgy culture," Kehoe says.
White says evolution is gradual in most of these inner-city communities that are on the cusp of becoming the next big thing. He references his own neighbourhood of West Hillhurst as an example.
"In West Hillhurst, only one-third of the housing stock has changed over in the last 20 years," he says, noting that urban-studies guru Jane Jacobs said healthy communities were divided into thirds, including an even division between low, medium and high housing price tags.
And this, White says, is what helps maintain one of the most important hallmarks of inner-city living: diversity.
"A healthy inner city doesn't mean that every community looks the same."
Tagged: brz | c-train | calgary homes | Calgary Real Estate | Calgary Real Estate News | communities | Fairfield Commercial Real Estate | Inner City | Kensington | LRT | Michael Kehoe | Mission | neighbourhoods | Residential | retail | Richard White | Uncategorized | YYCRE
---
---
Connect With Us