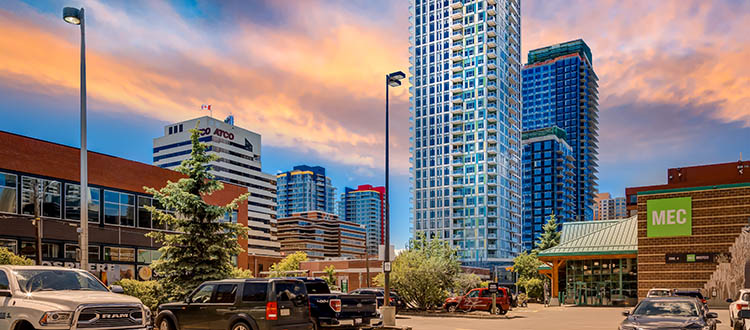 Outside of some developments in the Beltiline, cash-for-density fund established by the City is being underutilized by developers. Illustration courtesy of Qualex-Landmark.
Nov. 12, 2016 | Marty Hope
Let's make a deal
Industry spokesperson says construction fund largely going unused
Players in one of the city's most active multi-family construction areas have made limited use of a cash-for-density fund established by the City of Calgary, says a spokesperson for the industry.
While a number of projects have been brought forward related to the Beltline Community Investment Fund (BCIF), the CHBA-UDI Calgary Region Association, the umbrella organization for the builders and developers in and around Calgary, is scratching its head about why the fund hasn't been used more.
"We are attempting to answer the question regarding why more people in the industry have not submitted proposals to the BCIF committee," says Beverly Jarvis, director of policy, projects, and government relations for CHBA-UDI. "We would like to know if the issue is simply awareness, or something else."
Jarvis is the CHBA-UDI representative on the BCIF administrative committee, which is responsible for evaluating and approving applications to the fund.
Since 2006 when the fund was created, the City of Calgary has been collecting funds contributed by developers, and in return those developers have been allowed to build more densely within the Beltline. The Beltline area is located directly south of the CPR tracks at Ninth Avenue on the shoulder of the city core.
Jarvis says that while some developers are aware of and have used the fund, there are still those who have not taken advantage of its availability.
She adds that while CHBA-UDI continues to encourage its members to submit proposals and projects there is still room for more accessibility.
"But despite our efforts, I would not consider it (the fund and its benefits) well-known to developers," Jarvis says.
To date, the fund has contributed to projects that include underpass enhancements, signal-box wraps, and pedestrian transit way funding. But there are also opportunities for other projects like park improvements and buying land for future parks, streetscape trees and furniture, conceptual design studies, and consultancy services to support sustainable development within the community.
Projects valued at up to $75,000 can be approved by the administrative committee and can take about three months to process. More expensive projects must be approved by city council and must also be identified in the city's capital budget.
One developer taking the opportunity to increase density in its buildings is Qualex-Landmark, a Vancouver-based company with a long and successful history in the Beltline.
"The fund has provided us with the chance to increase density over what was originally permitted," says Parham Mahboubi, the company's vice-president of planning and marketing.
"It's a good tool, one that other developers who are not using it should consider — I know we will when we embark on future projects."
Qualex-Landmark has been changing the face of the Beltline since breaking ground for its first project in 2002. In that time it has built Stella, Nova, Luna, Calla, and Mark on 10th — which was presented with two CHBA-Alberta Awards of Excellence in Housing as the best multi-family development in the province and for the best apartment priced under $350,000.
Its newest tower, Park Point, is located across from Central Memorial Park and is currently under construction.
"There is no shortage of ideas that can transform good urban ideas into great ones."
Charron Ungar, president of Avi Urban, which develops multi-family projects in both the urban and suburban markets but is currently not active in the Beltline, says the funding idea has merit.
He also says that while he is familiar with the fund, the fact it is being under-utilized would suggest more effort is needed to get the word out.
"There is no shortage of ideas that can transform good urban ideas into great ones, and the fund can assist with that, then the fact it isn't being utilized effectively just short changes to community as a whole," he says.
Jarvis says attempts have been made to bring the BCIF program forward in meetings of the board, commercial and redevelopment committees, and continue to encourage them to submit projects or proposals.
Tagged: Avi Urban | Beltline | Calgary Real Estate | Calgary Real Estate News | charron ungar | chba-udi | City Council | core | developer | Downtown | pedestrian | Qualex-Landmark | transit | Uncategorized | YYCRE
---
---
Connect With Us