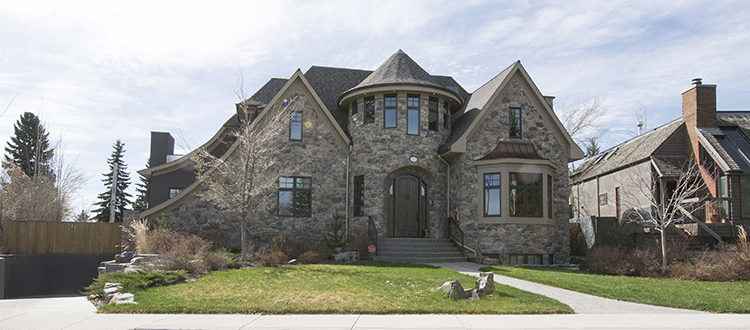 Pump Hill, which dates back to the 1960s, is a poster child for traditional luxury outside of the inner city, say experts. CREB®Now file photo.
March 08, 2016 | Kathleen Renne
The many faces of luxury
Beauty is in the eye of the beholder, say housing experts
The term "luxury" defies a single definition – especially when it comes to housing in Calgary, say experts.
"Luxury is specific to each individual, driven by their particular needs," said Kevin Mullen, president of the Empire Group of Companies, which has constructed dwellings in most of Calgary's upscale communities.
"If someone values the weekend lifestyle, then you might live in Springbank. If being proximate to the Glencoe Club is important, then you might choose Elbow Park. Those lifestyle decisions reflect into defining a luxury community."
Luxury also involves a balance between house and neighbourhood, added Oliver Brown of custom homebuilder Rusch Projects.
"If you bought a property in Mount Royal, and built something mediocre, the resale value wouldn't be there," he said.
Added Riverview Custom Homes president Christopher York: "True high-end luxury includes buying oversized parcels of land and building oversized homes. We are finding our clients are looking for 60-foot wide lots or greater, or are even amalgamating two adjoining parcels of land."
CREB®Now
takes a look at some of the wider definitions of luxury living in Calgary.
Inner-city luxury
In Calgary, Mount Royal and Bel-Aire have long defined inner-city luxury living, their prices buoyed by their proximity to the city's core. As of February, the benchmark price in these communities were $1.38 million and $1.6 million, respectively.
Historical precedent plays a part in determining one inner-city community as prestigious and another, pedestrian, said Mullen. Calgary's elite, for example, began settling Mount Royal in the early 20th century.
Mullen said another important defining feature between these two ends of the inner-city spectrum is lot size. Larger-than-average lots in Bel-Aire and Mount Royal can accommodate extravagant homes – standard fare including site-finished floors, custom kitchens, real stone and dramatic architecture – that are impossible in neighbouring communities.
A high entry price tag is another hallmark of inner-city luxury.
"People buy a house in Mount Royal for $1.5 million to $2 million just to tear it down," said Brown.
Traditional luxury
Pump Hill, which dates back to the 1960s, is a poster child for traditional luxury outside of the inner city, said Brown.
"It's a small community. There's limited inventory," he said.
And like a limited-edition handbag, limited availability often equates with luxury. In February, the community's benchmark price was $1.03 million.
Also, with no direct road through Pump Hill, "it feels closed off, which gives it a sense of exclusivity," added Brown.
Added York: "The beauty of Pump Hill lies in its large lots, large houses, and established green spaces. What was once a community that showcased traditional architecture, it has now transformed to include cutting-edge, modern designs.
New luxury
Luxury is not exclusive to Calgary's older communities. Mahogany in the city's southeast, for example, is challenging conventional notions of opulent living by relying on a tried-and-true tactic: build close to water.
"Without the lake and its amenities, it would be just another suburb," said Brown of the community's man-made lake.
What really moves Mahogany into the luxury stratosphere, however, is the opportunity for island living on one of its two islands, complete with private docks and beachfront access.
Approved by the Calgary Planning Commission in 2014, the two 22-home island developments by Hopewell Residential represent Calgary's sixth gated enclave, and the first since 2001. Others are in Windsor Park, McKenzie Lake, Patterson Heights, Discovery Ridge and Springbank Hill.
Condo luxury
While apartment-style condominiums can be thought of as the preserve of the young working class or retiree, they can also offer great luxury – particularly those found in Eau Claire and along 26th Avenue in Mission.
Brown said size and view often distinguish a luxury condo from a livable one.
Some condo units in these inner-city areas extend across entire floors and include amenities like private elevators.
And, of course, the higher you go, the better the view – another luxury staple, said Brown.
Acreage luxury
The concept of luxury acreage living is deeply intertwined with space, whether those acreages are in Bearspaw, Springbank or elsewhere.
"Some clients regard luxury as having wide open spaces and the freedom of not being surrounded by their peers," said York.
Brown said that freedom also extends to home design.
"There are some really big estate homes you wouldn't be able to do in the city because of the amount of land needed," he said.
It's also about community features. Okotoks Air Ranch, for example, offers a private airport, the first of its kind in Canada.
Brown said the desire for something unique is common among luxury homeowners, whether that be an indoor/outdoor bar, an ice rink, a golf simulator or a squash court.
York believes that as Calgary continues to grow, so will the City's list of luxury communities.
"Close proximity to a river and city views are sought after, and people will pay a premium for this land, as there is only so much available," he said citing communities on the cusp of luxury status such as Briar Hill, Parkhill and St. Andrews Heights.
Tagged: Bearspaw | bel-aire | Calgary Real Estate | Calgary Real Estate News | Condo | luxury | Mahogany | Mount Royal | pump hill | Springbank | Uncategorized | YYCRE
---
---
Connect With Us