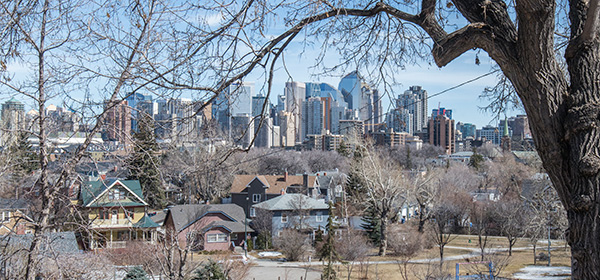 Jan. 22, 2016 | Cody Stuart
Five things about Calgary's commercial office market
By the numbers
With much of the news coming out of Calgary's commercial market negative, especially for many of those that once toiled away in one of the city's many office towers, the future of downtown Calgary is, in many ways, up in the air. Adding to the uncertainty are several new office towers set to be added to downtown Calgary in the coming months. CREB®Now looks at some of the numbers coming out of Calgary's evolving skyline.
16%
Inversely tied to the declining price of oil, the vacancy rate in Calgary's office market has increased from around six per cent in 2014 to a once unfathomable 18 per cent in 2016, according to commercial real estate firm Colliers International.
3.9 million
According to commercial real estate firm Avison Young, Calgary's downtown will see the addition of 3.9 million square feet of Class AA office space added in the next 24 months. As a result, projections have pegged the vacancy rate peak to hit as high as 21.7 per cent by the first quarter of 2018.
36,000
With the price of oil plummeting to below $30 US a barrel, layoffs in Alberta's oil and gas industry totalled more than 36,000 jobs in 2015, according to the Canadian Association of Petroleum Producers. Between the fourth quarter of 2014 and the fourth quarter of 2015, Calgary's unemployment rate increased from 4.7 per cent to 6.9 per cent.
-2.5 million
According to global commercial real estate firm Cushman & Wakefield, Calgary's office market recorded a record-breaking 2.5 million square feet of negative absorption through the end of the fourth quarter of 2015. Despite recording a modest positive absorption of 383,466 square feet in the fourth quarter, due entirely to the completed construction of the 813,000 square foot Calgary City Centre, the trend is overwhelmingly negative.
44 million
According to Colliers, the total amount of office space in Calgary's downtown office towers totals somewhere in the neighbourhood of 44 million square feet, with nearly four million square feet set to be added before 2018.
Tagged: Avison Young | Calgary Office Market | Colliers International | commerical | Downtown Calgary Office Space | office vacancy rates | oil | Uncategorized | YYCRE
---
---
Connect With Us