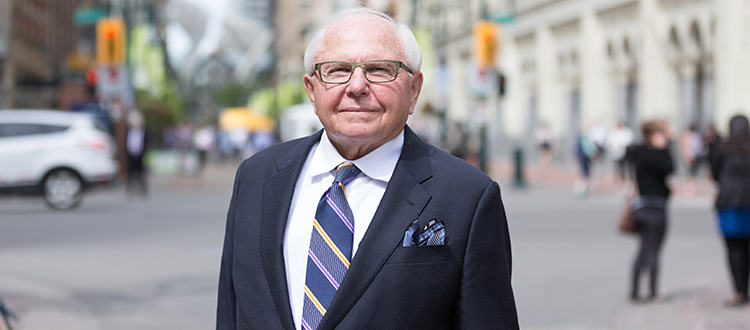 Past president Jim Moore now spends his time as CEO and executive director of the Dream Centre. Photo by Michelle Hofer/For CREB®Now
Dec. 21, 2016 | Cailynn Klingbeil
55 Years of Calgary Real Estate: 1985 CREB® President Jim Moore
Current economic challenges harken back to past president's term
The early 1980s in Alberta were a memorable and challenging time for anyone who lived through them.
Characterized by a severe global recession, widespread housing foreclosures, bankruptcies and unemployment, by the time Jim Moore was president of the Calgary Real Estate Board in 1985, market conditions remained difficult but some changes were afoot.
"Albertans really at that time were not too happy with the liberal government, because it seemed like we were in a penalty box," Moore said.
Many Albertans considered the National Energy Program, which aimed at shifting control of oil resources away from provinces and private industry, disastrous.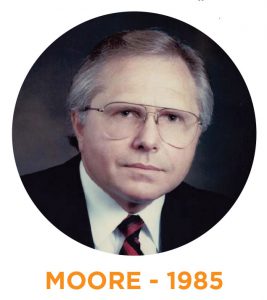 The National Energy Program, introduced by Prime Minister Pierre Trudeau's liberal government in 1980, was eliminated in 1985, the year after the Progressive Conservative government under Prime Minister Brian Mulroney, replaced the liberals and signed the Western Energy Accord.
In 1985, the end of the program influenced attitudes in Calgary. "In spite of the economy, the city was very optimistic," Moore remembered. "It seemed like people knew it was going to be a dip and that we would eventually, come out of it, so the attitude was 'We're going to get through, we're going to still have a good market.'"
Still, the realities of the market were grim. "We were going into a difficult market. There were double digit mortgage rates, and the real estate market really got tight. There were a number of foreclosures," Moore said.
"The challenge, for buyers, was qualification, the ability to qualify for mortgages, for people to get their down payments. At that time, it was difficult for people to move ahead in the real estate market."
Meanwhile, Moore remembers real estate companies were "fighting for every sale they could possibly get."
"The challenge, for buyers, was qualification, the ability to qualify for mortgages."
How did the industry deal with such a difficult market? Moore credits Frank Johns, a former president of CREB®, who went on to roles including manager and secretary of the board and chief executive.
"There was a very strong manager at CREB®. Frank Johns really was a take charge type of guy," said Moore.
He also remembers a sense of camaraderie in the industry, even during tough times.
"The people that were on the board at the time, many of them were mature in the real estate market, they had a lot of savvy. Some were big brokers, some were independent, some were part of franchises, and then others were small brokers, but it seemed we were all able to really weather it together. At that time we really cared about each other; even though we were in competition, it was like there was a feeling of caring."
During his tenure as president, Moore was also running his own firm. "I remember how tight the cash flow was, but we weathered it, through keeping our heads down, thinking in a very positive tone, taking the market as it was. We knew that real estate is a survivor over the long haul, it's a great investment. Markets will go up and down, but if you take a look at it in the long run, those that invest in real estate come out winners," said Moore.
Moore's firm was later bought by Canada Trust, and he went on to work for Canada Trust in Vancouver, then in Toronto, where he was president of Canada Trust Real Estate.
Moore moved back to Calgary and his career underwent another shift. Following a massive heart attack, Moore took his business background to the non-profit sector, helping to open Calgary's Dream Centre in 2003. The faith-based recovery organization works to change the lives of vulnerable people, through addiction recovery, transitional housing and long-term affordable housing.
Today, as CEO and executive director of the Dream Centre, Moore still uses his background in real estate. "I'm helping the community and city of Calgary in working in addictions and recovery, and because of my background in real estate, the Dream Centre does own a number of homes in Calgary," Moore said.
He's well aware of the challenging times REALTORS® are currently experiencing. "Today is a really tough time for REALTORS®," Moore said. "Real estate is still selling, but people are in survival mode. Just like everybody else, you have to cut back, do the appropriate things."
Moore, however, remains optimistic. "I still believe Calgary is very vibrant. We are survivors. We have a phenomenal community, and I still believe that real estate is a great investment," he says.
Tagged: 55 years of calgary real estate | Calgary Real Estate | Calgary Real Estate News | CREB® | down payment | Dream Centre | frank johns | Mortgages | national energy program | past presidents | pierre trudeau | recession | Uncategorized | YYCRE
---
---
Connect With Us