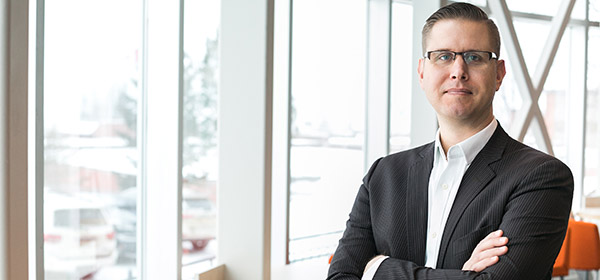 CREB® president Cliff Stevenson. Photo by Michelle Hofer/for CREB®Now
Dec. 21, 2016 | Cailynn Klingbeil
2016 CREB® President Cliff Stevenson
CREB® president Cliff Stevenson focuses on the positives during challenging year in real estate
Cliff Stevenson could be forgiven for being downbeat. After all, he's led Calgary's real estate industry through one of its most difficult years in decades.
Instead, during a recent interview, the 2016 CREB® president is confident and animated. While he doesn't downplay the current challenges his industry is facing amid slumping oil prices, he doesn't dwell on them either.
"It's been a challenging year and a continuation of a challenging 2015, as the economy has driven the housing market in further decline," Stevenson said.
"Part of the challenge has been talking about this every month and wanting to say something positive – to provide a positive piece for not only our membership, but the public as well. But every month we look at these numbers and there just isn't much to highlight in the way of positive reactions from the market."
"I'm just trying to do my best to keep encouraging everyone it's not going to be like this forever."
Still, Stevenson repeats the same advice to his colleagues, media and anyone else who will listen: stay positive.
"I'm just trying to do my best to keep encouraging everyone it's not going to be like this forever, and just stay strong, stay positive and get lean. You have to," he said.
The current market provides quite the contrast to when Stevenson got his start in the industry slightly more than a decade ago in late 2005.
"I kind of tripped into it," he admitted of his entry in to real estate, which came after he joined an investment group focused on real estate.
"I need to know how things work, so I volunteered to take the real estate agent program on evenings and weekends with no intention of getting my licence."
Yet when he shared with friends and colleagues that he was taking the course, many expressed interest in working with him once he was licensed.
"I started thinking about halfway through the course that maybe I should get my licence and see what happens," Stevenson said.
He stuck with his corporate job for about six months, then left in March 2006 to begin working full time in real estate. He has been with Royal LePage throughout his career, starting his own team in May 2011.
Having worked through the boom of 2006, then the global financial crisis of 2008 rooted in the collapse of the U.S. housing sector and now one of the most severe recessions to ever grip Alberta, Stevenson has seen a lot in his 11 years in the industry.
"There are cycles. There have been cycles forever and they're going to continue going forward," he said.
The current market is, for the most part, defined by the gap between buyers and sellers' expectations. While some sellers have made adjustments when it comes to pricing, many buyers are still waiting for the market to bottom out.
"There are a significant number of buyers out there who are taking a wait-and-see approach. Unfortunately, timing the bottom is an exceptional challenge," he said.
Stevenson expects tides will change when consumer confidence returns.
He's also keeping a close watch on the condo-style apartment sector, which he describes as facing significant challenges.
"It's difficult to understand the real picture of supply and demand because of how much new product there is out there being sold directly from builders and developers," he said on the overall market.
"It's a bit of a betterment of people in general – a kindness and togetherness."
"It will be interesting to see, when our confidence returns and the market rebounds, how well all of that goes with respect to sales, and what demand looks like for that product."
When asked if there's an end in sight for the ongoing downturn, Stevenson is quick to say he doesn't have the answer. In fact, he doesn't think anybody else does.
"The term 'lower for longer' has been used among economists for quite some time in Alberta," he said. "And if I were to say anything about my feelings on the economy and where it's headed, I would subscribe to that comment for sure."
In the meantime, Stevenson believes much can be learned during the current cycle. For example, he points to an almost unprecedented level of community support in the city.
"It's a bit of a betterment of people in general – a kindness and togetherness," he said.
He has also seen many current businesses doing more with less.
"If we can continue with that on the other side, businesses will be a lot stronger. That really applies to our industry as well," Stevenson said. "I've talked to a number of colleagues tightening belts and making different decisions, but when we got out on the other side of this, look out."
Tagged: 55 years of calgary real estate | Calgary Real Estate | Calgary Real Estate News | Uncategorized | YYCRE
---
---
Connect With Us