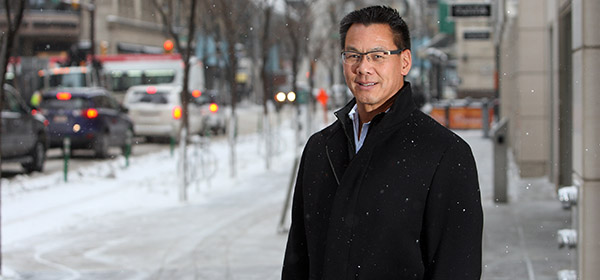 CBRE managing director Greg Kwong said Calgary's commercial market is likely to see vacancy rates peak in 2017. Photo by Wil Andruschak/for CREB®Now
Jan. 05, 2016 | Cara Casey
Curtailing commercial
Vacancy rates spike as downturn makes its presence felt
Calgary's commercial sector has not been spared from prevalent weakness in the provincial economy, with prime spaces in the city left empty for most of 2015.
Vacancy rates in Calgary's commercial office sector increased by 5.8 per cent from the beginning of the year to the end, noted commercial real estate firm Avison Young. In downtown specifically, vacancy jumped 7.2 per cent, which accounted for approximately three million square feet.
In comparison, office vacancy rates tripled from four to nearly 12 per cent during the last economic downturn in 2008/09.
Of the current vacant space in Calgary's downtown, approximately 50 per cent of it is sublet space put on the market by oil and gas companies, noted CBRE regional managing director Greg Kwong.
"New developments have definitely been curtailed for the moment," he said. "There are only about four major projects that will be completed over the next three to four years. The good thing is they didn't all come on the market in 2015. Otherwise, it would have been a complete cataclysm."
The four current projects make up approximately four million square feet of office space, the most notable being the record-setting Brookfield Place. When complete, it will be taller than any other structure in Calgary at 247 metres, and will include 1.4 million square feet in the first tower alone. A second tower will be started once the first is complete bringing the combined square footage to 2.4 million square feet.
Cenovus has already leased approximately one million square feet of the first building, which is due for completion the end of 2017.
The retail market, meanwhile, fared much better in 2015, according to Michael L. Kehoe, retail real estate specialist with Fairfield Commercial Real Estate.
"I would say that low oil prices have made all brands in Canada and the U.S. take a more cautious look, but there are American brands that are still coming to Calgary and will be opening shortly," he said. "Saks Fifth Avenue Off 5TH is opening in CrossIron Mills, which is probably one of the most dramatic examples."
Kwong agreed, adding many U.S. brands are starting to say, 'Finally, we can look at Calgary.'
"Prior to this year, we had a vacancy at around one per cent [in the retail sector] and a lot of U.S. brands were not willing to pay the same prices for what they pay in New York for a city that has only 1.3 million people in it," he said. "This break has proven to be a bit of a benefit to them."
Small vacancy increases in the retail sector hasn't seen locally owned small businesses get a break into the market yet, although Kehoe said that could change. He believes landlords and retailers might be willing to be more creative in the leasing terms they are willing to accept in the future.
Tagged: Avison Young | Beltline | Calgary Real Estate News | CBRE | Commercial | Downtown | Economy | Fairfield Commercial Real Estate | office vacancy rates | year in review | YYCRE
---
---
Connect With Us