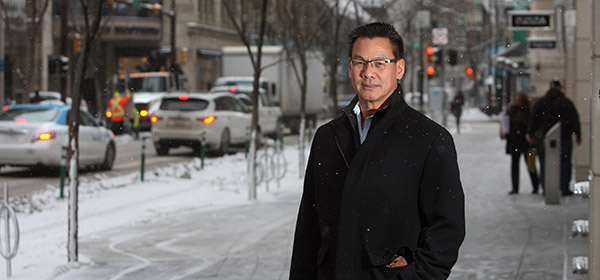 CBRE managing director Greg Kwong said Calgary's commercial market could have fared worse in 2015 if four major projects currently in construction would have all come on stream this year. Photo by Wil Andruschak/for CREB®Now
Jan. 12, 2016 | Lindsay Holden
Space to spare
Commercial vacancy rates represent market outlook
Nearly one out of five floors in the office towers that make up Calgary's famous skyline now sit empty, according to CBRE, which anticipates vacancy rates to increase further in 2016.
"Oil and gas companies on every level – from junior start-up to intermediate to major companies – everyone has gone through some form of layoff and therefore and have excess space," said Greg Kwong, managing director at the commercial real estate services firm.
Calgary's downtown office market ended 2015 with vacancy rates topping 17.4 per cent – nearly double from 9.8 per cent in 2014, according to CBRE's 2016 Commercial Real Estate Market Outlook.
By comparison, vacancy rates bottomed out at 0.3 per cent in 2006, according to Avison Young.
CBRE forecasts rates will rise to 18.4 per cent in 2016.
"We expect vacancy rates to definitely be higher," said Kwong. "We set our forecast this year for 18.4 per cent, but if more layoffs occur which we hear are coming, that number could go over 20 (per cent) at some point," said Kwong.
The suburban market, mewanwhile, is expected to be relatively flat. CBRE forecasts vacancy rates will rise to 17.7 per cent in 2016 from a projected 17.5 per cent in 2015.
"I hear from people that this looks a lot like the '80s, when you could shoot a cannon through some of the floors in buildings," said Kwong.
Higher-than-expected vacancy rates are also expected to impact lease rates. CBRE anticipates
Class A office space in the core will drop to $18.81 per square foot in 2016 from an expected $23.89 in 2015. Suburban rates, meanwhile, are expected to decline to $18.20 from $23.12.
Avison Young managing director Todd Throndson agrees vacancies could land between 16.5 and 17.95 per cent in 2016. Yet he also believes it could top 21 per cent once an expected 3.9 million square feet is added to the city's commercial real estate market by 2018 by mega projects such as Brookfield Place (2017) and Telus Sky (2018).
High office vacancy rates sparked by a downturn in the energy sector have many critics comparing 2016's market to the 1980's. Yet Throndson, who got his start in commercial real estate in 1987, said key differences this time are the speed and severity of ups and downs.
"Calgary is more volatile than it used to be," he said, recalling vacancy rates in the 1980s around 20 per cent and lease rates as low as $5 per square feet. "Changes happen quicker to a much greater degree. It is a difficult marketplace that is going to last a few years, but it will come back."
Calgary's retail and industrial markets, meanwhile, are expected to fare much differently in 2016. According to CBRE, industrial vacancy rates will remain relatively flat at 8.2 per cent from 8.3 in 2015, as new supply drops to 1.78 million square feet from 4.45 million in 2015. New construction is also expected to pull back to 350,000 square feet in 2016 from 1.43 in 2015.
Lease rates are expected to decline slightly to $7.25 per square foot from $7.35 in 2015.
The Conference Board of Canada, meanwhile, expects retail sales in the city to increase by 2.7 per cent in 2016 after falling by an expected 0.7 per cent in 2015.
"Retail is very strong," said Throndson, estimating vacancies are lean at below five per cent.
"It's twofold: whenever people are depressed they seem to go shopping, and people who have jobs are still making good incomes and spending. Life seems to go on."
Tagged: Avison Young | Beltline | Brookfield Place | Calgary Real Estate News | CBRE | Commercial | CREB® | Downtown | forecast | office vacancy rates | suburban | Telus Sky | YYCRE
---
---
Connect With Us