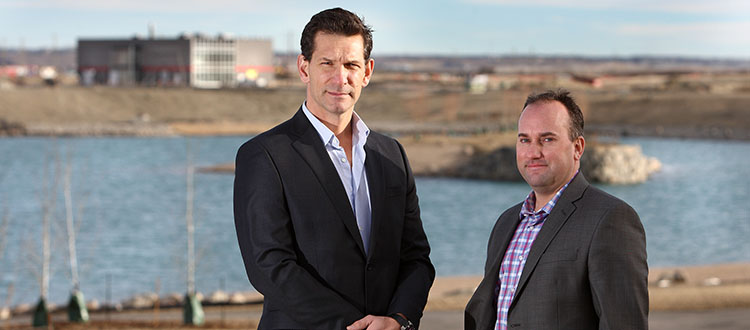 Bordeaux Properties president and CEO Birol Fisekci, left and Qualico Communities senior manager of development Cary Kienitz stand in front of Harmony's central lake, with the community's water and wastewater treatment facilities pictured in the background. Photo by Wil Andruschak/For CREB®Now
Nov. 25, 2016 | Joel Schlesinger
Watershed moment
Water conservation top of mind for developers and municipalities as usage could exceed supply in coming decades
There's more than meets the eye to a lake at the heart of Harmony, the much-talked-about community by Bordeaux Properties and Qualico Communities west of the city.
When the massive water feature project is completed this spring, it will not only be Alberta's deepest man-made lake. It will also be a key part of the development's water conservation plan, an initiative that is among the most progressive in the Calgary region, said Bordeaux president and CEO Birol Fisekci.
"Our approach is a holistic," he said. "This means that, in addition to Harmony building one of the most advanced water and wastewater treatment facilities in North America, we are taking into consideration at the entire water cycle of the area."
He added the lake will ultimately serve as a fresh water reservoir to help manage the community's freshwater needs.
While Harmony is at the leading edge, it's by no means the only Calgary-area community addressing water conservation challenges.
In fact, a recent University of Lethbridge survey found water conservation is a primary concern for seven out of 10 developers with projects underway or planned in the Bow River basin.
The issue is so critical to the industry the Alberta Real Estate Foundation (AREF) — which supports initiatives to enhance the province's housing industry — is a major partner in an innovative water awareness campaign called the Alberta Water Nexus Project.
The initiative, launched earlier this year, aims to raise awareness of how "converging water demands can impact new developments, land use decisions and socio-economic factors related to buying a home," said AREF executive director Cheryl De Paoli.
Central to the project is an online interactive simulator that lets visitors adjust water demand from various stakeholders such as homeowners, and how those changes affect water supply for other users such as agriculture and the oil and gas industry.
Recent public awareness efforts aside, water use has long been on the radar of the Alberta government, which launched its Water For Life strategy about a decade ago in an effort to strike a balance between usage and conservation.
Fresh water needs have traditionally presented supply and demand challenges in Alberta because, unlike many other provinces, it lacks large bodies of fresh water to serve as reservoirs for various needs from residential to industrial. Almost all of the province's fresh water comes from glacial and snow run-off, with 80 per cent of it flowing through northern Alberta, says AREF.
At the same time, 80 per cent of the population lives in the southern portion of the province, including 1.2 million Albertans who rely on water coming from the Bow River basin.
"This will not only impact the housing industry. It will affect everyone."
Supply is already being stretched. About 70 to 80 per cent of the water flow in the basin has been allocated to licenses for municipal, agricultural and industrial uses.
And yet the region's population is expected to double in the coming decades, according to provincial government estimates, so demand is likely to increase while supply will become increasingly volatile due to climate change, said Lindsay Kline, lead for the Alberta Water Nexus Project.
"This will not only impact the housing industry. It will affect everyone, which is why work like the Nexus is critical today, to start conversations and actions so we can adapt," said Kline.
Water usage concerns are sparking more than just discussions. Many municipalities are taking action, including Okotoks, which has been working on water-wise initiatives for some time, said Stefan Martensson, interim environment and sustainability co-ordinator for the Town.
Okotoks's water conservation rebate program, for example, launched in 2008 and provides funding for low-flow toilets, rainwater barrels and drought-tolerant plants.
Like many communities, water conservation presents both environmental and growth challenges for the town, said Martensson.
"Okotoks's growth potential is limited right now due its capped capacity of delivering drinking water to its residents," he said, adding water supply can only accommodate about 2,000 more residents.
Recognizing the problems already faced in well-established municipalities, new developments such as Harmony are also addressing freshwater concerns at the planning stage by incorporating infrastructure using cutting-edge technology.
The community's water and wastewater treatment facilities, for example, use industry-leading purification and conservation technologies while drawing on water from the manmade lake, which is fed from by the Bow.
"The backbone to the treatment plant is General Electric's ZeeWeed membrane technology, recognized as the gold standard," said Fisekci, adding wastewater treatment uses the same technology.
"Its unique ability to handle high and large volumes of water in a small footprint makes it ideal for any jurisdiction that is concerned with environmental sustainability."
While Harmony's efforts demonstrate progress is being made, Fisekci said everyone needs to get involved to overcome the challenges ahead.
"This is a very important issue simply because it is one that we can all solve," he said. "Collectively, we need to question how we used our water resources in the past, learn from that and look to how we can be better stewards in the future."
Tagged: Alberta Real Estate Foundation | aref | Bow River | Calgary Real Estate | Calgary Real Estate News | Community | harmony | Springbank | sustainability | town of okotoks | Uncategorized | universtiy of lethbridge | water | YYCRE
---
---
Connect With Us