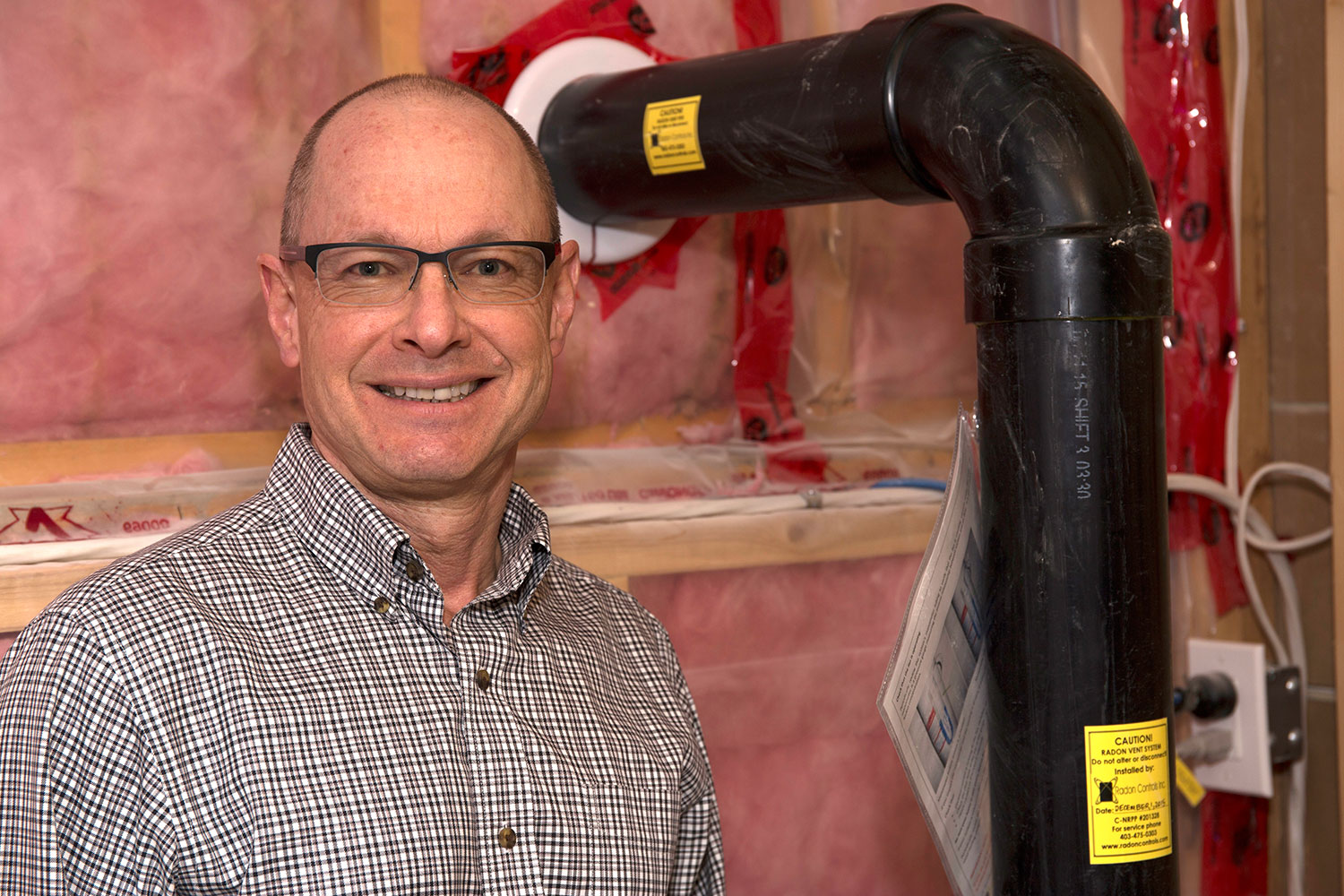 Radon levels in Darcy Undseth's home dropped quickly once the remediation system was installed. Photo by Tyler Klinkhammer / For CREB®Now
April 06, 2017 | Karen Durrie
Reacting to Radon
Local families and remediation experts share common sentiments about the value of radon testing
When Darcy and Audrey Undseth bought their southwest walkout bungalow in 2009, they were just learning of the dangers of radon gas.
Audrey, a doctor, had seen articles in medical journals on hazardous radon levels in basements.
The pair's son, Brennan, slept in a basement bedroom, and the Undseths wondered if they should test for radon – an invisible, tasteless, odourless radioactive gas that naturally occurs when uranium in the ground breaks down.
Radon is the second leading cause of lung cancer after cigarette smoking, according to the Canadian Cancer Society.
In 2014 the Undseths happened upon a radon information booth at a home show, bought a test kit, and set it up.
The results revealed their home had a radon level of 470 Bq/m3, which is more than double Health Canada's acceptable guideline of 200 Bq/m3, and more than four times the World Health Organization's recommendations of 100 Bq/m3.
In Calgary, one in eight homes has dangerously high levels of radon gas, according to a new study published in the Canadian Medical Association Journal (CMAJ).
Aaron Goodzari, an assistant professor in the Cumming School of Medicine at the University of Calgary and the study's lead doctor, says he was motivated to launch the study after purchasing a house five years ago.
Being a radiation biologist and knowing that radon is the primary way most people are exposed to radiation in their lifetimes, he had his home tested for the gas. His house was fine, but his sister's home, tested at Goodzari's behest, showed unacceptable levels of radon. Goodzari began to campaign for his fellow cancer researcher colleagues to test their homes, and the project snowballed.
"We ended up with thousands of citizen scientists consenting to give their data anonymously, which led to the study," said Goodzari.
The study uncovered some surprising information. Some Calgary homes had extremely high radon concentrations – more than 3441 Bq/m3, which increases one's risk of developing lung cancer by 550 per cent.
Surprisingly, Goodzari says, it's the newer properties, built within the last 25 years, which showed the highest levels of radon.
The average home size has nearly doubled since 1980, and homes are taller. Two storey homes with high ceilings tend to pull more radon from the ground says Goodzari.
And newer homes are more airtight, trapping radon inside.



It's more deadly than the insulation everybody freaks out about, but it doesn't get the recognition because you can't see it. It's something that should be dealt with for sure.



Testing for radon gas is simple. Hardware retailers sell test kits for between $35 and $100. The gold standard is a long-term test that sits for 90 days and sent to a lab for results.
Other than testing, says Len Gieck, president of Radon Controls, the only way to find out you have high levels of radon in your home is discovering you have stage three lung cancer.
"It's more deadly than the insulation everybody freaks out about, but it doesn't get the recognition because you can't see it. It's something that should be dealt with for sure."
Mitigating involves a process called sub-slab depressurization. A pipe is sunk into the basement, and a system is installed that creates a vacuum under the basement floor. Radon is drawn into a pipe with a fan, and ventilated through the roof.
The average cost of radon remediation is between $2000 and $2500.
As of 2014, new rules for radon protection were included in the Alberta Building Code, says Rick Gratton, senior development manager at Brookfield Residential and chair of the BILD Calgary Region technical committee.
A 6mm poly soil-gas barrier is placed on the gravel before a concrete foundation slab is poured, with all penetrations for plumbing and heating sealed, and an inlet pipe roughed in around the middle of the gravel in the centre of the slab. The pipe eases the way for an active depressurization system to be put into place in the future, if radon testing deems it necessary.
"It's up to the homeowner to do testing and follow through with the ventilation system," said Gratton.
As for the Undseths, Darcy says radon levels were brought down to an average of 20 Bq/m3 after Radon Controls worked on the home.
"What I'm amazed with is how quickly it drops (once the system is on)," said Darcy.
Tagged: Health Canada | Health Hazards | House & Home | Radon Gas | Remediation
---
---
Connect With Us