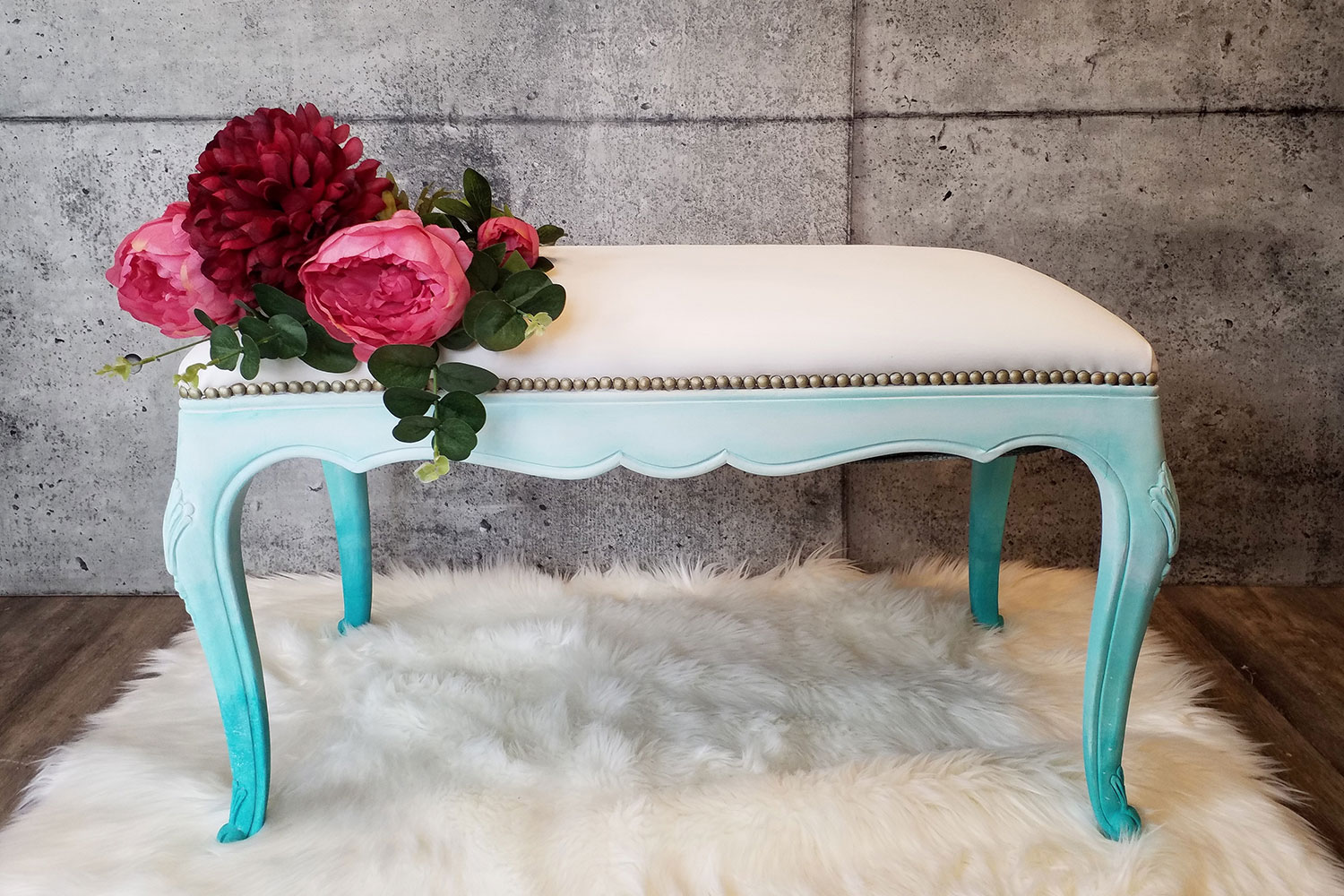 Courtesy of Erin Rochon, Bluebird Upcycle
Nov. 09, 2020 | Natalie Noble
Upholstery painting: fun DIY project or disaster waiting to happen?
To paint or not to paint? With upholstered furniture, that is a complicated question. Social media, online blogs and video tutorials show that it can be a fun DIY project, but there are a few key considerations and great results are not guaranteed.
Calgary's Dale Marie Wedge of
Blooming DIY-er
said choosing the right furniture piece is important. For example, she might paint old chairs or sofas to serve as props in the home.
"Maybe paint an ugly upholstered chair and use that as a plant stand," she said. "I would also consider painting pleather chairs or stools. I feel like leather is something that looks better with aging, where with a faux material you are not devaluing it."
As with any DIY project, she also recommends doing your research before busting out your paint brushes. "Go onto YouTube, Pinterest or Instagram and find out all the info you can on your topic," she said.
Ottawa's Erin Rochon, interior decorator and founder of
Bluebird Upcycle
, agrees that DIY projects like upholstery painting require the right information, materials and tools to be successful.
"It's really important to connect with experts first for the proper advice before starting a new project," she said.
Rochon has painted fabric, leather and faux leather/vinyl furniture coverings and assisted many clients with similar projects.
"Something with a heavy pile like a velour might not work out the best because it's such a coarse fabric and might take more work," she said. "But for upholstery fabric, you can absolutely paint it and get some really great results.
"I've had quite a few clients paint their leather couches and get fantastic results, too. Even if the couch was starting to wear a little bit, it completely covered it. You wouldn't even know it was painted by the feel of it."
The right paint, which is often available in smaller boutique stores, is a must, as is a high-quality synthetic brush.
"There are lots of really great, specific furniture-paint companies you can use to give you the result you want," said Rochon. "There are chalk-style paints that are fantastic to use, as well as all-in-one paints that are specifically meant for furniture."
After it receives its fresh coat of paint, stiff fabric can be softened up with wax.
There are also a few tricks of the trade that can help you get great results.
"When you're painting fabric, it eats up quite a bit of paint and you usually have to do several coats," said Rochon. "To help it set in, you might need to dip the brush into water and then into the paint. And be sure it's well-dried before adding subsequent coats."
Tagged: advice | Blooming DIYer | Bluebird Upcycle | Calgary | Calgary Real Estate | Calgary Real Estate News | Calgary Real Estate News | Chair | COVID-19 | Design | Design | DIY | fabric | Feature | furniture | House & Home | How To | How To | Instagram | Leather | paint | Pinterest | Pleather | Restore | Sofa | Stool | tips | Upcycle | Upholstery | Vinyl | Wax
---
---
Connect With Us