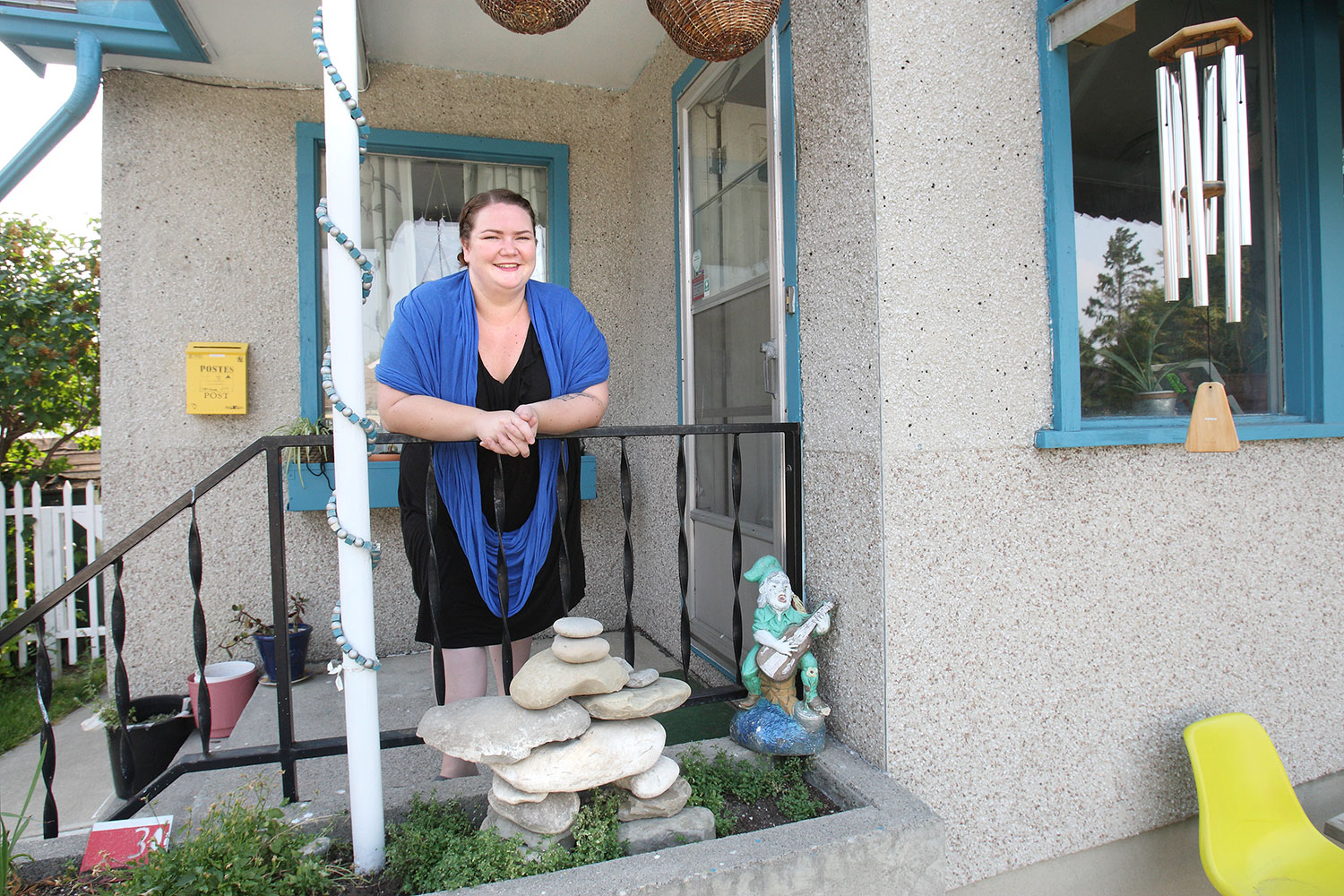 Juliet Burgess, 29, started saving at the age of 14, and recently managed to purchase her first home, with the help of her partner's savings and some financial assistance from their parents. Wil Andruschak / For CREB®Now
Aug. 02, 2017 | Kathleen Renne
Generational divide
The complicated relationship between millennials and the housing market
When Juliet Burgess, 29, bought her 110-year-old home in Inglewood for the above-list price of $350,000, she says she became the first among her circle of millennial friends to become a homeowner.
"I personally don't know anyone in my age group who owns property," said Burgess, who works in the not-for-profit sector. "We're super lucky to be able to afford to buy.
"I've been saving my whole life, since I was 14. Even with that, my partner's savings and our parents giving us a little bit, we could only put down the minimum for a down payment."
Furthermore, Burgess says she doesn't have the burden of student-loan debt to face, as many of her friends do. "Millennials seem to get this choice: either you can go to post secondary, or you can get a house," she said.
Burgess's situation reflects that of many prospective homebuyer millennials – people born between the early 1980s and the early 2000s. It's a generation that has been dealt a bad hand when it comes to the economy and job market, and as a result, millennials have had a difficult time breaking into the housing market.
Greg Miller, a mortgage broker with SmartCap Inc., has worked with many millennial clients. In fact, he's a millennial himself. "It's tough to get into the market without a little bit of help these days," he said, noting that people are using the "Bank of Mom and Dad" now more than ever, or are having their parents co-sign mortgages to qualify.
On the other hand, Miller says many of his millennial clients are well informed about the housing market, the buying process and the realities of what they can afford.
"Never has there been a time when more information is available online," he said, adding it's still important for millennial homebuyers to consult a mortgage professional to gain a comprehensive understanding.
Miller starts each contact with potential homebuyers by discussing the number they're comfortable with paying each month. "Maybe you can qualify for a mortgage of $400,000, but you don't want to purchase at the maximum end of what you're comfortable with and be house poor," he said.
"I've been saving my whole life, since I was 14. Even with that, my partner's savings and our parents giving us a little bit, we could only put down the minimum for a down payment." - Juliet Burgess, Inglewood homeowner
First-time homebuyers – many of them millennials – are entering the market later than in years past, a trend Miller attributes to more stringent rules surrounding mortgages and money lending.
For example, there's the so-called "stress test" the federal government introduced in October 2016 that restricts the loan amount for which people can qualify based on whether they could continue to pay their mortgage if interest rates were to increase.
Miller says getting a mortgage is particularly difficult for those would-be homebuyers who are self-employed – a situation familiar to many millennials struggling to make ends meet amid layoffs and an increase in contract work at the expense of full-time positions – as "an immense amount of documentation is required," as well as a two-year income history.
Suzanne Berg, who bought her first condo in Royal Oak last year, has seen firsthand the impact of the more stringent lending regulations. Berg and her former fiancé were looking to buy a place some seven years ago, when they were pre-approved for a mortgage on her income and credit rating alone. Fast forward to today, when Berg says she was unable to secure a mortgage on her $210,000 condo without her father co-signing the loan.
Like Burgess, Berg also received parental help for her down payment. She has worked for the Calgary Public Library for more than a decade.
Berg says times are different than when her parents bought their first place in Hawkwood in the early 1980s and didn't even need to take out a mortgage, deciding to pay for their new home outright.
Both Berg and Burgess emphasize the importance of surrounding oneself with competent professionals during the home-buying process.
"It's important to look for a financial adviser who's a millennial," said Burgess. "I feel a lot of financial advisers can't understand millennials and why they can't get out of their parents' basements."
Miller says one popular strategy among millennials is to take advantage of the federal government's Home Buyers' Plan, which allows individuals to withdraw up to $25,000 from their RRSP to put towards a down payment.
While Burgess now has home ownership under her belt, financial constraints persist. She's been thinking about going to university as a mature student, but she's not sure if she can now that she has home-related expenses to pay.
"Money is a touchy subject for us and our generation," she said. "It's harder for us than a lot of people know."
Tagged: Calgary Real Estate News | down payment | Feature | Federal Government | Greg Miller | Hawkwood | Home Buyers' Plan | Homebuyers | Inglewood | Juliet Burgess | millennial | Millennial homebuyers | Millennials | Mortgage | Royal Oak | rrsp | Smart Cap Inc. | Suzanne Berg
---
---
Connect With Us