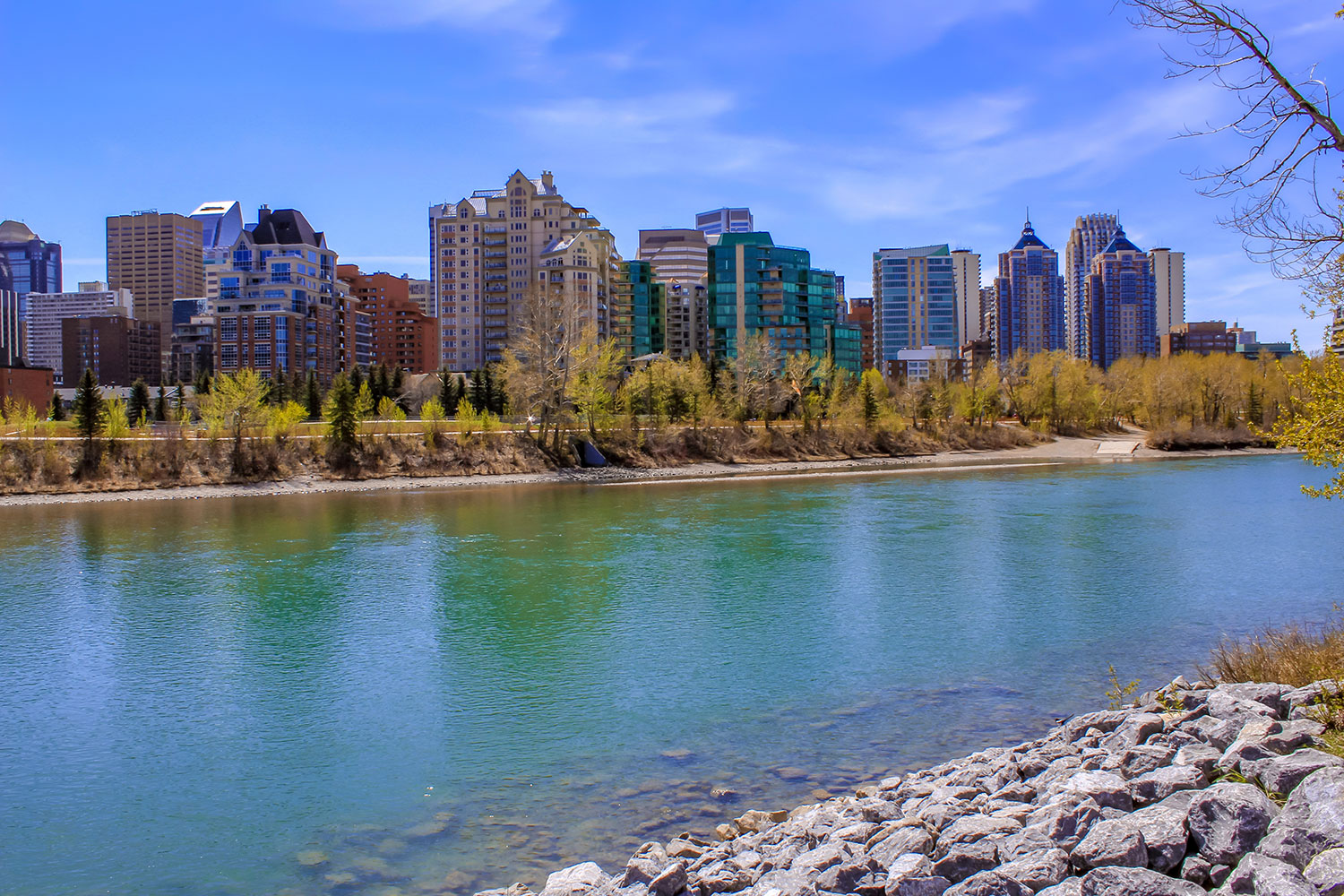 Getty Images
Sept. 11, 2019 | Andrea Cox
Calgary's riverfront homes represent a special type of luxury
Living by the water has always been equated with exclusivity.
"Water has such appeal," said Ken Richter, a REALTOR® with Calgary's RE/MAX Central. "Those properties on the river are always going to do very well because there is a limited number. That's why they are so valuable. They really create their own market."
Lots in the city with property lines that extend to the high-water mark are few and far between. All were carved out before 1925, when legislation was introduced prohibiting further creation of properties with direct water access.
All these properties have the added attraction of their locations in century-old communities with mature trees, access to walkable amenities and plenty of nature-filled green space.
"There are really only four or five streets in the city with waterfront homes," said Richter, citing the inner-city communities of Rideau Park, Roxboro, Inglewood and Elbow Park.
There's also Bow Crescent, the three-kilometre riverside stretch of Calgary's northwest community of Bowness, where Richter has sold more than 140 homes in the past 20 years.
"Some lots I've sold four times over," he said.
He also lives on the street. "A lot of people have lived here forever. It's tranquil, peaceful and a huge wildlife corridor," he said. "There is a reason that Avenue Magazine voted it the No. 1 street in the city."
"We are definitely seeing a slow dissipation of memory with respect to the floods and the value of these properties will only go up over time." - Ken Richter, RE/MAX Central
Despite its allure, there is no doubt that riverside real estate in the city has looked quite different since the 2013 floods. Most riverfront homes were damaged by the rising waters, and owners either rebuilt or sold the land for lot value.
"Pricing is definitely down 30 per cent since 2013," said Richter.
The collapse of global oil prices in 2014 and the subsequent economic slowdown in Alberta pushed prices even lower, but riverfront real estate still goes for 35 per cent more than the same offering on a non-waterfront lot. Richter says it's tough to nail down a median or benchmark price, "because there are so few lots."
Even though these homes are in historic neighbourhoods, riverside properties are evolving. Homes must now be built using flood mitigation techniques, with electrical and mechanical systems situated above the 100-year flood plain. The result has been some innovative architectural choices, with increased use of modern building materials, floor plans rejigged to accommodate upstairs living spaces and designs that do not incorporate a basement.
Richter notes that for a few years, people avoided these properties, due to inability to get financing and insurance, but now interest is returning.
"We are definitely seeing a slow dissipation of memory with respect to the floods and the value of these properties will only go up over time," he said.
Tagged: Calgary Floods | Bow River | Bowness | Calgary | Calgary Real Estate | Calgary Real Estate News | Calgary Rivers | elbow park | Elbow River | Feature | Housing Market | Housing Market | Inglewood | REALTORS | Rideau Park | River | River Communities | Riverfront | Roxboro
---
---
Connect With Us