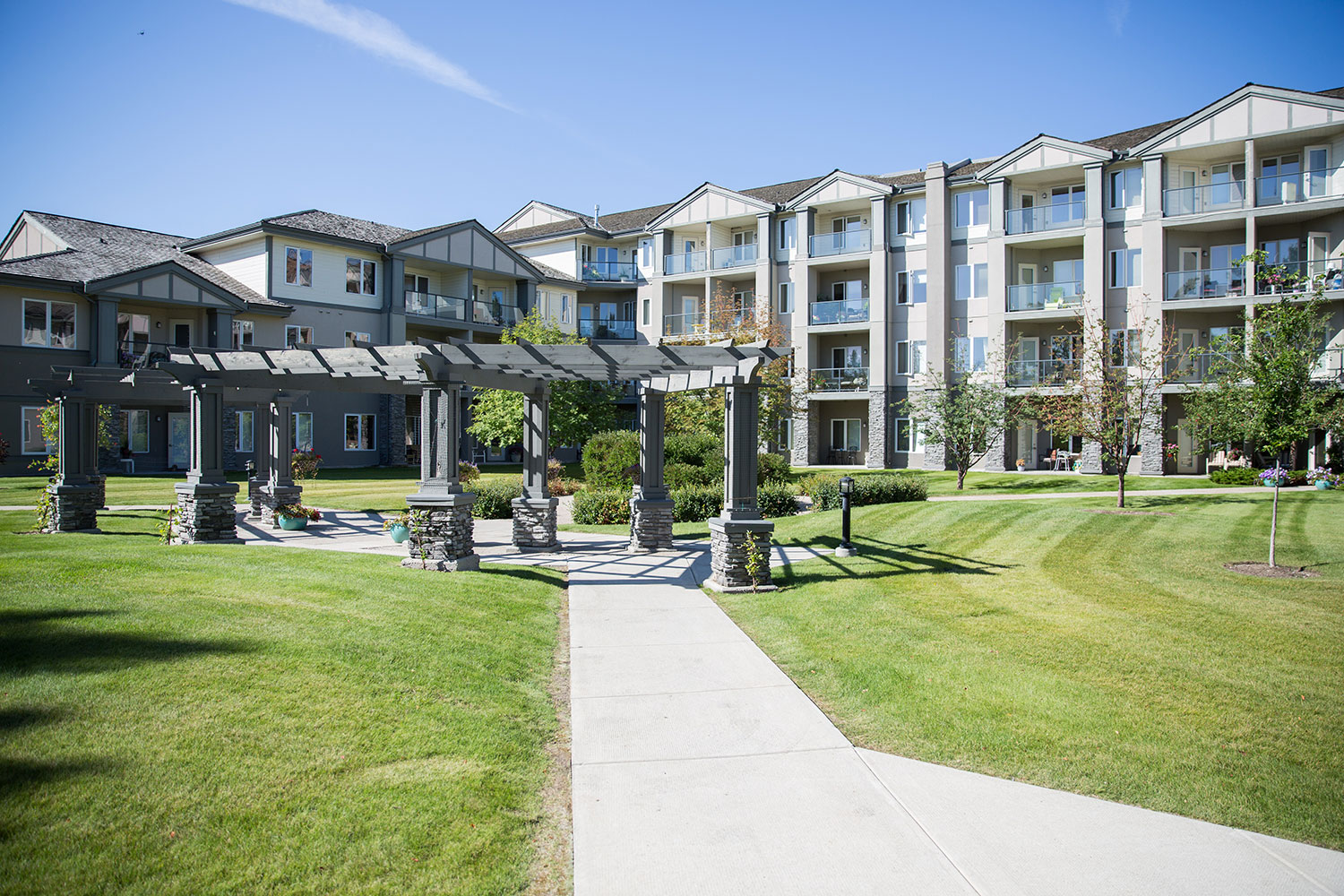 Lake Bonavista Village Retirement Residence provides a variety of activities and amenities for residents, including a putting green, fitness room, heated pool and library. Adrian Shellard / For CREB®Now
Aug. 30, 2017 | Kathleen Renne
No slowing down
Today's retirement communities are designed to keep up with a new generation of active, engaged seniors
Dorothy Baker, 92, is perched on the edge of a chair in an elegant sitting room in Lake Bonavista Village Retirement Residence, her neon-pink toenails poking out from a pair of white sandals. A resident of Lake Bonavista Village for the past eight years, Baker exemplifies the modern senior: someone who is active, engaged and often busier than those folks still working the nine-to-five grind. She's the treasurer of Lake Bonavista Village's knitting club, she organizes bridge games for residents, and she serves as one of the village's welcome hostesses for newcomers to its population of more than 200 residents.
Like many golden-agers today, Baker moved into a seniors' residence in part for her family's peace of mind. "I was living in a condo in Edmonton. I found a friend who had suffered a stroke. If I hadn't found her in her condo, she may have been there for a week," said Baker. "I didn't want that to happen to me, or to my family."
At her eldest son's request, Baker eventually moved to Lake Bonavista Village in Calgary. And, she admits, the transition was difficult at first.


Fellow Lake Bonavista Village resident, 84-year-old Merv Pinkerton, agrees. A former menswear-store owner, Pinkerton and his wife sold their Woodlands Estates home five years ago because of her worsening mobility issues.

Pinkerton says they researched various seniors' residences extensively before selecting Lake Bonavista Village. "We decided on this one because it has great food and great service, it's centrally located, there's no traffic, and it feels very safe and secure," he said.

Daphne Matcyk, Lake Bonavista Village's marketing manager, says one of the most important features of any retirement residence is its range of activities and amenities that allow residents to still feel engaged in life.
At the village, those offerings include a putting green, raised garden beds for those with green thumbs, a ping-pong table, a fitness room, a heated pool, a library, and a full slate of organized activities.

"Our residents still want to be useful to society," said Matcyk, adding that the residence facilitates programs through which seniors can go to a local school and help students read.

On the other end of the city, in the under-construction University District, a new, 240-unit, seniors' residence called Cambridge Manor has just been announced with an anticipated opening date of 2020.

"I think people – seniors or not - are all looking for the same thing: an active, integrated life. Today's seniors are not looking for places to go quiet and retire. They want to engage and meet up." - James Robertson, West Campus Development Trust president and CEO

"The University District was designed and planned with everyone in mind . . . We have residences for the entire life cycle," said James Robertson, president and CEO of the West Campus Development Trust, which is partnering with the Brenda Strafford Foundation on Cambridge Manor.

"I think people – seniors or not - are all looking for the same thing: an active, integrated life. Today's seniors are not looking for places to go quiet and retire. They want to engage and meet up."

Mike Conroy, president and CEO of the Brenda Strafford Foundation, says there's an emphasis on encouraging independence in today's seniors' residences. From a design perspective, that means providing ease of access to appliances like the refrigerator and microwave, lower counter heights for seniors in wheelchairs, rooms designed in such a way as to avoid acoustical confusion for those who are hard of hearing, and night lights illuminating the path to the washroom.

Conroy says there'll also be an emphasis at Cambridge Manor on integrating it, and its residents, into the broader University District. "We operate other facilities that are in communities, but are not part of those communities," he said, adding it will be different with Cambridge Manor in that its walls will be porous, offering community members access to the manor's facilities and programming, and encouraging residents to interact with the surrounding neighbourhood.




Matcyk agrees with Conroy that encouraging independence is key. Therefore, it's important for seniors' residences to accommodate reduced mobility. To that end, Lake Bonavista Village has "barrier-free" suites, an in-house convenience store and hair salon, and a van that takes residents – many of whom no longer drive – on shopping trips and other outings.

"I know people think, 'Oh no, living with a bunch of old people,' but it's what you make of it," said Pinkerton, adding he regularly frequents happy hour in the village, which resembles a fancy hotel more than a stereotypical "old-folks home" – a feature that appeals to its residents.

Pinkerton lives in one of Lake Bonavista Village's 13 highly-coveted cottages, located adjacent to the main building, which all come with full kitchens and 1,219 square feet of main-floor space, as well as a basement and garage.

Both Baker and Pinkerton emphasize that one of the greatest benefits of a seniors' residence is the "worry-free living" it offers for both residents and their families.

Lake Bonavista Village offers several room sizes, from smaller studio suites to two-bedroom units, all complete with kitchenettes.

Prices range from $3,300 to $6,700 per month, a figure that includes all meals, trips and activities, but not cable, phone and Internet.

Tagged: Brenda Stafford Foundation | Cambridge Manor | Daphne Matcyk | Dorothy Baker | Feature | James Robertson | Lake Bonavista | Lake Bonavista Village | Merv Pinkerton | Mike Conroy | Retirement | retirement residence | university district | West Campus Development Trust
---
---
Connect With Us