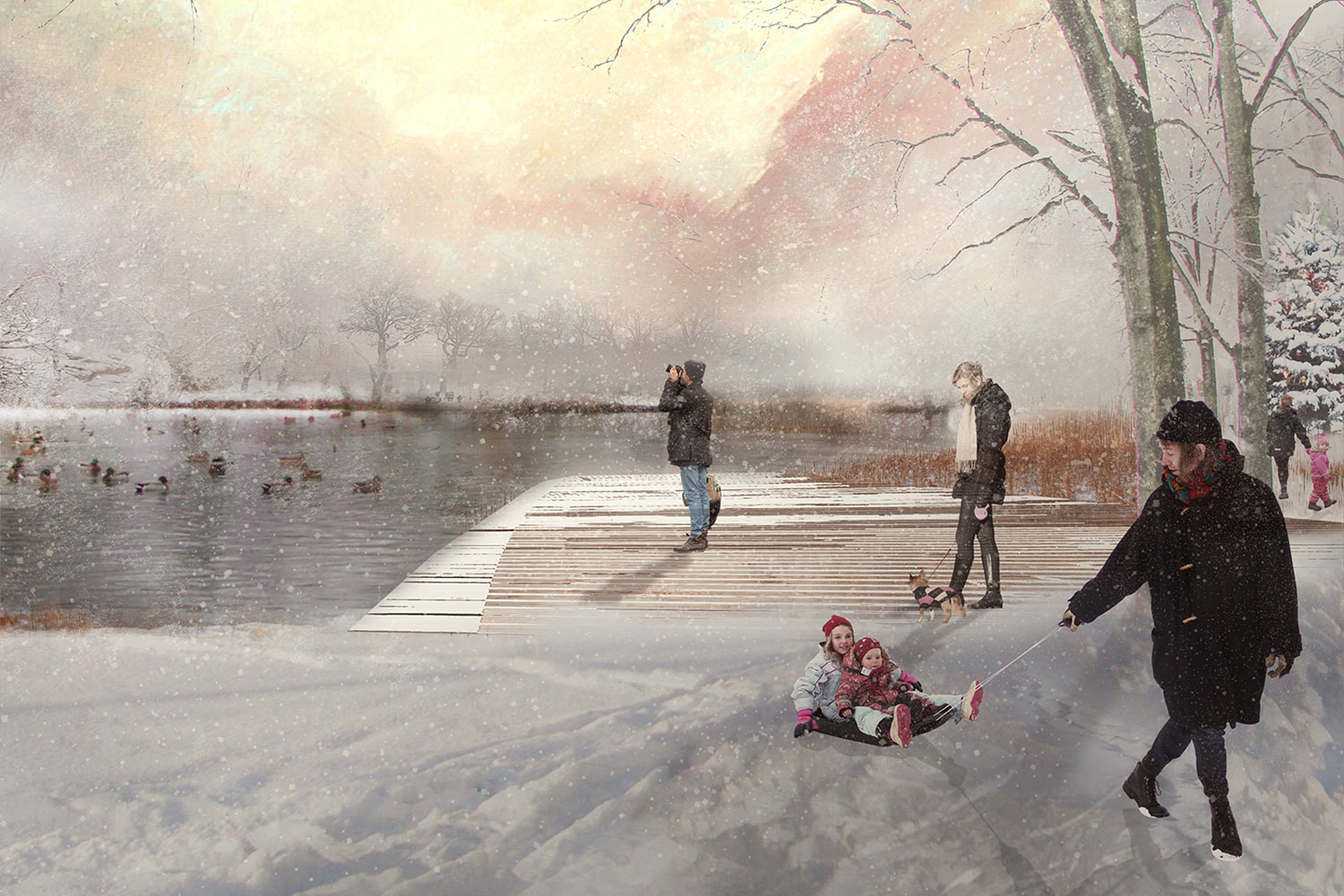 A conceptual rendering of Brookfield Residential's upcoming Rowan Park development, demonstrating the company's vision for four-season living in the community. Courtesy Brookfield Residential
Jan. 17, 2018 | Barb Livingstone
Gateway to the west
New developments on Calgary's western edge hope to raise the bar for active, outdoor living
Two major developments in Calgary's northwest will soon solidify the area's reputation as the gateway to Rocky Mountain recreation and winter adventure.
While the nearby Trans-Canada Highway will guide future residents towards mountain playgrounds in Canmore and Banff, the communities of Rowan Park and Medicine Hill will offer their own built-in recreational amenities.
Brookfield Residential's Rowan Park – the first community to be launched as part of the Haskayne Area Structure Plan – will sit on an escarpment 30 metres from the Bow River, with acres of trails connecting communities and parkland.
Geoff Bobiy, senior development manager at Brookfield, says Rowan Park will provide that "missing link" in the trail system, to connect downtown Calgary all the way to Cochrane, and provide a variety of uses for residents, including cross-country skiing, cycling, running and rollerblading.
"We are referring to it as 'TrOD' – trail-oriented development," said Bobiy, adding it will ensure pedestrian connectivity around the perimeter and into the heart of the community. "There is nothing else like (this property) anywhere else in the city."
The community will also link to Haskayne Legacy Park and Glenbow Ranch Provincial Park.
Rowan Park's three neighbourhoods will sit on 188 hectares, with 32 hectares kept as an environmental reserve.
The proposed development would see about 8,700 residents in just over 3,000 residential units, split between single-family and multi-family options (including seniors' housing). The residential offerings would be complemented by 85,000 square feet of space for retail and other services, built in phases over a decade. The project is working its way through City approvals and is expected to go to city council late this summer.
Servicing on the land could begin in spring 2019.
And while Rowan Park will embrace four-season living, Bobiy says winter is the main attraction, with plans for LED lighting along pathways, winter landscaping and a skating rink, along with winter programming in the homeowners' centre.
Rowan Park also sits just minutes away from WinSport's Canada Olympic Park (COP), and its skiing, skating and other winter facilities.
Right next to COP, on 40.5 hectares of land on the Paskapoo Slopes, Trinity Development Group is moving forward with Medicine Hill, a mixed-use project with retail and office space along with about 1,500 residential units.
The upper portion of the land is to be preserved as a 160-acre regional park, with about 17 kilometres of interconnected pathways and nature trails.
The first major step in improving transportation to the site on the south side of the Trans-Canada Highway, between Stoney Trail and Sarcee Trail, came with the recently completed Sarcee interchange. Public access to Medicine Hill itself is expected by the end of this year.
The first part of the development (expected in 2019) will be the Town Centre shopping and entertainment area, with tenants like Save-On-Foods and Mountain Equipment Co-op already announced. At completion, the project is expected to have 700,000 square feet of retail and 250,000 square feet of office space.
Fazeel Elahi, senior planner with the City of Calgary, says, to date, conditional approval has been given for five storeys housing 158 residential units atop one level of retail, in the development's first phase.
An additional 500 to 1,500 homes are expected to be part of a future phased residential village.
Medicine Hill (the name pays tribute to Blackfoot heritage) will reflect the Municipal Development Plan's push for increased density and a mix of housing types in Calgary neighbourhoods, says City planner Gareth Webster, particularly with the increased capacity of the improved Bowfort Road interchange.
That project includes pathways on both sides of Bowfort Road and a safe, controlled pedestrian/cycle route across from the Bowfort area to COP and Medicine Hill.
Tagged: Bowfort Road | Brookfield Residential | Calgary Real Estate News | Canada Olympic Park | Canmore | City of Calgary | Cochrane | Fazeel Elahi | Feature | Geoff Bobiy | Haskayne Area Structure Plan | Medicine Hill | Municipal Development Plan | New Communities | Paskapoo Slopes | Rowan Park | Sarcee Trail | Stoney Trail | trail-oriented development | Trans-Canada Highway | Trinity Development Group | WinSport
---
---
Connect With Us