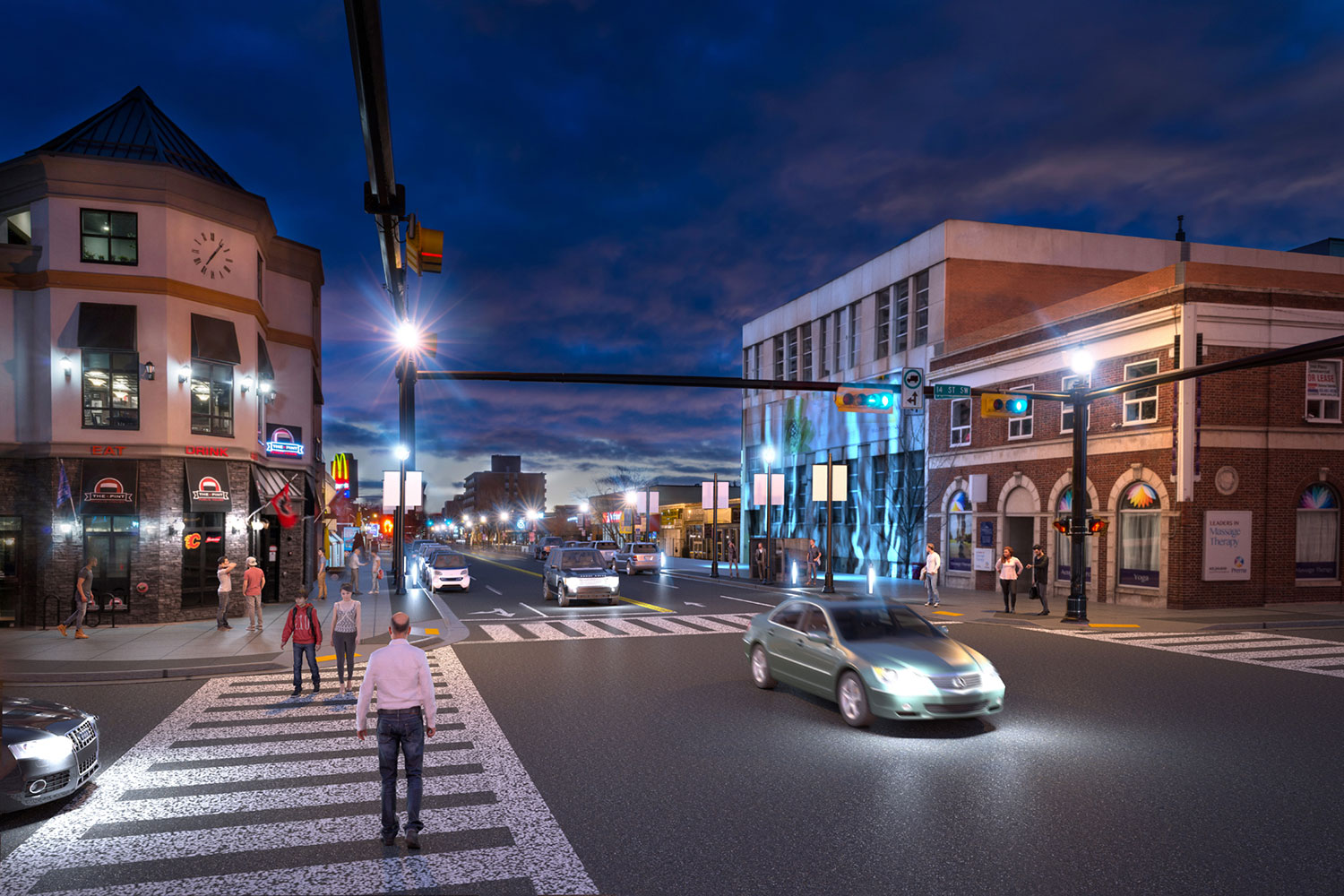 Courtesy City of Calgary
March 28, 2018 | Geoff Geddes
Red Mile revamp
City eyes the future with 17th Avenue facelift
Whether you're a person or a stretch of pavement, 30 years of hard labour can take its toll. When you're as heavily travelled as 17th Avenue S.W., the effect is multiplied. That's why the City of Calgary, armed with a $44 million budget, is giving much of the area a facelift. From Macleod Trail to 14th Street S.W., the City is upgrading utilities, rebuilding the road and improving pedestrian areas to pave the way for future use.
"This began as simply a road construction project," said Ryan Murray, a spokesperson for the City of Calgary's transportation department. "After 30 years, it was time to dig down and rebuild the foundation of 17th Avenue. We decided that while we were down there, we should make the most of it by upgrading old utilities and rebuilding the road."
Apart from the work beneath the surface, it was also a chance to make major enhancements above ground. That includes improving crosswalks and intersections for those on foot, replacing or repairing sidewalks, and adding LED lighting, sitting areas and new trees.
Projects like this are all about short-term pain for long-term gain. For the most part, people seem to accept that, and the City is working hard to keep the pain to a minimum.
"17th Avenue is an important public space where people meet, shop and work. It's really an extension of our living rooms, and it must be treated in those terms if we're going to get it right." - Peter Oliver, Beltline Neighbourhoods Association president
"The two reactions we get most often from people are 'this work was long overdue' and 'it's not going to be pretty during construction, is it?' " said Murray.
To get ahead of any major headaches, the City began an unprecedented program of collaboration with affected store owners to get their input on how to limit disruption. At the same time, City officials are spreading the word to the public that it's business as usual on 17th Avenue despite the rebuild.
"The most impactful decision we made was to halt construction from the beginning of Stampede to the end of the Labour Day weekend," said Murray. "That means that during the crucial patio season in July and August, the area will look and feel exactly the way it did last summer."
Ultimately, when all the work is completed, that look and feel should be better than ever, and that's music to the ears of Peter Oliver. Oliver is president of the Beltline Neighborhoods Association, which encompasses West Connaught, Connaught Centre, Victoria Centre and East Victoria.
"This project is a big departure from the past, when cities looked at roads as just a means of moving cars," said Oliver. "Road design should consider the people who walk it and the businesses that line it. 17th Avenue is an important public space where people meet, shop and work. It's really an extension of our living rooms, and it must be treated in those terms if we're going to get it right."
Part of "getting it right" is creating reasons for people to come down during construction with ideas like the Backyard Alley Party. A joint effort of the City and Oliver's association, it brought in live music and Astroturf, as businesses moved their entrances and patios to the alley and turned obstacles into opportunity.
As the work continues, some would like to see the project go even further. For his part, Oliver sees it as a chance to optimize 17th Avenue as a destination. One advocacy group has recommended large-scale changes, including a cycling track. While the City did install bike lanes on two adjacent streets to get people around construction zones, their goal for now is focusing on the scope of work they've been approved to do.
"Our main goal is to make 17th Avenue better today for all concerned," said Murray. "A lot of people are moving to the Beltline – 17th Avenue is the heart of that area now and into the future."
Tagged: 17th Avenue | Backyard Alley Party | Beltline | Beltline Neighbourhoods Association | Calgary Real Estate News | City of Calgary | connaught | Feature | Macleod Trail | Peter Oliver | Red Mile | Ryan Murray | Victoria Park
---
---
Connect With Us