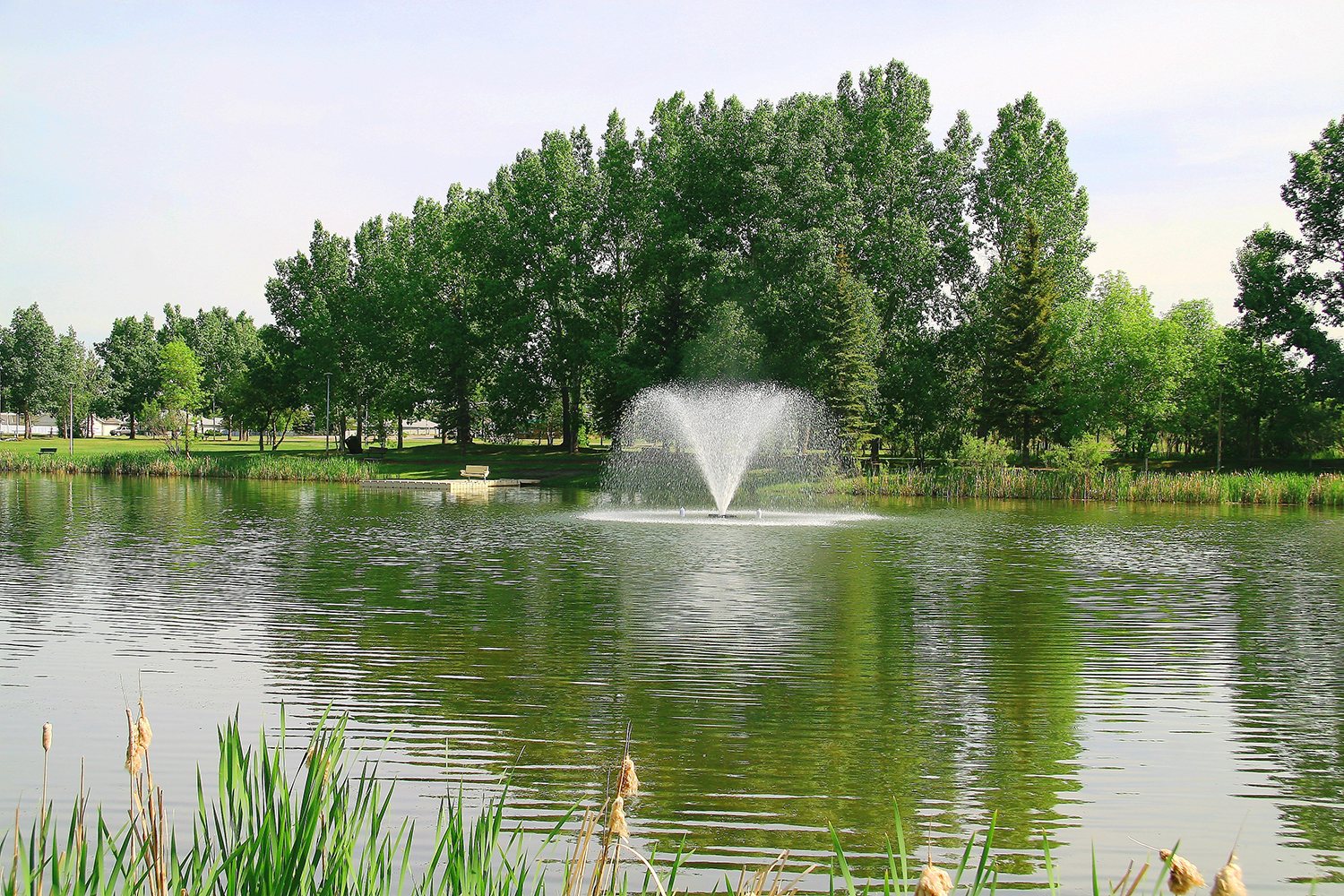 Strathmore's Kinsmen Park. Courtesy the Town of Strathmore
Oct. 05, 2017 | Andrea Cox
Growing strong
Alberta's agricultural heritage defines thriving Strathmore
The Town of Strathmore has a rich and varied history – a history that was built on agriculture and community spirit.
"Quality is a way of life here in Strathmore," said Strathmore Mayor Michael Ell. "It just has that small-town feel to it and it is a friendly, caring community."
Settled and developed by the Canadian Pacific Railway (CPR) in 1883, Strathmore is known as the town that moved. In 1905, residents of Strathmore shifted the town four miles north, spurred by the development of an irrigation system to service CPR's 2,000-acre, first-of-its-kind demonstration farm. The farm was designed as a model and instruction tool for settlers, many of whom had never farmed. At the time, the land boom was on, and settlers were arriving by railway in droves, buying up land for $12 to $25 per acre.


Today, residents and tourists alike can get a feel for Strathmore's history using a recently launched app. The app, called "On this Spot," allows users to match historical photos from the turn of the 20th century with the town's current features. The app also features a collection of curated historical walking tours and a camera editing tool, allowing users to create their own then-and-now photo gallery.

Strathmore's past set the foundation for the strong and connected way of life enjoyed by today's residents. "Our economy is not based on oil and gas – it's based on agriculture," said Ells. "We've weathered the economic downturn and continued to see growth, even strong growth, when it comes to residential development."

Located 40 km east of Calgary along the Trans-Canada Highway, Strathmore presents a pretty picture, surrounded by the beauty of wide-open prairie. According to the 2016 Canadian Census, 13,592 people call Strathmore home. And according to the town's 2015 census, almost 12 per cent of the population is retired, while 50 per cent of those still working commute to Calgary.

"I did it for 35 years, but it is a good commute because the sun is always at your back and the highway is very well maintained," said Ell.

New developments and facilities are sprouting up throughout the town, attracting residents looking for a quieter, family-oriented lifestyle with all of the amenities, while staying close to the bustling urban centre of Calgary.

The new community of Edgefield is growing, with a K-9 school launching in the fall of 2018, along with a new 50,000-square-foot recreation facility. The Strathmore Motor Products Sports Centre will provide gymnasiums for the new school, along with running tracks and indoor lacrosse and soccer fields.

"Quality is a way of life here in Strathmore. It just has that small-town feel to it and it is a friendly, caring community." - Michael Ell, Strathmore Mayor

Edgefield joins Strathmore's other new residential developments of Wildflower Ranch – a master-planned development with ranch-gate entrance features, abundant walkways and more than 40 acres of parklands and wetlands – and Lakewood Meadows – Strathmore's first waterfront community, with 43 acres of water features, including wetlands, a community pond and a 40-acre fishing lake.

"There is ongoing demand for new residential housing here," said Ell.

In celebration of Canada's 150th birthday, the town is undergoing $6 million in capital improvement projects, including revitalization of its downtown business district and improvements to its parks, such as a new pavilion, new playgrounds and a re-energized pathway system.

"We have great pathways, and I have been told that there are seniors that live in Calgary and come out to Strathmore just to walk the pathways," said Ell.

Strathmore is also renowned for its Wild West rodeos, abundant western hospitality, winter skating carnivals, and thriving sports and artistic communities. The community also boasts a 24-hour emergency hospital and a recently launched homeless shelter.

Strathmore by the numbers
Population: 13,592
Land area: 9.13 km2
Dwellings: 5,275
Average age: 38.9
Average household size: 2.6
Median total household income: $88,652

Tagged: agriculture | Calgary Community | Canadian Pacific Railway | CPR | Edgefield | Michael Ell | On This Spot | Strathmore | Strathmore Motor Porducts Sports Centre | Surrounding Areas | Trans-Canada Highway | Wild West | Wildflower Ranch
---
---
Connect With Us