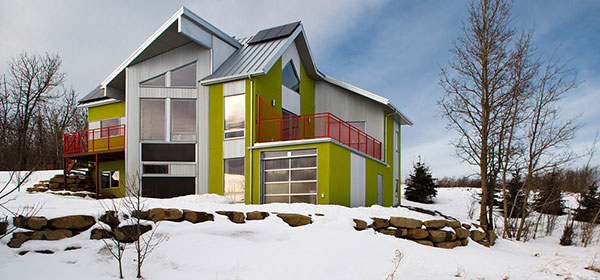 Sept. 18, 2012 | CREBNow
Green Haven Living
New Calgary community touting smart, sustainable living
Not many people can say they're neighbours with a winning entry in a national sustainable housing project, but the new Calgary community of Echo Haven has the credentials to prove it.
About 15 years ago, Dave Spencer,development manager with Echo-Logic Land Corporation and others decided they wanted to build a green oriented home after volunteering for a project in Scenic Acres.
"We couldn't find anybody who could build kind of exactly what we wanted so we ended up buying this(2.2 hectares) in Rocky Ridge and of course we had more lots than we could use so decided to go into the development business," Spencer said. "We wanted to attract some more people that were like-minded and that was kind of the understanding ... in the community; having an interest in energy efficient and healthy homes."
Spencer and his wife were already"well into" the design phase of creating an energy efficient home when they entered the CMHC's Equilibrium™Sustainable Housing Demonstration Initiative. According to the CMHC, the initiative "brings the private and public sectors together to develop homes and communities that address occupant health and comfort, energy efficiency,renewable energy production, resource conservation, reduced environmental impact and affordability."
The CMHC invited builders and developers to submit ideas for what they called Equilibrium™ demonstration homes in May of 2006. Out of 72 applicants who expressed interest, 20 were chosen to prepare and submit proposals before January 2007, when 12 teams, including Echo Haven, were selected to build and demonstrate their home.
Every inch of the Spencer's home was thought out according to efficiency and affordability while taking into consideration the home's EnerGuide rating.
"The gist of this whole process was trying to keep it affordable as well as achieving the objectives of being a net zero home and, of course, the simpler the design, the simpler the details become," he said.
"I've been in a few net zero homes before we even started so I had a rough idea what to expect, I'm just totally amazed how comfortable the house is. Year-round there's no draft, (the) interior comfort level is so high and it's so quiet. You have a hail storm or lightning, close the windows, and you can't hear a thing."
The home includes cabinets with zero formaldehyde, minimized spray foam (cellulose was more affordable), triple-glazed windows for maximized solar gain, photo voltaic heating and, a rainwater collection system used for toilet flushing and hose bibs for outside gardening.
The CMHC used the home as an Equilibrium™ demonstration between November and June 2011 after which the Spencers moved in. Since then, the CMHC has been monitoring the home to see how much energy is being produced,its air quality and water usage among other things to publish after a years time (in October).
For those looking to live in a net zero setting, there's only about 15 lots left in Echo Haven. Prospective buyers can build their own home or select a green builder. Guidelines have been developed in the community ensuring architectural and performance standards for solar access and a minimum EnerGuide rating of 84 for all homes in the community.
According to Natural Resources Canada, an EnerGuide rating shows the standard measure of your home's energy performance. A rating of 100 denotes a home that is airtight, well insulated, sufficiently ventilated and requires no purchased energy on an annual basis. The Spencer's home exhibits a rating of 97.
Other guidelines for living in the community include prohibited use of synthetic chemicals, herbicides, pesticides and fertilizers; paving surfaces for parking and patios must be permeable to water; where possible, garages should be integrated into the body of homes and windows on the south side of homes eight to 15 per cent of the floor area with glazing to allow for solar penetration.
Joining the Echo- Logic Land Corporation in the development process of Echo Haven is Calgary's Jigsaw Homes. The developer works to create comfortable, energy efficient and affordable homes.
Examples of the developers sustainable design includes one home in which efficient walls were used to make the furnace obsolete. "The home is heated and cooled by a small fan coil unit, and 60 per cent of the heat in the indoor air is recovered before being exhausted," stated the Jigsaw website.
Echo Haven isn't the only sustainable community offering in the Calgary area as Landmark Homes recently unveiled its first net zero home in the community of Cranston and the community of Drake's Landing in Okotoks became the first solar community in North America in 2007.
Tagged: Calgary Real Estate | Green Housing | Green Living
---
---
Connect With Us