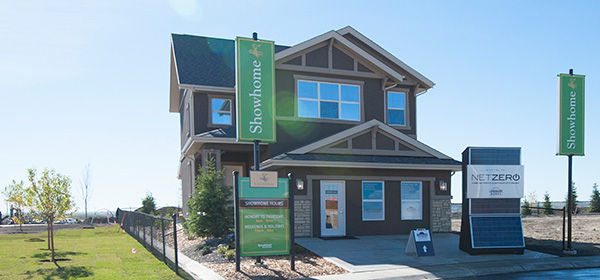 Sept. 13, 2012 | CREBNow
Landmark Net-Zero Home
This morning Landmark Homes invited CREBNow to check out their first high efficiency showhome.
Stuart Wen, Marketing Coordinator with Landmark Homes gave us a tour and some in depth information as to how they made the home a net-zero home. The home is located in Cranston, with nine more net-zero homes slated to be built in Cranston, it could possibly be the most energy efficient community in Calgary when all is said and done.
For anyone who is into green living this home appears to be exactly what you would want, the house uses what is produces in terms of energy. All systems are electrical, leaving out the cost of natural gas. Everything that has gone into this home has been thoroughly researched and because of that the home boasts features such as losing less heat, increased comfort, less maintenance, better indoor air quality and uses less water, just to name a few.
"We're thrilled to be the first home builder to not only embrace this sustainable building process with a goal of mainstreaming the concept, but see it through to completion." said Sam Attia, President, Landmark Homes (Calgary) Inc.
Check out the video below for a quick look and pick up the Sept. 21st edition of CREB® Real Estate News for a more in depth story.
What do you think of a net-zero home? Share your thoughts in the comments below.
Tagged: Calgary Community | Calgary Real Estate | Green Housing | Green Living | Residential
---
---
Connect With Us