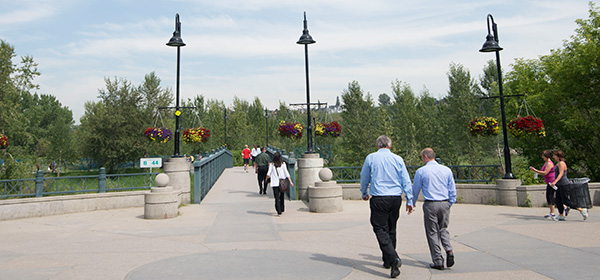 Aug. 14, 2013 | CREBNow
Summer in The City
For those looking for a place to call home with a sense of community like no other – look no further than Calgary's inner city.
After June floods devastated much of southern Alberta including a large chunk of Calgary's inner city, residents — both those affected by flood waters and those not — lent a hand any way they could.
"If anything the flood brought the people of my community together," said Mission resident James Paton.
The decision to live in the inner city was an easy one for the 28-year-old especially when it comes to getting around.
"What I most like about living in the inner city is the ability to walk to wherever I need to," he said. "I don't have to get in a car if I want to go for a bite to eat or meet my friends for a
coffee or beer."
A walkable lifestyle is a major contributing factor to those who make the decision to call the inner city home.
"I can cycle or walk to work, for groceries and most errands," said Kevin Rosmanitz who purchased a home in the community of Ramsey four years ago. "In the summer I can go all week without needing my car."
With a mix of single-family, condominium, apartment homes and more, those who hail from the inner city range from young professionals starting their careers, families taking advantage of the many schools and parks and retirees utilizing the handy pathway systems.
Comprised of many communities, the inner city is also home to Calgary's Centre City, which includes Downtown, Stampede Park, East Victoria Crossing Centre, Connaught Centre, West Connaught, West End, Eau Claire, Chinatown and East Village.
A new community in a historical location, the East Village is one of Calgary's most talked about places to call home. Located on almost 20 hectares of land bordered by the Bow River to the north and Fort Calgary to the east, $150 million in infrastructure improvements have gone into the neighbourhood since 2007.
The community recently announced a 300,000 sq. ft. retail offering by RioCan as well as the highly anticipated tenants of the historic
Simmons Building.
Utilizing Calgary's local talent, the century-old building will be home to offerings from Phil & Sebastian Coffee Roasters, Sidewalk Citizen Bakery and Charbar by Charbut Roast House's Connie DeSousa and John Jackson.
"The Simmons space is very special; it is centre ice to the East Village redevelopment," said Michael Brown, Calgary Municipal Land Corporation president and CEO. "Since Calgarians were so vocal about their desire to see it transformed into a space the public can enjoy, we undertook a very rigorous process of identifying and selecting just the right tenants. After interviewing more than 40 strong contenders, we chose the new tenant group because they – like East Village itself – are strong, distinctive, locally notable brands."
Blame Betty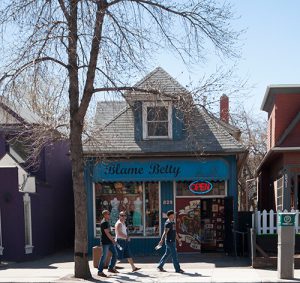 A departure from your average clothing store, Blame Betty on Uptown 17th has a little something for even the most discerning tastes. The store, named for fashion siren Betty Page, offers up designs from days gone by such as a Gery 50's Polka Dot Dress or Billionaire Dress for the ladies as well as men's and children's fashions. The store also has accessories and home wares for kitschy home décor or gifts.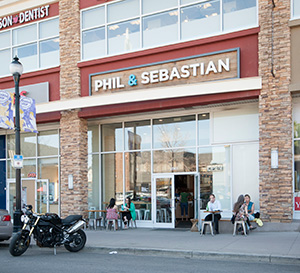 Phil & Sebastian
Phil & Sebastian is a name synonymous with good coffee and it's Marda Loop location in Calgary is no exception. Started by two Calgary engineers, Phil & Sebastian made its start at the Calgary Farmer's Market and since then, as well as Marda Loop, have expanded to Chinook Centre and soon to the Simmons Building. Phil & Sebastian's coffee connoisseurs travel to coffee growing regions around the world seeking out unique coffees and developing relationships with the people who grow them.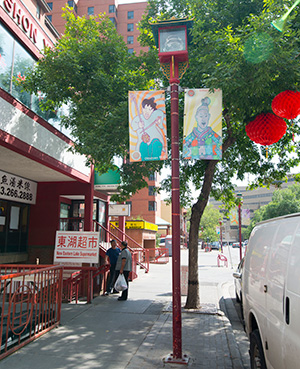 Chinatown
Chinese pioneers started arriving in Calgary as early as 1883, mostly railway workers who made their way west after the completion of the Canadian Pacific Railway. First located closer to Stephen Avenue, Chinatown has switched locations twice in the city, first due to fire, then lack of land for expansion before establishing in its current location. Today Chinatown is a thriving community known for its delectable bakeries, delicious restaurant and heritage architecture.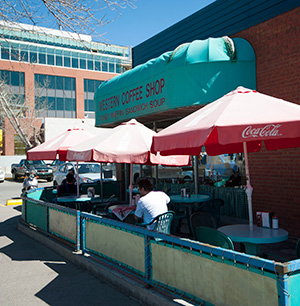 Western Coffee Shop
Western Coffee Shop has been a mainstay in the community of Mission, run by the capable hands of May Lui and William Wu, for the last 20 years. Open from 7-4, Monday to Saturday, the shop has an old school diner feel made all the more welcome with Lui wandering from table to table chatting with patrons like old friends. Diners can partake in all day breakfast, diner fare such as fish and chips or Chinese favourites like crispy lemon chicken or ginger beef.
Tagged: Blame Betty | Calgary Downtown | Calgary Real Estate | Calgary Real Estate News | Chinatown Calgary | City of Calgary | East Village | Phil & Sebastian | Prince's Island Park | Simmons Building | Western Coffee Shop
---
---
Connect With Us