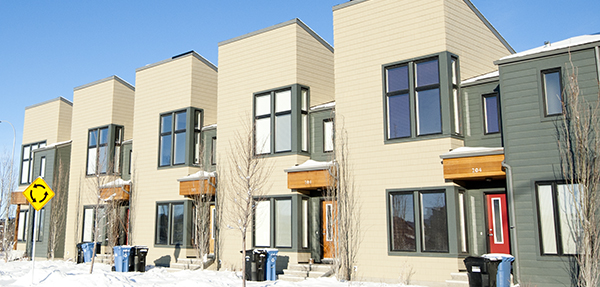 Dec. 23, 2014 | Cody Stuart
2014: The year in condos
Calgary's tight rental market, combined with low mortgage rates and relative affordability, supported record growth in the city's resale condominium sector in 2014.
Combined condo (apartment and townhome) sales up to the end of November increased 19 per cent to 8,105 units, compared with 6,782 units during the same period the year prior, according to CREB®.
The all-time sales record for condo sales was set in 2006, when 8,390 homes changed hands.
"In addition to lifestyle preferences, condominiums appeal to those looking for more affordable ownership options," said CREB® chief economist Ann-Marie Lurie, who originally forecasted 7,641 combined condo sales in 2014. "Some consumers look to low vacancy rates, rising rents and low returns in alternative investments and opt to use condominiums as an investment opportunity."
Calgary's vacancy rate hovered around one per cent for most of 2014 before increasing modestly to 1.4 per cent later in the year. Both rates were among the lowest of any major urban centres in Canada.
Meanwhile, homebuilders enthusiastically jumped on Calgarians' penchant for condos during the year. Through the first 11 months of 2014, multiple starts in Calgary numbered 10,224, nearly double the 5,702 starts record during the same period in 2013, according to Canada Mortgage and Housing Corp. (CMHC)
Qualex-Landmark's Park Point highlighted the long list of high-profile projects announced in 2014 to satiate Calgarians' demand for condos.
The 34-storey tower on the former CIBC Operations Centre building site at 12th Avenue and Second Street S.W. was first reported on over the summer, and will bring 286 units to the Beltline community by late 2015.
Other condo projects announced in 2014 included Embassy BOSA's The Royal off 17th Avenue S.W. (223 units), Knightsbridge Homes' 300-unit N3 project in the East Village and Lamb Development Corp.'s twin 200-plus unit Orchard towers in Victoria Park.
"There's a very positive sense within the political movement in the city to populate the core," said Lamb Development Corp. CEO Brad Lamb.
"There are things happening. If you stand back and look, it's a developer's paradise. There's so much that can happen in this city. It's exciting."
Record sales and starts were not the only two stories to define Calgary's condo sector in 2014. In November, the City of Calgary announced it would start accepting building permit applications for six-storey wood-frame buildings for already approved land use zones.
Previous building codes dictated concrete or steel as the only structurally sound options for buildings over four floors in height. Stronger wood beams and advances in fire safety, however, have since encouraged pending changes in national codes.
In December, Alberta condo owners were given more good news to cap off the year with the announcement that the Alberta government had passed the Condominium Property Amendment Act.
The act, which includes more than 50 amendments to the decades-old Condo Act, strengthens rules related to occupancy dates, purchase agreements, warranty information and conflict resolution.
"In particular, the licensing of condominium management companies will provide more consistent regulation, and increased developer obligations for documents provided to new purchasers will provide more information to REALTORS® and their clients," said CREB® president Bill Kirk following the government's announcement.
Tagged: Calgary | Calgary Real Estate News | Condos | year in review
---
---
Connect With Us