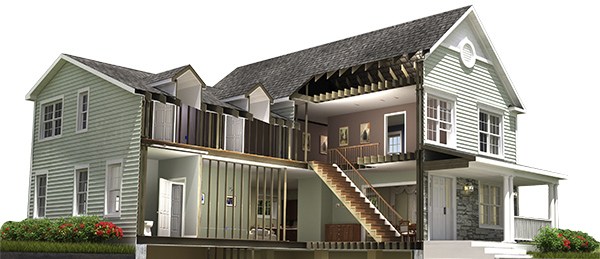 Oct. 01, 2014 | CREBNow
Devil is in the details
Expert says Calgary home inspections should be mandatory
When first-time homeowner Mario DeMarco made the "largest purchase" of his life, he wanted to ensure there were no surprises – that there would not be any major issues with the property before he signed on the dotted line.
DeMarco quickly turned to a home inspector – a move he credits as key in contributing to what turned out to be a smooth buying process.
"[It was] one of the few times in the process that I had the ability to control the situation," he said of purchasing his condo in Lower Mount Royal. "It is no different than getting an inspection on a used car before purchasing it. I wanted to know if there was water damage, electrical issues, plumbing issues..." DeMarco is not alone. After zeroing in on a property, all homebuyers should take that extra step and hire a home inspector to mitigate unforeseen and future risks, said Kevin Sixsmith, president of Amerispec Inspection Experts out of Calgary.
"It's important to conduct a home inspection to avoid a costly mistake by purchasing a property in need of major repairs or just being aware of any issues in the home," he said. "This way, the purchaser will be able to negotiate price or repair before ownership."
In Alberta, home inspectors require a licence to operate and require a degree, diploma or certificate, or, an approved home inspection designation. To the west, B.C.'s provincial government recently announced a professional standard for home inspection licencing.
"Consumers deserve a rigorous, reliable home inspection industry," said B.C. Housing Minister Rich Coleman. "We want to ensure homebuyers have every possible confidence that their home inspector is qualified to help them with what is often the largest investment they will make."
Sixsmith broke down the importance of a good home inspection.
"[It] will assist a buyer in understanding exactly what they are about to acquire. A home may look move in ready, but an inspector will cover features of the house such as electrical wiring, plumbing, roofing, insulation as well as structural features of the home, and may unveil issues that are not noticeable to the buyer's eye."
Home inspections cover everything from the plumbing to foundation and chimney, even going as far as employing thermal imaging with an infra-red camera to detect defects that may not be apparent to the naked eye.
"The process was very easy," said DeMarco. "My REALTOR®... recommended a few different inspectors. I asked for one who was most diligent and detailed. He took about three hours for a 900-square-foot condo and sent a detailed report to me.
"This is definitely something I would do with a home in the future."
While home inspections aren't yet mandatory in Calgary, Sixsmith thinks they should be.
"A home inspection protects all persons in the real estate transaction: the purchaser, the REALTOR® and even the seller by identifying defects to avoid future legal action," he said.
In Calgary, mandatory inspections are limited to the construction phase, including permitting, licensing and development completion.
In recent years, the City of Calgary has been streamlining its building permit process by moving it online. The City has also improved the co-ordination and scheduling of inspections when it comes to both development and building permits, eliminating the need for individual inspection requests by customers.
"Going forward, a single call to 311 or online request ... now pre-books all required inspections during each phase of construction for new single- and semi-detached home projects, which may include a development permit as part of the construction project," said Marco Civitarese, chief building official and manager of permit and inspections for the City.
"In addition, customers will be able to obtain the results of all their inspections on the same day their appointment is scheduled."
Since residential ePermits were introduced in April 2013, more than 1,600 new home construction permits in developing communities, or single-construction permits, have been submitted.
Tagged: Calgary | Calgary Community | Calgary Real Estate News | epermit | home inspection | Homebuyer | Residential
---
---
Connect With Us