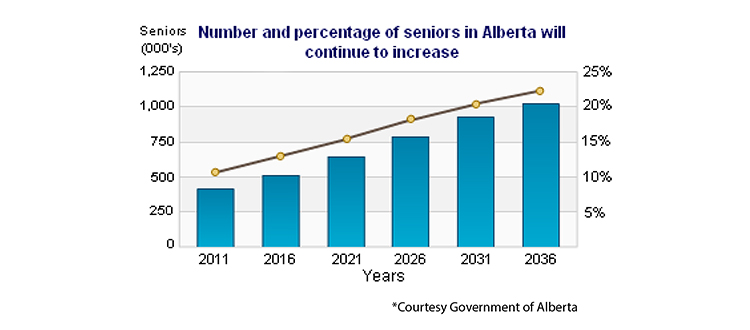 April 15, 2016 | CREBNow
New legislation could help seniors stay in their homes
Province examines low-interest home loans as part of Bill 5
The Alberta government is proposing legislation that could assist seniors looking to age in place.
The proposed Seniors' Home Adaptation and Repair Act would enable a new low-interest home equity loan program to help seniors improve the safety and sustainability of their homes.
Bill 5, the Seniors' Home Adaptation and Repair program, would allow senior homeowners who qualify to finance essential home repairs and adaptations, including widening doorways or hallways, installing walk-in tubs, roof replacements and electrical repairs.
"Home should mean comfort and security for all of us," said Seniors and Housing Minister Lori Sigurdson.
"For many seniors, being able to remain in their homes for as long as they choose, or are physically able, is vital to their independence and quality of life. Our home adaptation and repair program would help seniors stay at home. This program addresses the needs and priorities of an aging population."
About 145,000 senior households in Alberta would be eligible for the loan program. Candidates would not be required to pay monthly loan payments as they would with traditional loan programs.
Under the proposed program, a maximum home equity loan of $40,000 would be available to seniors with a qualifying income threshold of $75,000, and who have a minimum 25 per cent home equity.
Low-income seniors who do not qualify under the loan program may still be eligible for a grant to help finance necessary home repairs.
The proposed loan program will offer measures to protect consumers, including provisions to review the reasonableness of the costs of the home repair as well as the right to cancel contracts.
If passed, the Seniors' Home Adaptation and Repair program will be effective July 1.
Tagged: Aging in Place Calgary | Calgary Real Estate | Calgary Real Estate News | Home Renovations | home repairs | Homeowners | Lori Sigurdson | Renovations | seniors | Seniors and Housing Minister | Uncategorized | YYCRE
---
---
Connect With Us