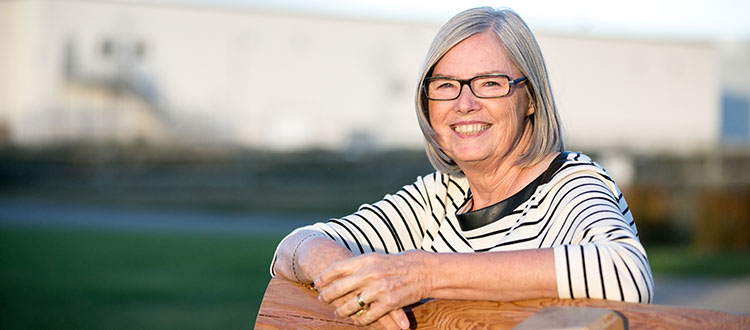 Bonnie Wegerich, who spent most of her real estate career working in Airdire, recalled 2009 being a challenging year for the Calgary and area's housing market. But she also remembered a sense of momenteum during her year as CREB®'s president. Photo by Michelle Hofer/for CREB®Now
Oct. 24, 2016 | Cailynn Klingbeil
55 Years of Calgary Real Estate: 2009 CREB® President Bonnie Wegerich
Former CREB® president Bonnie Wegerich remembered challenges, successes in 2009
Bonnie Wegerich can sum up her time as CREB®'s president in 2009 with one word: recovery.
After residential resale housing prices in Calgary reached record highs in 2007, an economic downturn the following year caused prices to drop and sales to halt – a spillover effect that went well into Wegerich's year at the helm.
"In January, we had more sales than in December, and we were very excited about that. That's where we went from. Every month was getting better than it was," remembered Wegerich, a longtime real estate professional who worked and lived in Airdrie.
"Everything kind of came to a grinding halt ... there weren't any buyers. 2009 looked a little better than 2008, but it still was not great. We had lots of inventory and not enough buyers."
By year's end, the numbers started to improve – fueled in part by low borrowing costs and increasing consumer confidence. According to CREB®, sales edged up 8.5 per cent to 20,511; though the benchmark price took longer to recover, declining by 8.6 per cent to $362,400.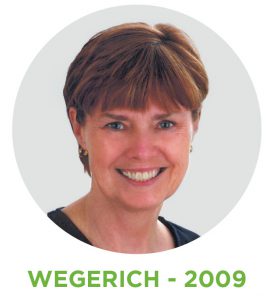 While the market in 2009 was no doubt full of challenges, Wegerich said stories at the time made it seem worse than it actually was.
"People panic with what they hear," she said. "They think the sky is falling, even if it may not be falling. Once the perception is there that sky is falling, people believe it."
Wegerich lauded CREB®'s move, a few years after she finished her presidency, to hire its own chief economist, Ann-Marie Lurie, to make the market feel a little less "Chicken Little" and a little more "Dr. Phil."
"I think one of the best things CREB® did was hire Ann-Marie Lurie as economist ... She's made a huge difference, and is a real asset to CREB and to Calgary," said Wegerich.
Wegerich, herself, focused on the positives that year. At CREB®'s annual forecast, she noted the transition to a more stable and balanced housing market.
"A door may be closing, but a window is opening," she said at the time. "The window of opportunity couldn't be better for buyers right now.
Ultimately, the market did improve after 2009 with both sales and prices posting year-over-year increases.
"2009 finished better than it started ... We all survived," Wegerich said now, looking back.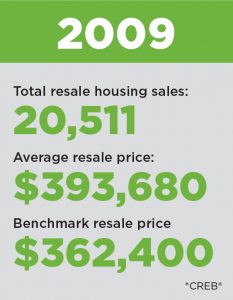 While market conditions and slow economic recovery dominated headlines for most of 2009, the board was busy working on other things, too. Upgrades were made to the lockbox system and policies regulating long-distance offers over email. A proposed land transfer tax imposed was also narrowly defeated at city council.
In 2012, with the market "just taking off again," Wegerich retired from a 23-year-long career in real estate.
"I remember things picking up and the vibrancy coming back," she said
Wegerich now splits her time between Ontario and Florida. She visits Alberta every year, and said Airdrie, where she once lived and worked, has grown so much it's nearly unrecognizable.
Wegerich has some thoughts for people still in Calgary, facing the current downturn and dealing with a challenging market, just as she once did.
"Calgary is a cyclical market. You see it come and go, and it will come back again," she said. "The real estate industry is an exciting place to be."
Tagged: 55 years of calgary real estate | benchmark price | Calgary Real Estate | Calgary Real Estate News | CREB® | CREB® Chief Economist Ann-Marie Lurie | land transfer tax | new listings | past presidents | sales | Uncategorized | YYCRE
---
---
Connect With Us