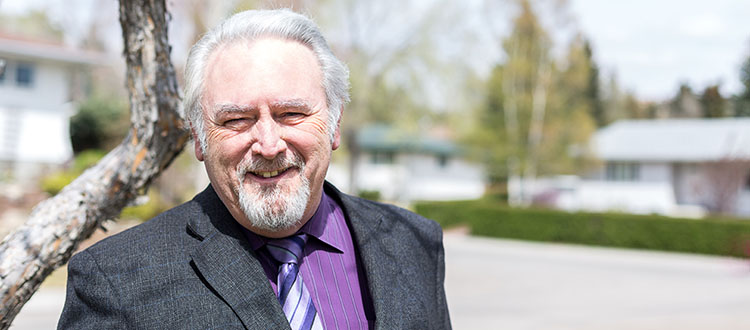 Former CREB® president Don Dickson said one of the biggest changes he's seen over the course of his real estate career is the number the different housing types now available. Photo by Michelle Hofer/for CREB®Now
Sept. 14, 2016 | Cailynn Klingbeil
55 Years of Calgary Real Estate: 2004 CREB® president Don Dickson
CREB® president was just one of many roles Don Dickson looks back on fondly
Don Dickson has held a variety of roles during his lengthy real estate career: Salesman, broker, business practices manager, and, in 2004, president of CREB®.
Through it all, his focus has remained the same.
"It's about helping members. That's been my number-one priority," Dickson said. "It's been a fabulous experience. You couldn't have a more fulfilling career. And I'm not done yet."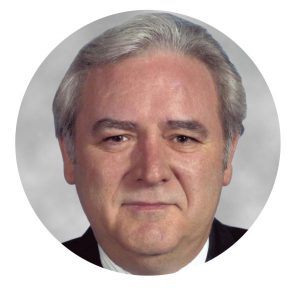 Dickson entered the real estate industry in 1974, following in the footsteps of his dad, Bill, who served as CREB® president in 1977. Dickson's brother and son are also in the business.
Following his presidency role, Dickson went on to work for CREB® as business practices manager, and is currently an industry practices consultant for the Alberta Real Estate Association.
During his time in real estate, Dickson said the biggest change he's seen has been in architecture. Today, diversity exists in the types of structures and designs available. But when Dickson started in the business, he said just four types of housing existed in Calgary, built by a limited number of developers: split-levels, bungalows, two-storeys, and bi-levels.
"Then condominiums came along," he said, describing one of the city's early condo buildings as looking "like chicken coops.
"People didn't respect condominiums at all. Now, condos are a staple. Look at architectural design now. There's just so much change."
Back in 2004, Calgary's housing market set a number of records at the time, including the number of sales (22,468), number of new residential listings (34,974), and the overall dollar volume of sales ($5.15 billion).
Low mortgage rates that hovered around 4.5 per cent drove growth in the real estate sector, even as net migration in the city weakened to 2.3 per cent (Calgary's population in 2004 was 1.13 million).
Also that year, Canada Mortgage and Housing Corp. eased down-payment requirements. Beginning in March, homebuyers' minimum five-per-cent down payment could come from any source, including bank loans or lender incentives.
Dickson remembered the market was just coming out of the tail end of another economic slump.
"The market recovered," he said, adding it went on – in 2005 and 2006 – to be a "hot, hot market."
Throughout his career, Dickson has seen plenty of market transitions. He approaches today's tough conditions with the perspective that comes from decades of working in Calgary.
"I'm an eternal optimist. I think we will come through this, too," he said. "I remember how horrible it was in 1981. We recovered from that, and it didn't take long. By February 1984, I had the best month I'd ever had.
"Every five to six years, there's a drop in the market. We've always recovered."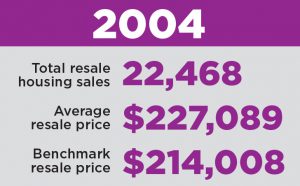 Reflecting on his time as president in 2004, it's an industry change – and the subsequent reaction from real estate professionals – that he remembered most.
"The year I was president, we switched to a brand-new MLS® System," Dickson said. "People were so upset with us. They were so mad."
The new system, called MLXchange, that allowed real estate professionals to manage the back end of the MLS® System was implemented early in 2004 following a two-year process, led by Dickson's predecessors, of vetting numerous applications to find the right system.
"I think we made the right decision on the system," Dickson said. "It was much more sophisticated, with more capabilities. Once you got into it, and took the training, it was light years ahead of the system before."
Not everyone agreed. Like many past presidents before him, Dickson learned first-hand how averse some people can be to change.
In preparation of the switch, the board established a help desk and added more staff to help members adjust and learn the new system.
Still, Dickson remembers a packed and raucous meeting, held about a month after the switch to MLXchange in which people loudly expressed their anger over the switch to the new system.
It took time, Dickson said, but people eventually came around. He organized another meeting that spring to discuss the system, expecting another packed house. But about 50 people showed up, far fewer than the hundreds he had prepared for.
"I had a friend saying, 'this is one of the worst things you've done,'" Dickson said. "A few months later, the same friend was saying the system was just fantastic."
Despite such challenges, Dickson still reflects fondly on his time at the helm of CREB®.
"I enjoyed having a hand in listening to REALTORS® and addressing the issues of the day," he said. "It's a balancing act, making sure everyone is happy. But it's rewarding."
Tagged: 55 years of calgary real estate | Calgary Real Estate | Calgary Real Estate News | CMHC | down payment | Homebuyers | MLS® System | new listings | past presidents | REALTORS | sales | Uncategorized | YYCRE
---
---
Connect With Us