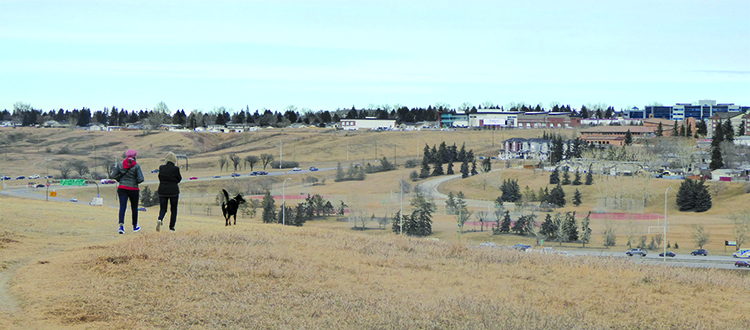 According to CREB®, some districts east of Deerfoot Trail are exhibiting price resilience – and even some gains – despite the citywide bench-mark price slipping by 3.45 per cent from the same time last year to $445,000. Photo by Cody Stuart/Managing Editor
March 04, 2016 | CREBNow
Differences among districts
Some areas of Calgary are reacting much differently to market conditions
Calgary residential resale housing prices continued to slide in February, yet new data shows not all areas of the city are being impacted in the same way.
According to CREB®, some districts east of Deerfoot Trail are exhibiting price resilience – and even some gains – despite the citywide bench-mark price slipping by 3.45 per cent from the same time last year to $445,000.
In northeast Calgary, for example, the benchmark price in February increased year-over-year by 1.7 per cent last month to $366,800, while east Calgary remained flat at $324,800, reported CREB®.
Northeast Calgary is loosely bordered Deerfoot Trail to the west, Stoney Trail to the north and east and Memorial Drive to the south.
East Calgary is loosely bordered by Deerfoot Trail to the west, Memorial Drive to the north, Stoney Trail to the east and Glenmore Trail to the south.
Other districts in Calgary told a much different story in February. The city centre benchmark price fell year-over-year by 5.9 per cent to $510,700, followed by the northwest (-4.9 per cent to $480,600), west (-4.2 per cent to $545,700), south (-3.5 per cent to $422,900), southeast (-2.8 per cent to $433,900) and north (-2.6 per cent to $402,200).
CREB® chief economist Ann-Marie Lurie said she's not surprised that some areas of Calgary reacted differently to the market in February, In fact, she noted the northeast and east districts have been trending differently than the rest of the city since early 2015.
"Both of these districts have been a bit more resilient to what's going on in the market because of relatively strong demand for affordable product,"
she said.
In February, the differential between benchmark prices in the west ($545,700) and northeast ($366,800) districts was nearly $180,000.
Yet Lurie warns market conditions are catching up with all areas of Calgary's housing market. In the northeast, for example, the benchmark price was up 1.7 per cent year over year, yet it was down 1.3 per cent compared to January.


"Slow sales and elevated housing inventory are now resulting in month-over-month price declines in every district," said Lurie, who expects conditions to persist over the next several months.

"Given the current economic environment, it is no surprise that consumer confidence and housing demand is being impacted."

Citywide, February sales totaled 1,127 in Calgary, a 6.6 per cent drop over last year and 30.2 per cent lower than long-term averages for the month, according to CREB®'s most recent monthly housing summary.

While the number of new listings in Calgary continued to fall – in February's case year-over-year by one per cent to 2,906 units – inventory levels remained elevated at 5,681 units.

CREB® president Cliff Stevenson said buyer's conditions means sellers in all districts need to be more realistic about their pricing expectations and the amount of time their properties may be on the market.

"Buyers are less likely to submit an offer if there's a big gap between the listing price and what they are willing to pay," he said. "A solid selling strategy can really make the difference in this market."

Buyers' expectations on housing prices were analyzed by the Angus Reid Institute in a recent poll that showed just 23 per cent of Calgary respondents believed housing prices in their neighbourhood were "unreasonably high" – the lowest rate of the seven markets included.

Calgarians were also among the most likely to believe housing prices in their neighbourhoods were priced adequately, with nearly half (47 per cent) of Calgary respondents stating home prices in their neighbourhood were either "reasonable" (38 per cent) or "maybe a bit low" (nine per cent).

"This is a buyer's market, and I would expect that at some point in time we're going to see buyers taking advantage of that. It just hasn't happened yet," said Stevenson.

Respondents living in Vancouver, where the average price of a single-detached home climbed to $1.83 million in January, were the most likely to respond that housing prices in their neighbourhood were too high. Nearly three quarters (70 per cent) said prices were unreasonable. Torontonians followed at 46 per cent.

Among the markets included in the survey, Calgary's average home price of $439,552 placed the city placed third behind Vancouver and Toronto ($631,092) but below than Canadian average of $470,297.

The Angus Reid poll also found Canada Mortgage and Housing Corp.'s (CMHC) policy change on down payment minimums is already having an impact in some markets – most noticeably Calgary's.

As of last month, homebuyers are now required to make a minimum down payment of at least 10 per cent for the portion of mortgages in excess of $500,000. Analysts saw CMHC's move as a way to cool Vancouver and Toronto's runaway housing market

However, according to the poll, Calgary's market could see some unintended side effects; 12 per cent of respondents in the city said they are less likely to buy a home in 2016 as a result of the CMHC's changes. Buyers in Vancouver and Toronto – the intended targets of the changes – responded identically, with eight per cent of those in both markets stating they were less likely to purchase a home in 2016 as a result of the new rules.

Despite those findings, Calgarians were also the most likely among those surveyed to purchase a new home in 2016, with 20 per cent stating they planned to buy a home this year, trailing only Edmonton's
22 per cent.

Tagged: benchmark prices | Calgary Real Estate | Calgary Real Estate News | Prices | Residential | Uncategorized | YYCRE
---
---
Connect With Us