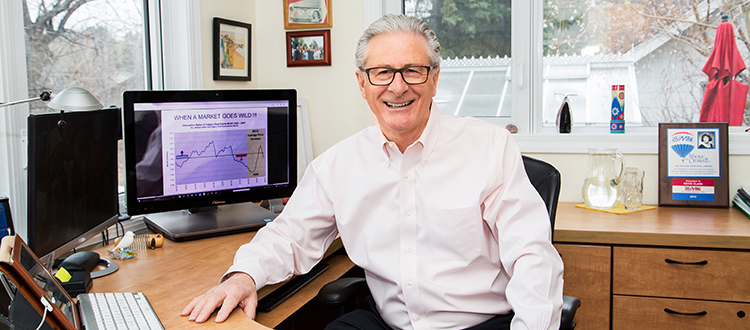 Kevin Clark says the hectic pace of Calgary's real estate market in 2006 had its own challenges. Photo by Michelle Hofer/For CREB®Now
July 21, 2016 | Cailynn Klingbeil
55 Years of Real Estate: 2006 CREB® Past President Kevin Clark
Former CREB® president Kevin Clark recalls robust activity in 2006 created new set of challenges
To an outsider today, 2006 was an enviable year for real estate in Calgary. Nine to 10 offers on a house was commonplace, sales activity hit an all-time high with 26,975 transactions and prices skyrocketed year over year by more than 40 per cent to $336,408.
But for Kevin Clark, who was CREB® president that year, he doesn't long for those days.
Clark describes the market in 2006 as volatile. He recalls Calgary's housing industry that year as one overrun with inventory fluctuations that came with their own set of challenges.
"The challenge was the pace of the market. Multiple offers was the big story that year."
"The challenge was the pace of the market. Multiple offers was the big story that year," he said, describing people lining up to look at houses, and it not being unusual to have 10 offers come in on a single property.
But 10 offers meant 10 buyers and 10 real estate professionals, as well as the sellers and their real estate professionals. A typical sale could involve nearly a dozen sets of people.
"At the very best, only four people would be happy, and maybe not even that," said Clark, noting the buyer who got the house and his or her REALTOR® might have felt they paid too much, while the seller and his or her REALTOR® may have thought they should have paid more.
"People think it must have been the glory days, but it was not."
The challenges were exacerbated for people who were relocating to Calgary and had limited time to look at houses and place offers, creating an "unbelievably stressful" situation, said Clark. "A balanced market is much better to do business in."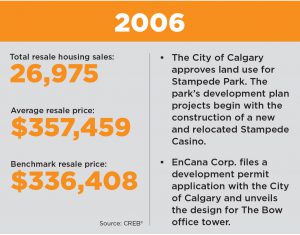 Calgary's real estate boom was thanks to a combination of growth through the first part of the decade and Calgary's prosperous position that year. Energy prices were solid, and buyers responded to rising incomes and declining relative debt levels, said Clark.
It was also the year then-premier Ralph Klein handed out $400 prosperity cheques to all Albertans, dubbed "Ralph Bucks." Clark remembers the provincial mindset was optimistic.
Headlines that year highlighted the happenings.
"'Crazy' market kicks home past $360,000: Single family house prices 31% higher than last year," read an April 2006 headline.
"House prices soaring toward $400,000: Hot real estate market jumps 'beyond anyone's wildest dreams,'" read a headline in June.
Calgary's housing market affected many other industries, too. Skilled tradespeople were in short supply, while everyone from moving companies to truck rental businesses experienced heavy increases in demand thanks to the booming real estate market.
Though the year had begun with CREB® forecasting a decline in listings and sales from 2005, it ended with records set in almost all categories – including a sales benchmark that stands to this day.
In addition to overseeing the board in 2006, Clark was also selling real estate full time. He recalls doing nearly 200 media interviews that year, in which he tried to emphasize balance.
"Nothing aggravates the industry, and me, more than the market being spun too deeply one way," said Clark.
Aside from the stresses of the market, Clark remembers his year as president, from the board's standpoint, as "fairly stable," with not a lot of changes.
After his time with CREB®, Clark went on to serve with the Real Estate Council of Alberta. He describes that work, on the regulatory side of the industry, as tremendously insightful.
"I wish the whole industry could be more exposed to the role and responsibility of regulation," he said.
The biggest change Clark has seen in the real estate industry, which he's been working in since 1976, has been technology.
"There's been increased momentum in use of technology. It's no longer a novelty. It's just part of our lives," he said, noting he's seen how the fax machine once changed the industry, to today, when it's common to engage in a transaction and not even speak to someone.
Tagged: 55 years of calgary real estate | benchmark price | Calgary Real Estate | Calgary Real Estate News | CREB® | in-migration | Kevin Clark | labour pool | multiple offers | Ralph Klein | real estate council of Alberta | sales | Uncategorized | YYCRE
---
---
Connect With Us