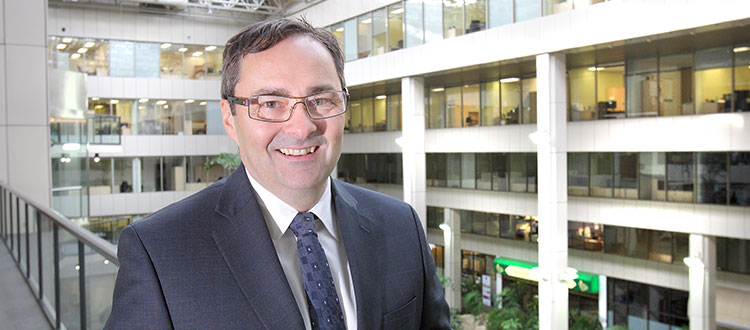 John Savard, principal office leasing specialist with Bedrock Realty Advisors says suburban market especially hard hit in the City's south end.
Feb. 10, 2017 | CREBNow
Suburban financial market faces significant challenges
Record vacancy rates predicted to trend upwards
Commercial real estate felt the pinch of a slumping economy in 2016 and Calgary's suburban office market was no exception.
From headleases – between a landlord and a tenant – to subleases – where a tenant puts some of their excess space on the market – commercial real estate outside the core had its challenges.
"A significant amount of very, very large blocks of vacancies are available on the sublease market and the headlease market, for that matter, and we have not seen a great number of tenants going in to take those spaces,'' said John Savard, principal, office leasing specialist with Bedrock Realty Advisors Inc.
Suburban office vacancy rose 0.3 per cent during the fourth quarter of 2016 to 22.6 per cent, according to a recent Barclay Street Real Estate report.
When comparing Class A (the highest quality properties) with Class B (a lower quality property), the reports states that gains in the B Class sector were balanced off by a significant amount of new A Class space coming to market.
"The vacancy in B Class buildings decreased by 10 per cent while A Class vacancy rose by the corresponding 10 per cent," states the report. "In the end, an additional 32,000 square feet of sublease space was also placed on the market."
An additional 230,000 square feet of space becomes available for occupancy from January through June this year, of which 152,000 square feet is headlease expiries.



As we look at 2017, the buzz word from an economic development perspective is 'tech.'



Savard says despite decreasing lease rates in Calgary's core, suburban tenants are reluctant to relocate to the inner city because factors like parking costs and availability remain a deterrent.
He points to the massive number of oil and gas-based engineering companies that have either subleased their space or have shrunk substantially in their operations as the reason for record vacancy rates – especially in the south of the city.
Joe Binfet, managing director/broker with Colliers International, says the suburban market certainly did not see the spike in vacancy that was experienced downtown during 2016.
''The suburbs have a more diverse tenant mix with less reliance on the oil and gas sector. While some oil and gas sector engineering firms were hit hard, those firms in the civil and construction sectors were insulated and saw solid growth in 2016," said Binfet.
''As we look at 2017, the buzz word from an economic development perspective is 'tech'. The tech firms that our agents deal with do not want to be downtown," he said.
"They prefer a less corporate environment and seek out character buildings – brick and beam type.''
The city's mandate to push property taxes out of the downtown core will impact the suburban and Beltline markets, making a challenging environment a little tougher, he says.
''We are not seeing a lot of new buildings come on stream in the suburbs and we expect vacancy to trend upward but not dramatically in 2017," said Binfet. "Landlords continue to be aggressive in their retention of existing tenants and in their pursuit of new ones."
Tagged: Commercial Real Estate | Market Analysis | Suburban Market | Uncategorized
---
---
Connect With Us