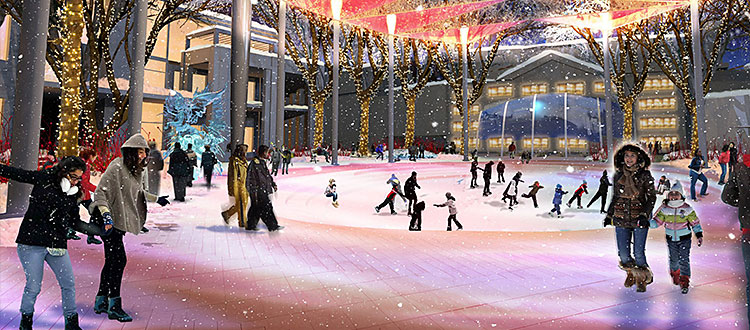 Walkable spaces with retail located moments from your door, Melcor's newest development, Greenwich, is expected to be a draw for young urban professionals and those looking to downsize. Photo courtesy Melcor Development
Jan. 26, 2017 | Barb Livingstone
New Normal
Greenwich community in northwest Calgary to put live/work/play into practice
Calgary's "new" northwest will have a familiar face touting a popular concept starting
this year.
Industry veteran Melcor Development has announced pre-sales for its new community of Greenwich will start this March. The 16-hectare live/work/play development to be located just off Highway 1 toward Banff will see a mix of residential, retail and commercial offerings.
It is a mix Graeme Melton, vice-president of community development for Calgary, believes will be a big draw for not only Greenwich residents, but those in neighbouring communities.
"In the last 20 years we've seen communities being developed, often with no retail component — or very little," he said.
"It has become the norm for Calgarians to get into their car before setting out for even the smallest daily activity. I think the need to live in a community, where you can walk to your spin class, or ride your bike to pick up groceries, is there."
At the same time, Melton said Greenwich will encourage residents to be an integral part of their walkable community, whether it's by having coffee with neighbours at the central plaza, or taking a bike ride with friends along the river.
Greenwich's preliminary plans include community gardens, parks and bike and walking pathways.
The community will be part of a growth trend that started last year when Calgary's north sector was the busiest area of new residential growth — with predictions that trend will continue in 2017.
At completion, Greenwich is expected to have 900 multi-family residential units, made up of four- to six-storey condo buildings, as well as townhomes and rental offerings.
The first two homebuilders in the development will be Cove Properties, which will offer condo homes, and Landmark Homes, which will focus on townhomes.



Greenwich's location on the way to the Rocky Mountains — yet on the edge of urban amenities — offers a perfect balance of everyday needs and weekend retreats



Infrastructure construction is currently underway on the site just east of Stoney Trail, across from Canada Olympic Park. The property sits about a 15-minute drive from downtown Calgary, and close to the University of Calgary and both Foothills and Alberta Children's hospitals.
Melcor marketing manager Catharina Mendonca said the site will be unique with its location along the Bow River and the company's vision of a small community surrounded by boutique retail and office space.
She added the retail component will serve not only Greenwich, but also surrounding neighbourhoods such as Valley Ridge, Crestmont, Tuscany and Scenic Acres.
No tenants have yet been confirmed for the approximately 100,000 square feet of commercial space and 200,000 square feet of office space that will be part of Greenwich, but preliminary plans include a grocery store.
Melton said there has already been immense interest, both from homebuyers and business owners, who see the potential to serve a number of surrounding communities.
"The northwest has historically been one of the highest-earning quadrants in the city, yet when we look for specialized grocery, boutique retail, or higher end restaurants, it is a very underserved quadrant," he said, adding, until now, residents have had to drive to the southwest for those services.
Melton expects Greenwich to be a draw for both young urban professionals and older "right-sizers" with its urban feel, offered outside of the downtown.
"Greenwich's location on the way to the Rocky Mountains —yet on the edge of urban amenities —offers a perfect balance of everyday needs and weekend retreats," he said.
Tagged: Calgary Developer | Calgary Real Estate News | melcor | Multi-Family Real Estate | Northwest Calgary | Uncategorized | walkable
---
---
Connect With Us