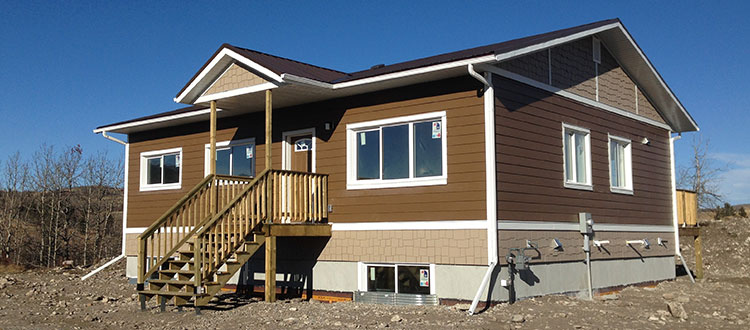 Calgary's Ladacor Advanced Modular Systems is turning unused shipping containers into affordable housing solutions.
Feb. 10, 2017 | Marty Hope
Thinking inside the box
Local company eyes future shipping container developments in Calgary
They travel across the ocean from Asia all the way to Canada and, until recently, these steel shipping containers were considered surplus.
If a local company gets its way, however, these re-purposed shipping containers could provide part of the solution to affordable and special needs housing demands in Calgary.
"We are currently looking at a couple of different projects in Calgary," said Rhys Kane, director of business development for Ladacor Advanced Modular Systems. "They would be multi-family apartments and seniors' independent-living projects of six- to eight-storeys."
While this would be a first for Calgary, Ladacor has designed and built detached homes, multi-storey hotels, multi-family structures, and seniors' facilities from decommissioned containers in smaller centres and First Nations communities in Alberta, in Edmonton, and other locations across Canada.
Unless you know they are former shipping containers, there's really no way to spot these developments with the naked eye.
"All finishes are typical of any similar conventionally-built project from insulation to drywall and from flooring to millwork," said Kane. "By the time they are finished they look like any other conventional building."



By the time they are finished they look like any other conventional building.



And, he adds, there are benefits from going the container route.
"Ladacor is able to provide a cost-effective housing project that can compete with the cost of a conventional wood building, go up in half the time, and offer all of the benefits of steel, non-combustible, life-cycle costs," he said, adding that the structures are built inside Ladacor's 28,500-square-foot Ramsay facility and delivered to the building site for final assembly.
Stephen Pearce, a planner with the City of Calgary, says issues with using shipping containers as housing are primarily related to the building code and other safety codes.
"The Land Use Bylaw regulates the form and the location of a building, but does not regulate how it is constructed," he said.
"Where a shipping container is used to construct a home on a permanent foundation, it is treated like any other house constructed on a permanent foundation. The Land Use Bylaw does not regulate the construction material."
Ross McDougall, chief building inspector with the City, says using shipping containers for residential purposes "has come up in the past and will most likely continue to come up."
Tagged: Uncategorized
---
---
Connect With Us