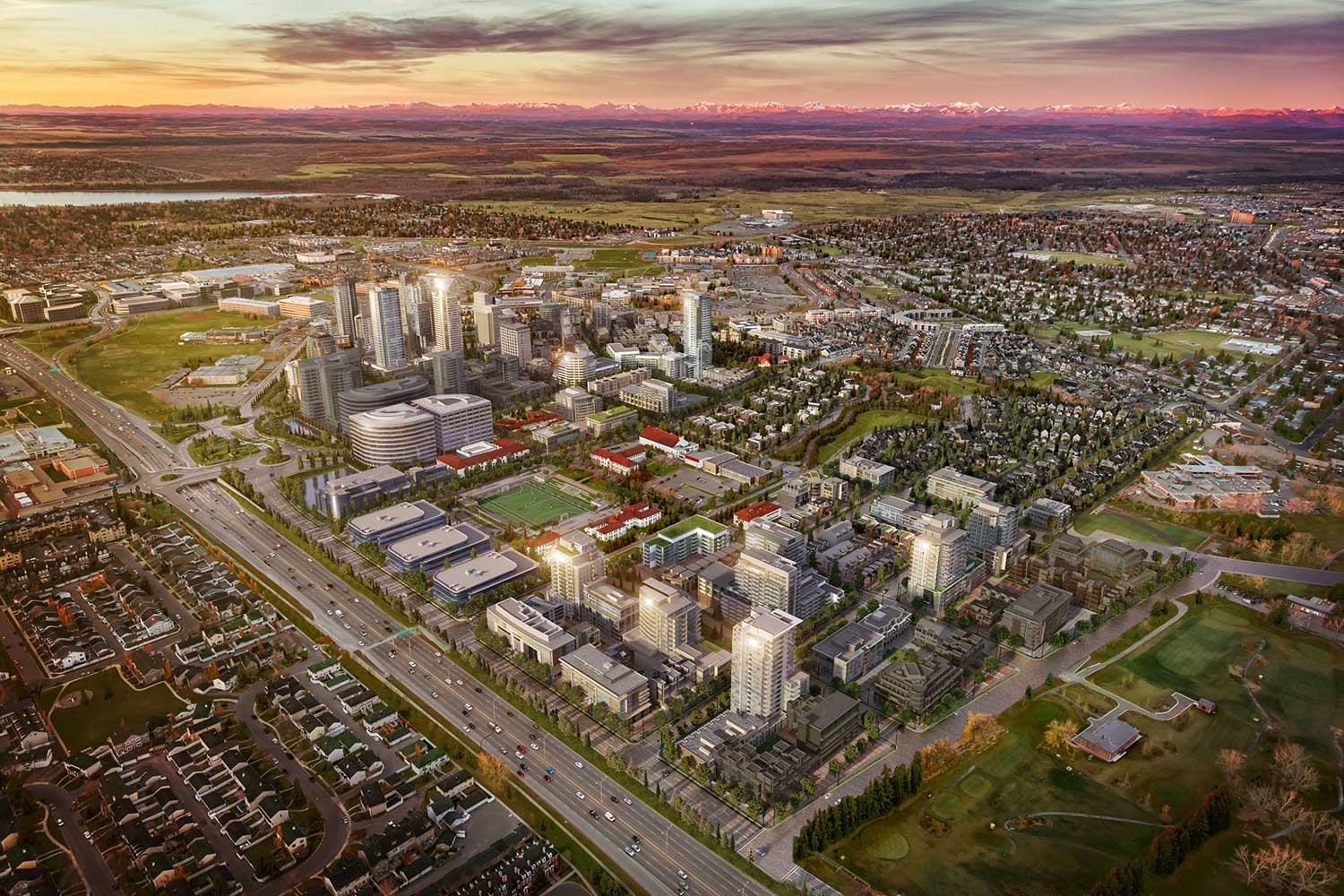 With 5700 residential units and 245,000 square feet of retail space expected, Currie is being described as a mini downtown. Photo courtesy Canada Lands Company
March 09, 2017 | CREBNow
Urban living, Currie style
Major infrastructure and landscaping changes pave the way for Currie development
A new, major interchange is in full operation, with infrastructure built and the next stage of the massive Currie mixed-use development ready for launch.
"Last year we were focused on infrastructure. We started and completed the Flanders Avenue interchange," said Chris Elkey, senior director, real estate, Canada Lands Company (CLC), which is overseeing the project. "So that opened last fall. We had a big community event and it was a big success. It's operating. We're going to do the landscaping on it this year but for all intents and purposes it's opening and operating as it was designed to do."
"Along with that we had an infrastructure program on site. So we did a bunch of underground servicing – a bunch of shell and utilities and service work. We installed a number of roads in the project that are permanent. What that did is set us up to execute on some land sales and some new construction in the first phases of the project."
The total number of residential units for the Currie project will be 5,700 on completion. The first two phases are either complete or under construction. There are about 600 residential units with a diverse mix between single and multi-family homes.
Elkey says the focus last year was on infrastructure and now this year CLC is turning its focus to land sales for both single-family and multi-family homes. CLC intends to sell land to builders with the intent that construction starts either later this year or early next year.



The office market in Calgary is in terrible shape, so we've pushed the office out five plus years before we're going to get serious about considering new office space at Currie.



Twenty-three single-family home sites and five townhome sites are available for about 40 or so townhomes.
Currie, and its joint venture partner Embassy Bosa, is still working through the development permit process for the commercial part of the project which includes high-density residential as well. Elkey is reluctant to put a firm timeline on this, but says it is likely at least a year or so out.
"The reality is that the market's not great. It's still not great especially for a massive investment like the one that will be required in the initial phases of the core area. We're continuing to just monitor the market with Bosa," said Elkey. "We're going to get the permit in place and ready to go so that the gun is loaded for the time when the market comes back, but right now it's not intended to start this year."
The joint venture with Bosa has 2,500 multi-family residential units and 245,000 square feet of retail. The first phase would be about 700 residential units and 130,000 square feet of retail.
"The office market in Calgary is in terrible shape, so we've pushed the office out five plus years before we're going to get serious about considering new office space at Currie," explained Elkey. "If things turn around and come back quicker, we'll always adjust. We look at our plans annually in a formal way and we're always evaluating our plans to respond to changes in the market. But really we don't see much demand in the suburban market in the short-term at all," explained Elkey.
Richard White, an urban planning consultant, says the Currie site, which is similar to the University District, is on the edge of the city centre with great appeal to people who don't want to live right close to downtown. It has easy access out of the city on the weekend. The only problem is that it does not have an LRT line close by.
"It will be almost a mini-downtown," said White, of when the project is completed down the road. "It's a big development."
White says it's important in new developments of this magnitude to have a diverse range of housing options.
"Mixed-use ideally should mean mixed income and mixed ages. And if you're thinking the word 'community' in the purest sense, a community has people from all ages and all backgrounds; and in order to do that you need different types of housing and you need different uses," said White.
Tagged: Calgary Developer | Canada Lands Company | Chris Elkey | Currie Barracks | real estate news | Uncategorized
---
---
Connect With Us