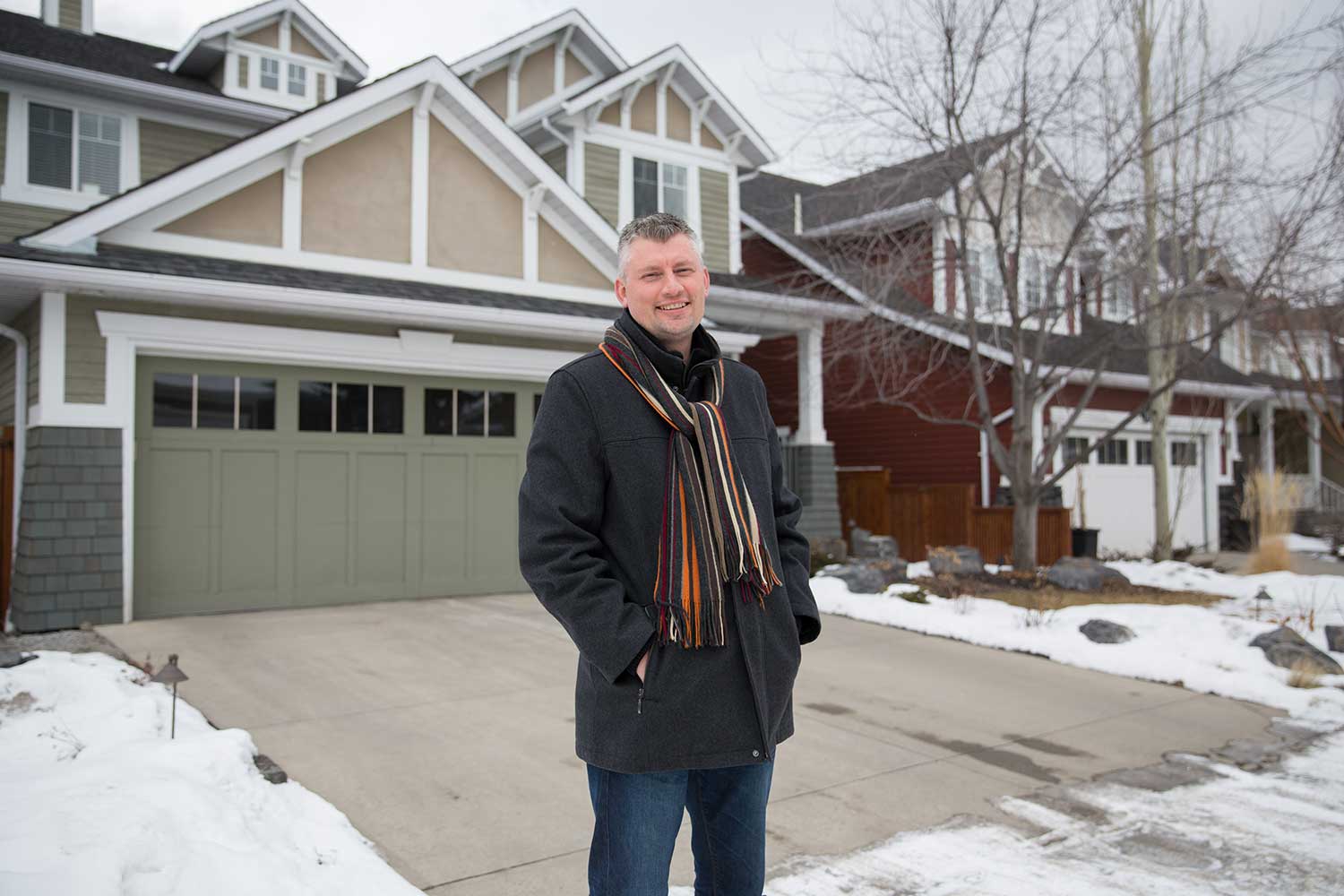 Jesse Row sees new energy efficiency programs as a way to save people money while boosting the economy. Photo by Adrian Shellard / For CREB®Now
March 09, 2017 | Barb Livingstone
Energy is Money
New energy savings programs set to save Albertans money
Saving money and energy in your home has just gotten a whole lot easier.
The province has announced details of energy savings programs aimed directly at all Alberta residents, whether they are homeowners, renters, or businesses.
Alberta may be the last North American jurisdiction to join the energy efficiency program bandwagon, but David Dodge, the first chair of Energy Efficiency Alberta (EEA), the government agency in charge of designing and running the programs, says things will move quickly to catch up.
"These programs are designed to make Albertans more resilient and save them money."
The most immediate impact will come through the $21 million Residential No-Charge Energy Savings Program, providing apartment,
condo or single-family home dwellers with a free evaluation of potential efficiency upgrades.
At the same time, the service person can install energy efficient products, including LED nightlights, faucet aerators, low-flow showerheads, advanced power strips for audio-visual equipment, Smart thermostats – at no cost.
The evaluation is expected to start in April and instillation will take about an hour. Residents can register now at www.efficiencyalberta.ca



When people save money on their utilities, they spend that money on other things. The big
benefit of these programs is that everyone can participate.



The program is just one of four already slated to roll out this year, all funded by the province's new carbon levy.
Another big incentive for homeowners is the new Residential Retail Products program, which launches in April. It will offer incentives for the purchase and installation of products, including energy efficient appliances, windows, water heaters and thermal insulation.
The $36 million Residential and Commercial Solar Program will offer rebates to homeowners, businesses and non-profits that install Solar Photovoltaic (PV) Systems starting this summer.
The solar program's goal is to have new panels on 10,000 rooftops in Alberta within three years, while cutting residential solar installation costs up to 30 per cent (up to 25 per cent for businesses/non-profits), and reducing greenhouse gas emissions by half a million tonnes.
The fourth program (Business, Non-Profit, Institutional Energy Savings) will help organizations reduce emissions and energy use through incentives on products and installation of energy-saving lighting, heating, ventilation, air-conditioning and water heating. It launches in April, but Albertans can register now at www.efficiencyalberta.ca
Dodge says EEA is already designing future programs involving deeper measures like retrofits and support for larger energy efficiency projects. He says the resulting economic diversification will bring the province into a billion-dollar global clean energy economy.
"These programs will just help us all do better," said Dodge.
Jesse Row, executive director of the Alberta Energy Efficiency Alliance, a member-based industry alliance that has been pushing for programs during its 10-year existence, says his organization is very happy with the move forward.
Row was part of the seven-person Alberta Energy Efficiency advisory panel that produced the report recommending everything from new programs to oversight, after hearing from the public, industry and energy experts.
He says the programs will save Albertans money in the short-term and will also create additional savings by reducing the need for new transmission lines.
"When people save money on their utilities, they spend that money on other things. The big
benefit of these programs is that everyone can participate."
Tagged: Albertans | energy efficiency alberta | Energy Programs | energy savings | green | Uncategorized
---
---
Connect With Us