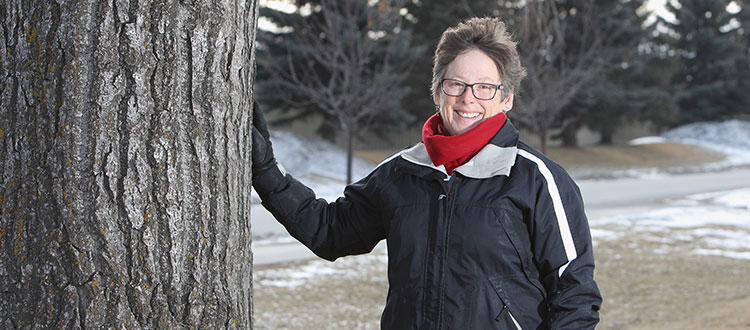 Jeannette Wheeler is a believer in the power of trees to improve our urban lives.
Feb. 10, 2017 | Gerald Vander Pyl
Socialize with trees
Beyond beautification, trees provide a bevy of benefits for urban dwellers
Even before the turn of the century, early civic leaders envisioned Calgary as an urban oasis, with broad tree-lined streets connecting numerous parks. In 1894, the City of Calgary started planting trees along major boulevards in the city, beginning the effort to create an urban forest that continues today.
But aside from beautification, what's the point of an urban forest?
Jeannette Wheeler, Parks Urban Forestry lead with the City of Calgary, says their value extends far beyond beauty.
"...As we better understand urban forests, we see that they provide so much more," she said, adding that trees not only improve air quality, they also provide habitat and travel corridors for wildlife, and absorb storm water runoff.
Trees impart numerous social benefits, like reducing stress and improving mental health for residents of a city. Studies show they help reduce crime and even help people recover faster from surgery.
Wheeler says the urban forest also has economic benefits by moderating temperatures, which can reduce heating or cooling costs, boost tourism and business activity, and increase property values, including people's homes.



We better understand urban forests, we see that THEY provide so much more.



She says trees on your property increase its value, "and if you're close to a green space, it's that much more."
Wheeler says the city maintains almost a half-million trees in parks and along boulevards. Other city estimates put the number of trees on private property as an additional 1.5 million.
However, Calgary's tree canopy has dipped in recent years from 8.51 per cent in 2012 to 8.23 in 2015, due to several natural disasters.
Wheelers says the flood of 2013 damaged many trees, but was localized along riverways and less obvious to Calgarians. The damage from three days of snowfall in September 2014, later dubbed "Snowtember," affected almost half the trees in Calgary's urban forest, according to city officials at the time.
A $35 million recovery effort was approved by city council which included the creation of a program to raise awareness of replanting efforts and the importance of the urban forest.
Renee Kirby, a director-at-large with the Westgate Community Association, says their area was hard hit by Snowtember and, in 2016, was part of the City's ReTree YYC effort.
Along with the city replanting trees in Westgate to replace those destroyed by the storm, a series of informative programs were held for local residents. Kirby says one focused on examining the urban forest that exists in Westgate, while another tackled the how-tos of proper planting and pruning of trees.
She says the events were a hit with residents, and provided some really useful information that can help efforts to boost the urban forest in their community, which at 60 years old, is facing the prospect of many original trees reaching the end of their natural lifespan.
Kirby says new trees need to be planted now, in anticipation of those that will die in the future, otherwise neighbourhoods like Westgate and others across Calgary will slowly revert back to the former, mostly treeless landscape of long ago.
"I think it's important to be responsible citizens, and to have that urban forest to keep our neighborhoods healthy for years to come – for our kids and our grand kids," she said.
For more information on the ReTree YYC effort, go to
www.calgary.ca/trees
.
Tagged: Environment | Green spaces | Uncategorized | Urban Trees
---
---
Connect With Us