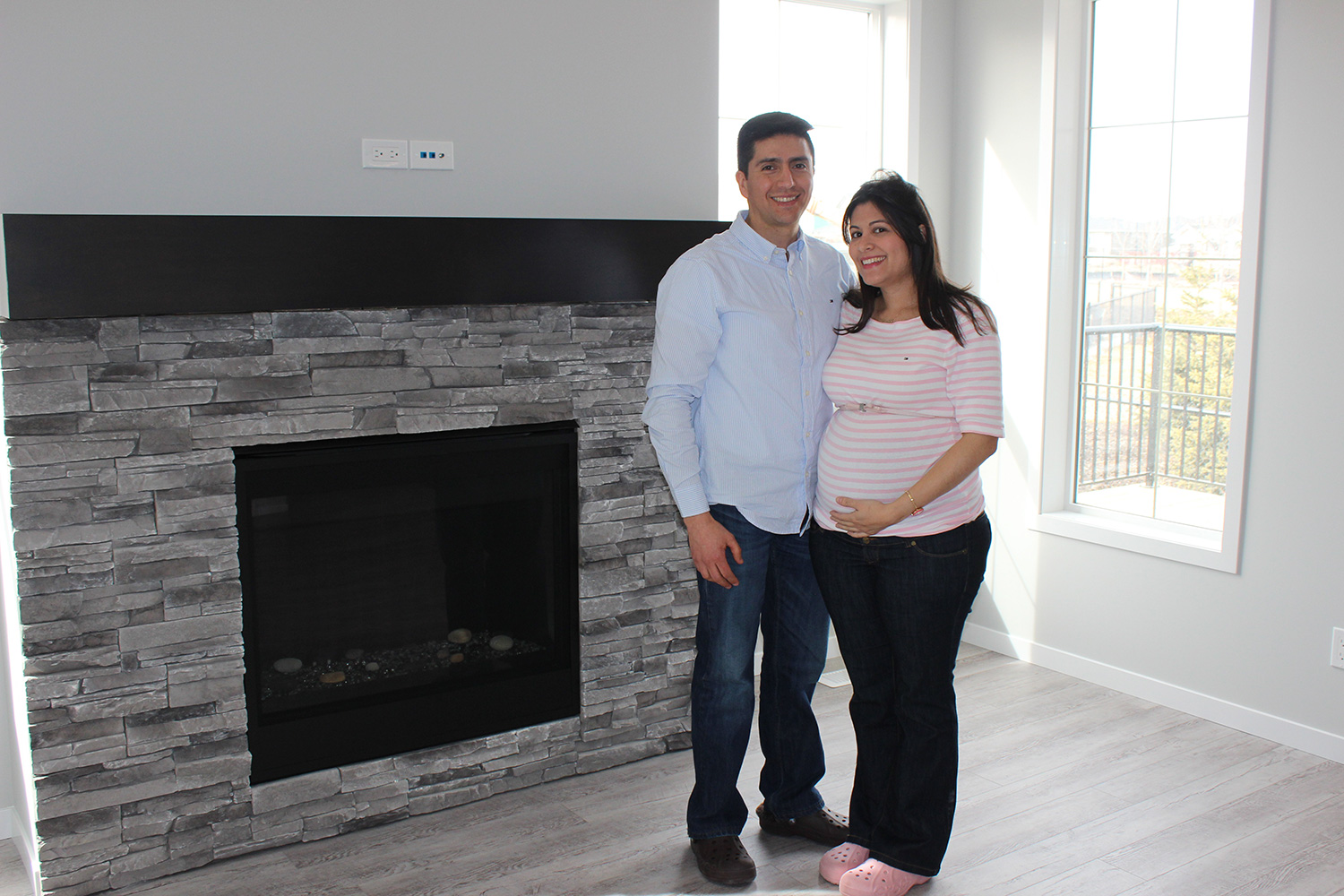 Maria Rocha Gil and Javier Gonzalez, recently purchased a 2,600 square foot house in Silverado. Photo by Andrea Cox / For CREB®Now
March 23, 2017 | Andrea Cox
Making it home
New homebuyers modify Baywest blueprint with the stroke of a pen
When CREB®Now caught up with Maria Rocha Gil and Javier Gonzalez, they were in the process of doing a final walk-through on their new home. They chose a 2,600 square foot, two-storey home by Baywest Homes in Silverado's Dressage, a southwest community adjacent to Spruce Meadows.
The home is situated beside a landscaped park with flower gardens across from Silverado's new elementary school. The couple, who are in their mid-30s, are expecting their first child in July and are excited to move in and get organized before their bundle of joy arrives.
CREB®Now: What attracted you to the community of Silverado?
Javier: We were living in Legacy, where we owned an attached home, but we needed something bigger. We checked out homes in Okotoks and toured Baywest's show homes out there, which we really liked. We knew though, that we wanted to live in Silverado, because when we came to Canada, Maria fell in love with horses and with show jumping. So we had spent time at Spruce Meadows and Silverado is right beside it. It's such an open area with beautiful views. And Baywest was building in Silverado, so it worked out really well.
CREB®Now: Did you make any changes to the plan of the home?
Maria
: Baywest was very open to changes. The ladies in the sales centre were so patient and gave us great advice. They took the red marker to the blueprints and said, "Ok what do you want to do?" When you are in the process of buying a house, you need someone who will be able to give you guidance through the process, someone with the knowledge to show you your options and they were fantastic.



They took the red marker to the blueprints and said, "Ok what do you want to do?"



Javier: We changed the layout of the kitchen. Because this is a corner lot, we put a window in on the far wall to take advantage of the view to the park, and switched the cooktop to the island and moved the sink, which was originally planned for the island, to the counter below the window. And I really wanted a gym space, which we put into the basement.
Maria: Because I have a lot of clothes, I am taking over the walk-in closet in the master bedroom. So we created another closet in the ensuite for Javier, using space from the adjacent bonus room. We also added a window and sink into the upstairs laundry room.
CREB®Now: How do you find the accessibility in Silverado?
Maria: I work at South Centre Mall, so for me it is really close – no more than a 20-minute commute to work.
Javier: It is a little farther for me. I work in the northeast, about half way to the airport, but I'm used to the commute. Everyone here always says, "Oh, it is so far," but I am from Bogotá, Columbia, a city of nine million people. It's really big and the traffic is terrible, always at a standstill. Two hours in the car is normal there. So a half hour commute is nothing for me. And, one really big advantage of this location is that both Deerfoot Trail and Stoney Trail are right here, so you have two options.
Tagged: Baywest | Buyer Profile | Buyer Profile | legacy | New home owners | silverado
---
---
Connect With Us