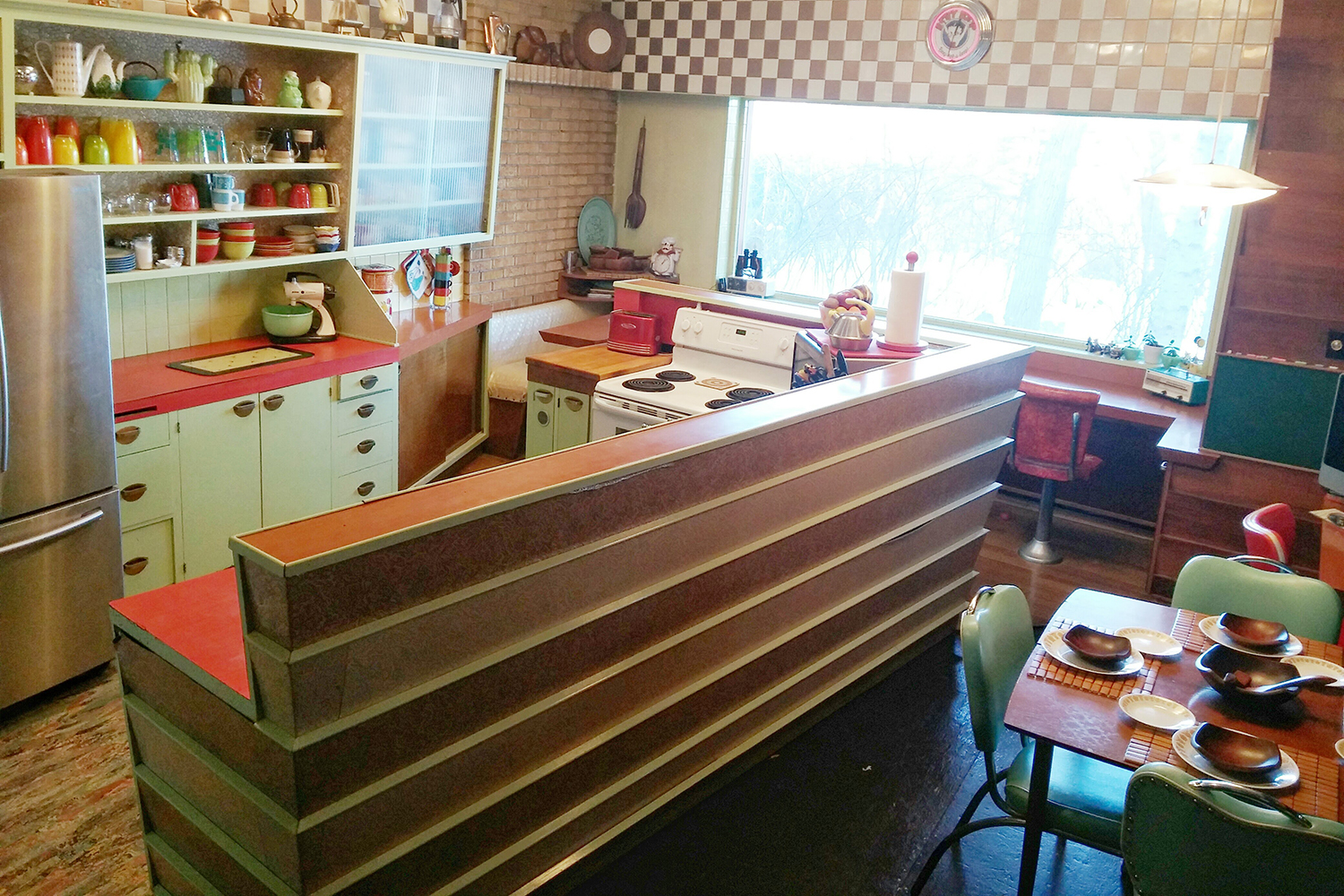 Courtesy Carol and Don Carruthers
Oct. 25, 2017 | Andrea Cox
Across the universe
Space-age design and retro décor are on full display in Carol and Don Carruthers' atomic ranch-style home
Tucked away on a quiet inner-city boulevard, lined with century old trees and dotted with mature lilac bushes, sits a vintage, 1950s-era architectural gem. Its space-age design – angles, offsets and images of starbursts, atoms and boomerangs (think The Jetsons) – is known as atomic ranch, a mid-century design trend inspired by the era's fascination with the space race. The design is funky, retro and eclectic, with sunken living spaces, vinyl tile and even a décor wall dotted with vintage bowling balls. Carol and Don Carruthers purchased the home in 2001 from the original owner, thinking they would renovate and flip it. But they fell in love with the home's quirkiness, laying plans for a modernization aside in favour of retaining the home's vintage character and mid-century feel.
CREB®Now:
What was your initial impression of the home?
Carol Carruthers:
Don came home one day and said that he'd seen this amazing home. He was thrilled with what he had seen. He said, "you've got to come and see this place." We weren't really planning on moving, but our kids were young and we were in a little two-storey home in Cliff Bungalow. I said, "okay, let's look." We started in the backyard. The house is on a third of an acre and it is all forested in the backyard, so when you see it from the back and you go through the grounds you think "wow, this is a beautiful chunk of property." Then we came into the house and walked around. There was way too much to take in – you were so over-stimulated with everything. When we got to the car, Don was so excited that I had seen the house and I was like, "okay, that thing needs to be torn down. I am so nauseated." And then, three months later, we were living in it.
CREB®Now:
How does the home's layout and design work for your family's lifestyle?
Carol Carruthers:
In 2001, when we moved into the home, our kids were still quite young – in Grade 2 and Grade 4. Growing up, the kids thought it was super cool and so did their friends.


The kitchen in the walkout basement was fine – it was functional. We had talked about moving the kitchen, but because of the way that the services come in – only on one side of the home – it just wasn't practical. The only challenge was carrying the big Costco boxes down there.

We took the fake turquoise beams out of the living room and added drywall, but other than that, we haven't changed anything. It's a rare find in Calgary – an original '50s home that someone hasn't torn so much out of that it's not identifiable as a structure from that era.

Don Carruthers: Now that we have lived in the home for 16 years, we are quite pleased that we really didn't renovate, leaving the home more or less intact. We are still using the rooms as they were intended. And we left the original, big picture windows in place. It may not be the most energy-efficient home, but we really get to enjoy so much of the outside. We just put on a sweater.

CREB®Now: You furnished the home beautifully with authentic mid-century modern pieces. Where did you source them?

Carol Carruthers: Every weekend, for the past two or three years, we have visited estate sales and garage sales. We find something, realize it isn't quite right, sell it and find something else that works better. It is really an ongoing process. Don calls me a ferret because I can find something anywhere. In the bar downstairs, all the liquor bottles and the glassware are original 1950s and '60s.

We started our Etsy store a year ago (Jimpiphany's Retro Emporium, named after the original homeowner) because we had so much stuff. We fell back in love with the things that we grew up with and it became a passion – all things mid-century modern for your home.

Tagged: architecture | Atomic Ranch | Buyer Profile | Carol Carruthers | cliff bungalow | Don Carruthers | Jimpiphany's Retro Emporium
---
---
Connect With Us