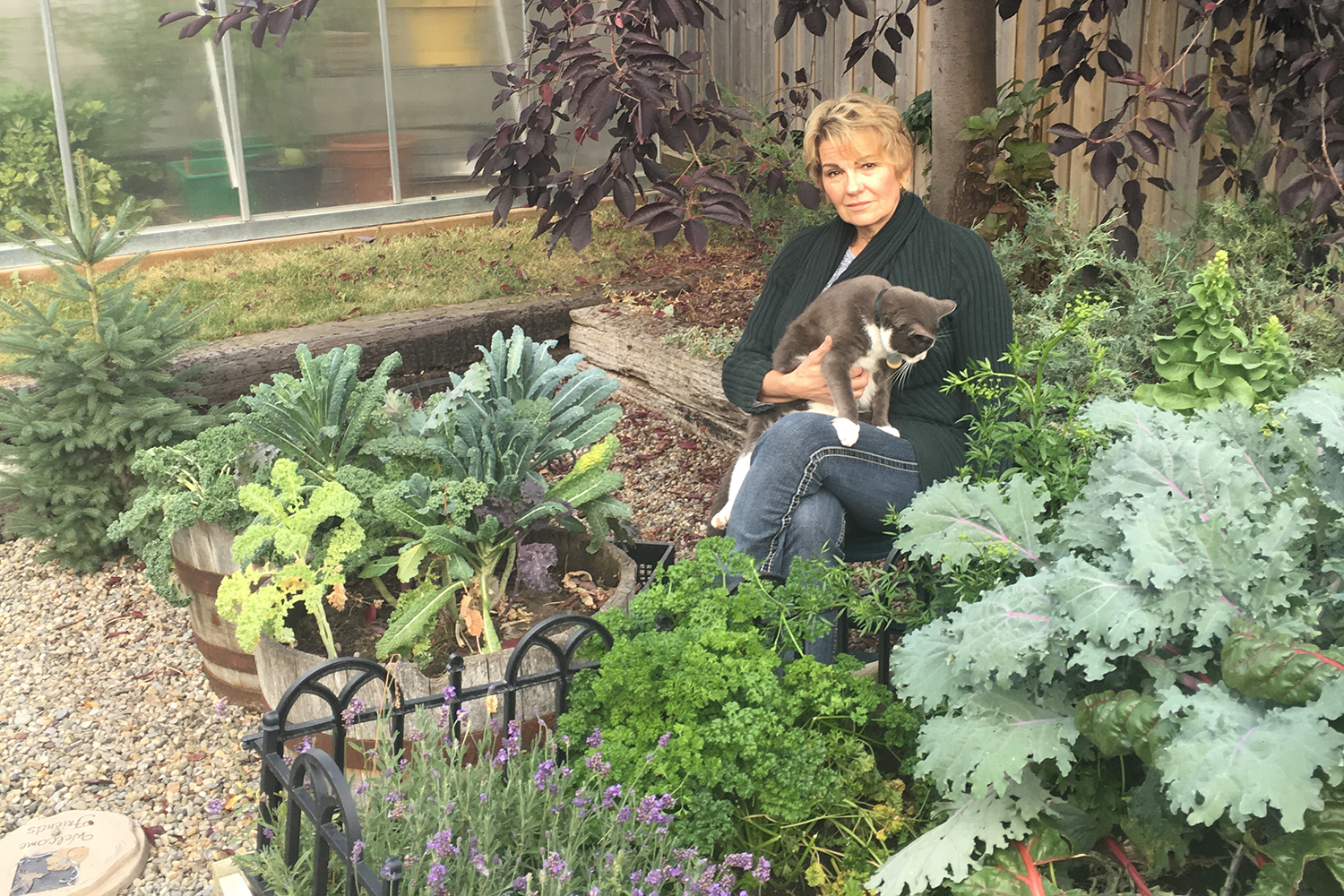 Katherine Moore is an avid gardener, so she and her husband needed a home with a large yard where she could work her magic. Courtesy Katherine Moore
Sept. 21, 2017 | Andrea Cox
Small home, big dreams
Katherine Moore found the perfect fixer-upper in cozy, mid-century, Montgomery bungalow
Katherine Moore was a "maker" long before the trend became cool. She's into canning (peaches are her delicious specialty), creates soap from scratch, designs clothing (she's a designer by trade) and re-finishes furniture. But perhaps her greatest love is making her garden beautiful.
So, when she and her husband David Foster, who loves to tinker and build things, were searching for a home, they had a small, but significant, wish list. The home had to be a little fixer-upper with huge potential and a big yard for Katherine work her garden magic.
CREB®Now:
What was it that really caught your eye with this property?
Katherine Moore:
It wasn't really about the house – it was all about the yard. It's 50' x 120', which is hard to find in the city, and there is this beautiful crabapple tree that was planted in the 1960s. When it blooms in the spring, it is just gorgeous.
The house was built in the 1950s. It was this cute, two-bedroom, 800-square-foot bungalow with original hardwood floors. We knew that we wanted to keep the house and renovate it. Everyone else in the neighbourhood seems to be buying and rebuilding infills, but we didn't want to do that. We loved the charm of the home and its personality. I'm a huge history buff, so I like knowing that I'm living in a home that has a past.
"We loved the charm of the home and its personality. I'm a huge history buff, so I like knowing that I'm living in a home that has a past."
Plus, we really love the neighbourhood of Montgomery. It's right next to Bowness and has a lot of the same characteristics. It began as a small town, like Bowness, and then it was annexed to the city much later, so it still has a bit of that small-town flavour. And I work downtown and can just take the express bus – it gets me there faster than driving and I don't have to pay the crazy downtown parking costs.
CREB®Now:
How have you renovated your home and garden?
Katherine Moore:
The home is super funky. I'm all about reusing, so I re-finished and re-upholstered furniture and re-cut and reshaped the original kitchen cabinets to create something interesting. We opened up the floor plan of the home and added an addition at the front so that we could bump out the kitchen and the master bedroom and add a dining room. I love my bathroom, it's probably my favourite room in the house. I sprayed the ceiling in gold leaf, found a claw-foot tub and re-finished it, and added mahogany wood detailing to a pristine white-wall backdrop.
In the garden, we had to cut down three cottonwood poplar trees that were taking over. I added a greenhouse where I grow tomatoes, herbs and celery. In the backyard, I created gardens and planted chokecherries, plum trees and raspberries. Every year, I plant a huge vegetable and flower garden. We added a deck that extends from the kitchen to take advantage of the views of the valley. Sipping coffee outside on the deck while taking in my garden and the view is just heavenly.
Tagged: Bowness | Buyer Profile | David Foster | Katherine Moore | Montgomery
---
---
Connect With Us