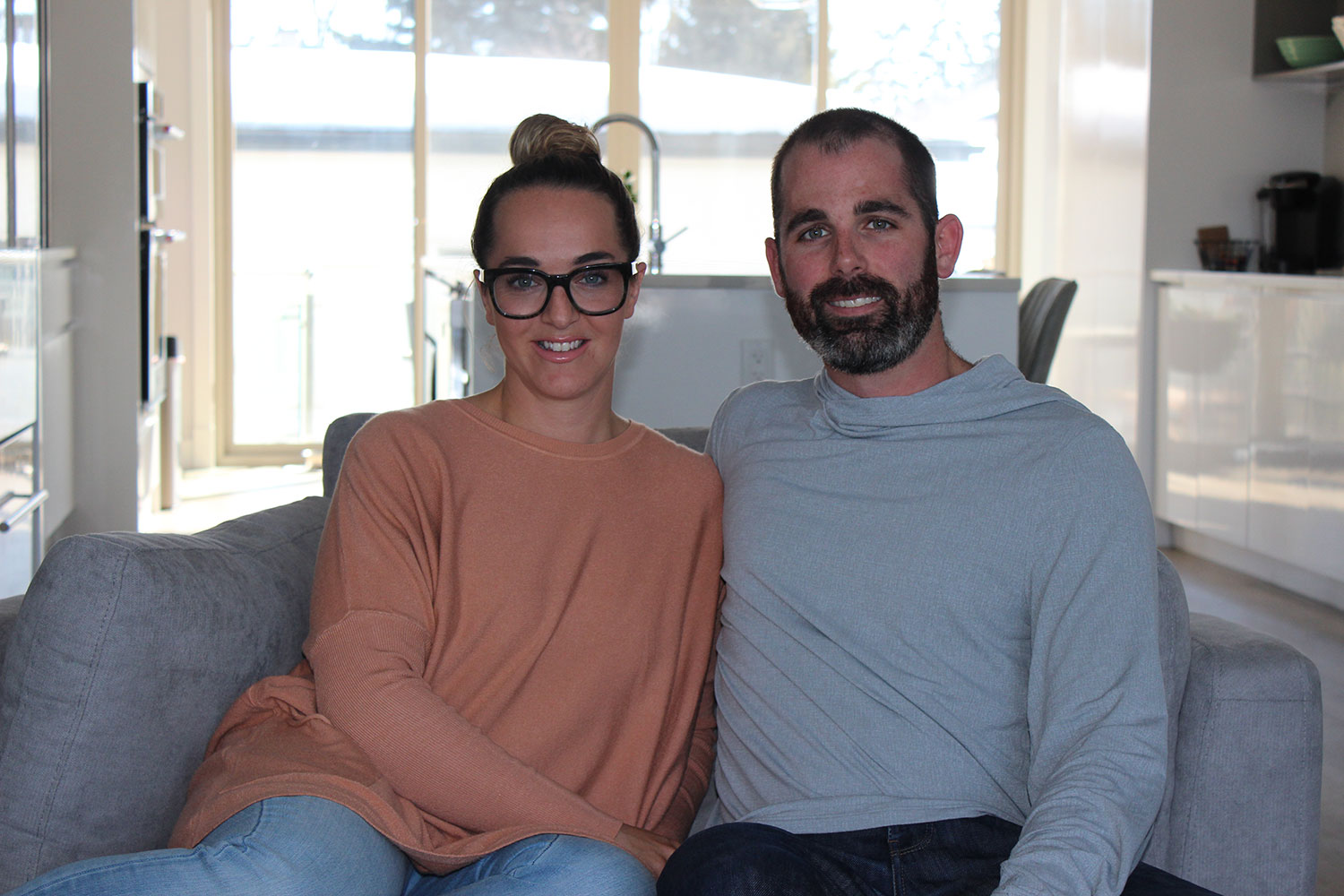 Courtesy Chris Roche and Marlo Giannaccari
March 28, 2018 | Andrea Cox
Worth the wait
Marlo Giannaccari and Chris Roche rang in the new year with new Windsor Park duplex
Marlo Giannaccari, 33, and Chris Roche, 31, began their home search two years ago, armed with a strong vision of their dream oasis. Location was top of mind, as was a modernist design approach and lots of room for their two adorable pooches, Pinot and Bronco. The couple had been living in Marlo's Windsor Park townhome, but they wanted to create a home of their own together. Eventually, they found a four-bedroom, two-storey, new-build duplex in the inner-city neighbourhood of Windsor Park. They moved into their light-filled abode in December, just in time to celebrate the new year.
CREB®Now:
Location was a key factor for you during the home search. Can you talk about where you looked and why you chose Windsor Park?
Marlo Giannaccari:
We wanted to stay in the inner-city neighbourhoods and preferably in the southwest. We looked in Killarney, North Glenmore Park, Altadore, Glamorgan and over the river on the north side in Parkdale and Bowness. But we both really like Windsor Park. We'd lived in the area for several years, so we knew it well. It has great accessibility to big-box retailers like Costco and to the stores in Chinook Centre. We also both work downtown and can get to the office in 15 minutes.
Windsor Park also has great access to River Park, where we walk our dogs. Afterwards, we will stop in Britannia for an ice cream at Village or a coffee at Starbucks.
The other thing that I really like about the area is that it is close to several very upscale neighbourhoods, which is an excellent mix for resale purposes. Instead of selling my townhome, I'm renting it out, because I think the neighbourhood has such great investment potential.
CREB®Now:
What was the impact of the economic downturn on your home search?
Marlo Giannaccari:
We began our search in 2016, and then the economic crunch hit the oil and gas sector. Both Chris and I took significant pay cuts, so we had to put the search on hold. But waiting actually worked a little bit in our favour. When we started our search, we were expecting to pay around $750,000, but we got into our home for considerably less.
CREB®Now:
How did you find your home and how did you know that it was the right place for you?
Marlo Giannaccari:
I drove past the home quite a bit while it was being built because my townhome was just a few blocks away. I really liked how it looked on the outside, and when it was complete, I checked it out on realtor.ca. It had this great big deck out the back and it was south facing – that was something that Chris really wanted.
Inside, they had basically decorated and finished it the way that I would have. It's a wide-open concept on the main floor with no wasted space. And there are a lot of upgrades that you would generally find in the $800,000 – $900,000 range of home.
What really sold me was the hardwood flooring – it runs through the entire home including the upstairs and that is so hard to find in an infill/duplex. I'm just not a carpet type of person, especially with the dogs.
Tagged: Altadore | Bowness | Britannia | Buyer Profile | Chinook Centre | Chris Roche | Glamorgan | Killarney | Marlo Giannaccari | North Glenmore Park | Parkdale | River Park | Windsor Park
---
---
Connect With Us