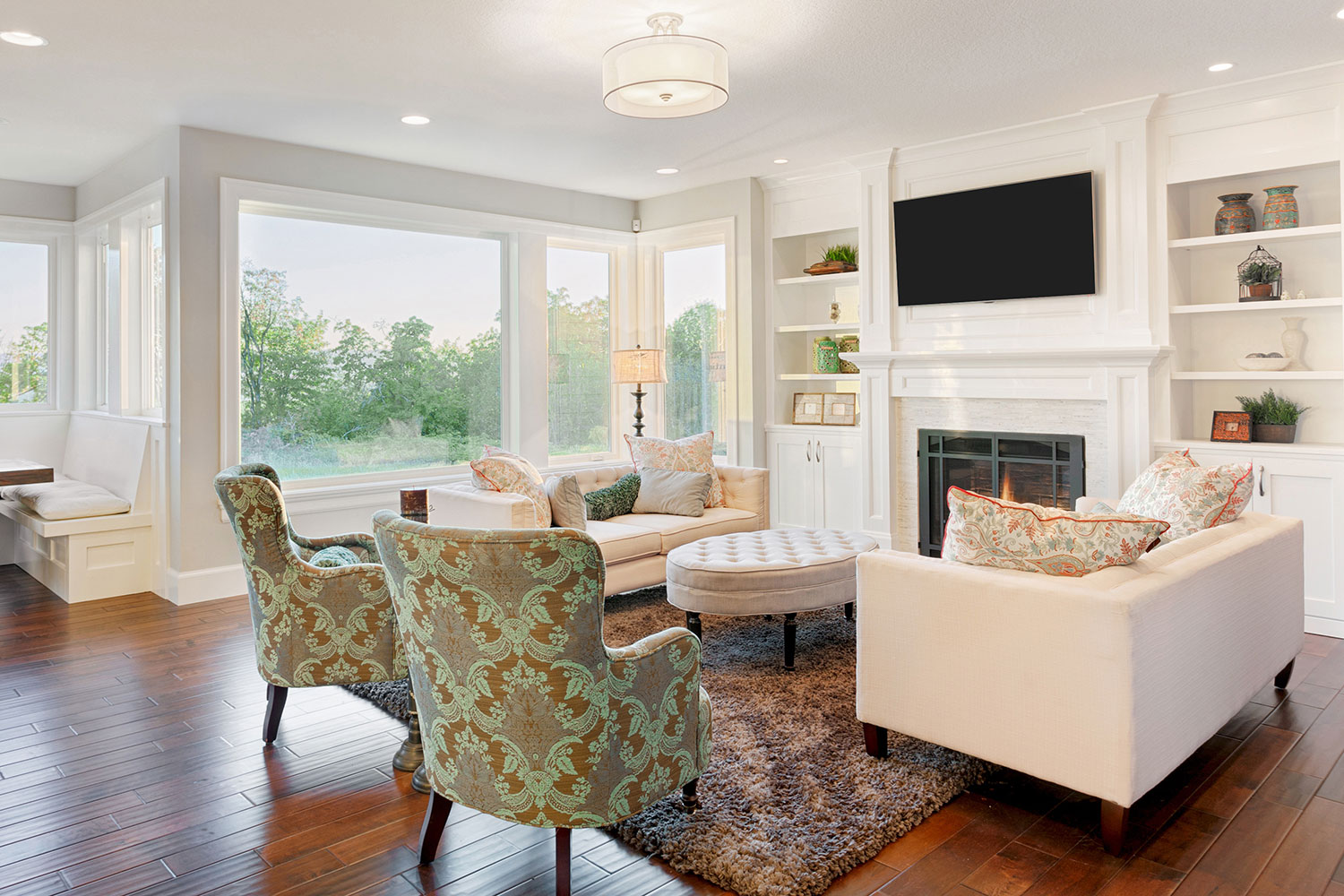 Your home needs to look its best for potential buyers, and that's where staging comes in. Getty Images
Sept. 13, 2017 | Tyler Difley
Best face forward
Staging your home for a successful sale
While many people are likely reluctant to spend extra money on their home right before they sell, the act of staging a house for sale is important when it comes to drawing in potential buyers. Staging can make a home look far more desirable and appealing, which can often be the difference between no offers and a done deal.
Here are some of the best staging tips to ensure your home puts its best face forward for potential buyers:
Improve your curb appeal

If the exterior of your home is not looking its best, buyers might decide to drive right by rather than venturing inside. Fresh paint on the front door and mailbox, and a new set of house numbers, can instantly freshen up the outside of the home. Power wash steps and driveways, attend to landscaped areas, and trim bushes and trees for a clean, welcoming look.
Declutter and organize

Storage space helps to sells houses, so make sure you use the space in your home to your advantage. Remove as many items as possible from the home. Throw out or donate what you can, and utilize a storage facility in the short-term for what you can't. Don't try to cram all your belongings in one room and hope buyers will stay away – they need to be able to view every part of the home. Try to organize your remaining possessions in ways that look tidy and natural. Often, too much furniture is the main culprit when a room looks cluttered. Pare down the number of pieces throughout the home to make rooms look larger.
Clean, clean, clean!

Once you've removed the bulk of the items from the home, dirt and grime have nowhere else to hide. It's time for a deep clean to leave everything looking spotless. You can do this yourself, or it might be worth the money to hire professional cleaners.
Slap on a fresh coat of paint

One of the easiest ways to refresh a room is a fresh coat of paint. That doesn't mean you have to repaint the whole house – even a small project like repainting trim can make a space look more refined. If you do decide to break out the paint and brushes, stick to warm, neutral colours. Colours preferences are very personal and distinctive or flashy hues might throw people off and deter buyers.
Opt for trendy lighting

All too common 10-15-year-old light fixtures look terrible and immediately make any room look dated. Replacing them with modern light fixtures will elevate the whole room and let it shine. And while we're talking about lighting, make sure rooms are well lit with ambient, task and accent fixtures to make the space bright and welcoming.
Define rooms

The number of bedrooms in a home is always a major selling point, so make sure bedrooms are presented as bedrooms and not as your office or gym – even if the room works double duty in your day-to-day life. These multi-purpose rooms muddy the overall layout of the home and make the space seem smaller. Each space should have only one defined purpose to avoid confusion among buyers.
Change the hardware

If you're willing to make the investment, new appliances, cupboards and vanities make a great impression when buyers are viewing your home. The cost of these upgrades can often be incorporated into the listing price. However, for those looking for a less expensive option, new knobs and pulls with modern finishes make cupboards look brand new, and new covers or doors can sometimes be ordered for certain appliances.
Get rid of undesirable odours

Pet, smoke, must, mould or mildew odours will quickly send buyers packing. Removing these smells might require a deep clean of certain areas. If odours can't be removed from carpets or pieces of furniture, replace them.
De-personalize

Remove religious imagery, photo albums and other mementos, which can be off-putting or even offensive to certain buyers. These can be replaced with neutral, modern art pieces that make a great impression without distracting from the rest of the room. Buyers want to be able to picture themselves living in the home, which is difficult if you've already put your personal stamp on it.
Landscape/groom your backyard

Lawns should be mowed, and hedges and flower beds should be well manicured. Make sure backyard toys and gardening tools are neatly stored away.
Finish unfinished projects

Unfinished renovation projects – big or small – and neglected imperfections or defects reflect poorly on the home and can scare away buyers. Finish those projects and make necessary repairs – the cost of the fixes will usually be lower than the figure a buyer might want to deduct from the asking price in their absence.
Add the finishing touches

Things like flowers, and fresh towels and soap in the bathroom, are small detail that make a big difference when it comes to making a great first impression on buyers.
Tagged: curb appeal | declutter | Feature | hardware | Home Sellers | Homebuyers | House & Home | lighting | staging
---
---
Connect With Us