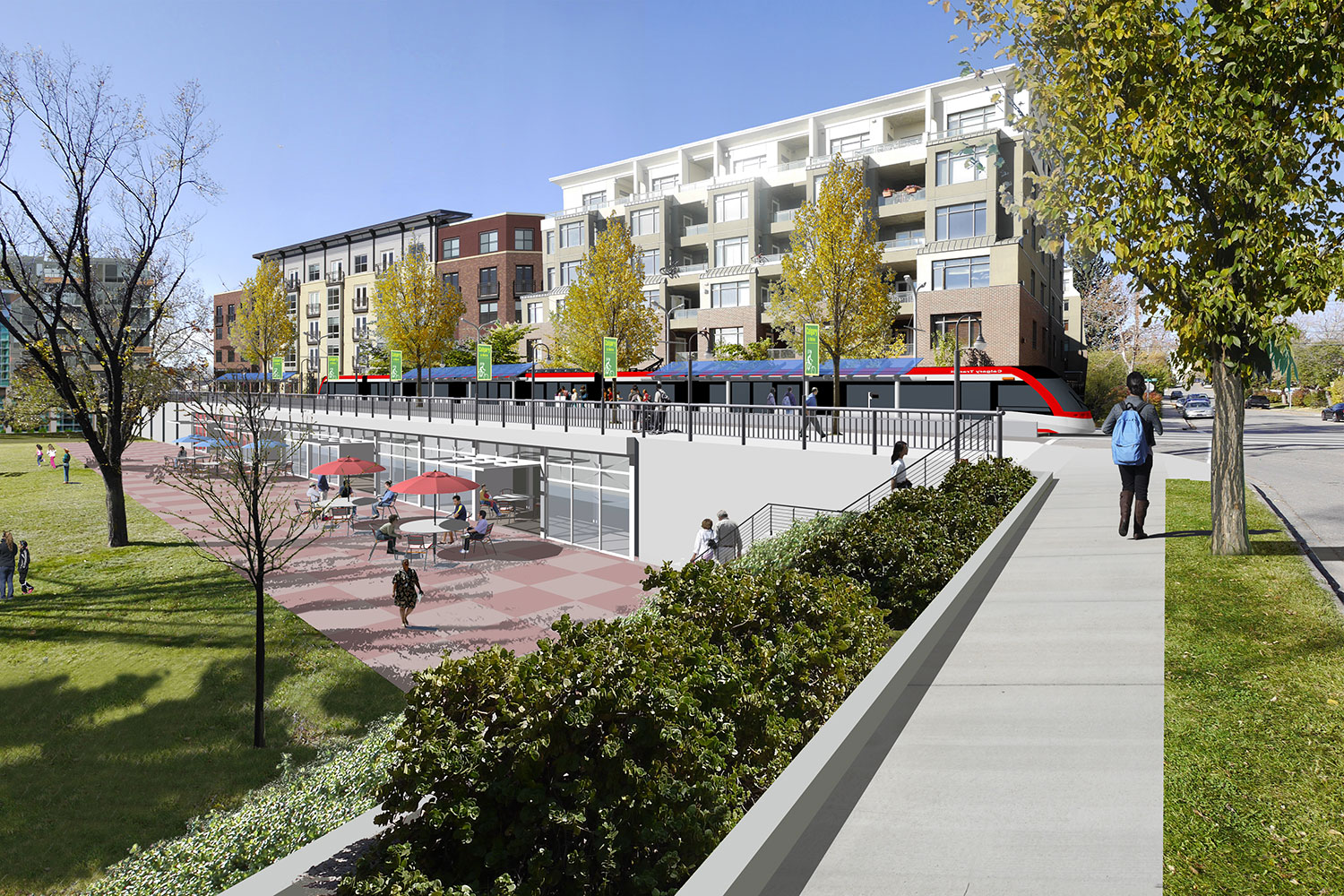 Transit-oriented development (TOD) around Green Line LRT stations could result in vibrant live, work, shop and play areas. Courtesy City of Calgary
March 21, 2018 | Barb Livingstone
Driving development
New Green Line LRT stations are poised to bring transit-oriented development to several communities
Proposed transit-oriented development (TOD) around first-stage Green Line stations is expected to turn city thoroughfares that currently lack curb appeal into new live, work, shop and play destination areas.
Later this year, station area plans or area redevelopment plans will go to city council for six of the 14 stations in the initial stage of the new LRT line – 16 Ave N., Inglewood/Ramsay, 26 Ave S.E., Lynnwood/Millican, Ogden and South Hill.
The Green Line's first phase will extend from 16th Avenue N. to 126 Avenue S.E., with construction slated to begin in 2020.
TOD policies – a 600-metre radius or about a 10-minute walk of each station – will affect land-use zoning, walk/bike accessibility and design features, while driving increased density and ridership for the system itself, says Misty Sklar, TOD planning lead for the Green Line with the City of Calgary.
The community of Crescent Heights is eagerly awaiting potential TOD around the underground 16th Avenue terminus (between 16th and 14th Avenues N.), not only for improvements to 16th Avenue N., but also to the adjoining, equally traffic-heavy Centre Street N.
"The single most important thing is we would love to see enhancement of the Centre Street corridor," said John McDermid, long-time community association board member and facilities director involved in Green Line consultations with the city.
"It is a brutal roadway," he added, thanks to the volume of transit and one-way traffic lanes (in peak times) in and out of downtown.
Crescent Heights, McDermid says, supports the proposed mixed-use development (a combination of four-to-six and eight-to-16 storeys of retail, office and residential units) along 16th Avenue N. and four-to-six storeys (retail topped by residential units) along Centre Street, stepping down into the community, which is dominated by single-family homes.
McDermid says new development along Centre Street will hopefully emulate Edmonton Trail, which in recent years has seen not only multi-family condo development, but also a strong mix of cafes, restaurants and other retail offerings into Bridgeland.
In Ogden, three Green Line stations (Lynwood/Millican, Ogden and South Hill) have TOD potential.
Rick Smith, president of the Millican Ogden Community Association, says his community is also hoping proposed re-development along Ogden Road will echo other inner-city communities, such as First Avenue N.E. in Bridgeland and Ninth Avenue S.E. in Inglewood.
"It would create that downtown image that existed many years ago," he said.
The community is more skeptical about South Hill, where Smith says the city is proposing a "High Street" in a primarily industrial area, while projecting a population increase of 7,500.
The Green Line TOD policies come after more than 10,000 people participated in a consultation process that included everything from online submissions to multi-day design charrettes, where experts and community stakeholders discussed possible scenarios in affected communities.
Sklar says while eight Green Line stations are not designated for TOD, that doesn't prevent TOD from happening there.
"It (just) means stations range from having a more commuter focus, while others may be within higher density residential areas with the opportunity to further develop with a wider compliment of residential uses, shops and services — ideally creating a destination," she said.
She emphasizes the city is not taking a "one-size-fits-all" approach, as each area's TOD land-use (high-level policies, not individual property rezoning) will go individually to council.
Erin Joslin, planning chair for the Ramsay Community Association, says her community has no significant concerns about TOD around the 26th Avenue S.E. station west of Crossroads Market.
But Ramsay – like Inglewood — is concerned over heritage homes being lost around the elevated "bridge" of the Inglewood/Ramsay station over 11th Street S.E. This station will connect the two communities with an upgraded 11th Street underpass.
Both communities are already meeting densification targets, says Joslin, and "these are some of the oldest properties in the city and don't need to be replaced by big towers. The Crossroads station can take on that density."
Tagged: Calgary Real Estate News | Centre Street | City Council | Crescent Heights | Erin Joslin | green line | Inglewood | John McDermid | LRT | Lynnwood | Millican | Misty Sklar | Ogden | Ramsay | TOD | transit-oriented development
---
---
Connect With Us