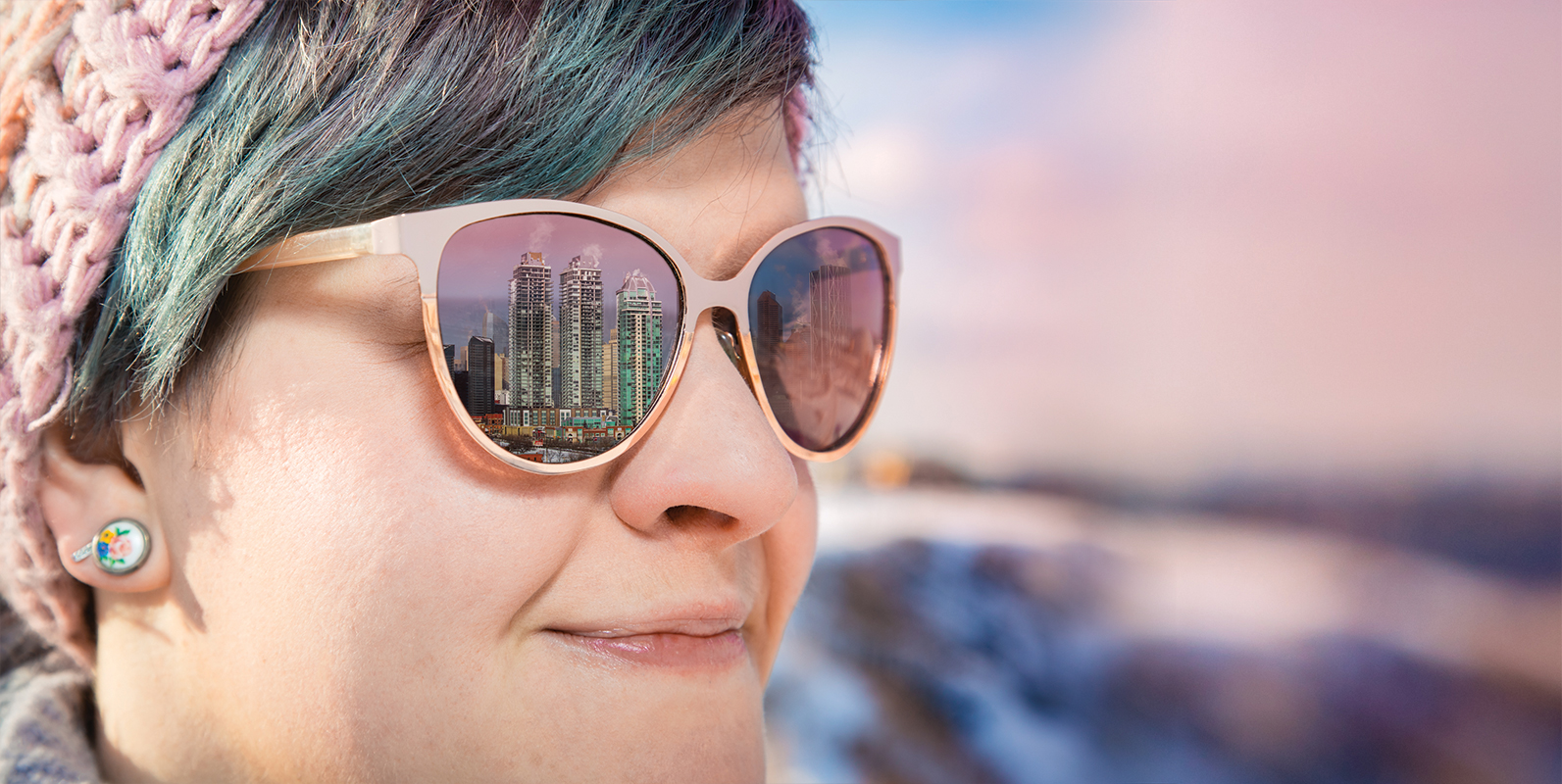 Andrea Cox / For CREB®Now
March 05, 2021 | Kathleen Renne
Walk it, bike it, like it: for many city-centre denizens, urban living is all about simplicity and connectedness
Jenna Dutton and her fiancé have called the city centre community of Ramsay home for the past two years. Prior to that, Dutton lived in next-door Inglewood.
"I'm drawn to the area because of the local shops, the heritage buildings, the diversity, the cool music scene and that everything is within walking distance," said Dutton.
In other words, Dutton is drawn to the urban lifestyle. It's a way of life characterized by walkability, community diversity and proximity of amenities, something she was exposed to while living in Montreal.
"I enjoy being outside. Being able to walk to places appeals to me," she added.
An urban planner who works for the City of Calgary, Dutton can bike to work in fewer than ten minutes. "I do it all year round," she said, adding that city centre living allows her to leave her car parked most of the week.
"I can bike to the Crossroads Market for groceries; I can bike to the gym," Dutton said, noting she and her fiancé – who share one car – primarily use their vehicle for going to hockey games and to the mountains.
Jenn Balderston, the executive director of the Sunalta Community Association, also says walkability is "huge" when it comes to urban living.
"Being at the centre of activity and being able to get to and from places easily is one of the attractions of living in the inner city," said Balderston.
Balderston moved from Drumheller to Sunalta in 2015.
"I feared I would miss the rural charm and that sense of community. But I actually found a greater sense of community here," she said. "The inner city feels a lot of social pressures that bring the community together."
Like Balderston, Peter Oliver – who has lived in the Beltline for nearly 14 years – notices a close-knit sense of community in the city centre. In fact, he believes the millennial generation has "shifted away" from the suburban lifestyle, because suburban living can contribute to isolation.



Being at the centre of activity and being able to get to and from places easily is one of the attractions of living in the inner city.



"In the inner city, you have more opportunities to run into people you work with and live near," said Oliver, who is also the president of the Beltline Neighbourhoods Association.
Over the last decade, Oliver says he has also seen a "marked shift" when it comes to couples staying in the city centre to raise their kids, instead of relocating to the suburbs.
"Despite the stereotype, it's a great place to raise a family," said Oliver.
In his 40-unit, apartment-style condo building, there are two families with young children.
"They love it. It's not a space mission to load the kids into the car just to go grocery shopping," he said.
"In the Beltline, you put the kids in a stroller and walk with them a block or two to get what you need."
Oliver says there are an increasing number of family-friendly events in the community, like the Beltline Bonspiel held at the Lougheed House in late February.
"It's not just millennials living here and people looking to go to bars. There are lots of seniors' apartments in the Beltline. It's a really diverse mix, both socially and economically, which creates a really cool vibrancy," he said.
Oliver describes the Beltline as "self-contained" when it comes to retail and entertainment. In fact, he says, were it not for his job in the northeastern quadrant of the city, he would only leave the city centre a couple of times per month.
He estimates that 30 per cent of the people who live in his building don't own cars.
"There are plenty of other options to get around, from taking a taxi or Uber, to using car2go, to taking transit," said Oliver.
He points to another advantage of the urban lifestyle: independent business owners tend to form relationships with their customers.
Oliver says this contributes to community building.
For Dutton, there's another intangible benefit of the urban lifestyle: the character of city centre communities.
"You can't create character. It develops over time. And you can't replicate that heritage character in the 'burbs'," she said.
Tagged: biking | Calgary Real Estate News | city centre | Feature | Inner City | Ramsay | walkability
---
---
Connect With Us