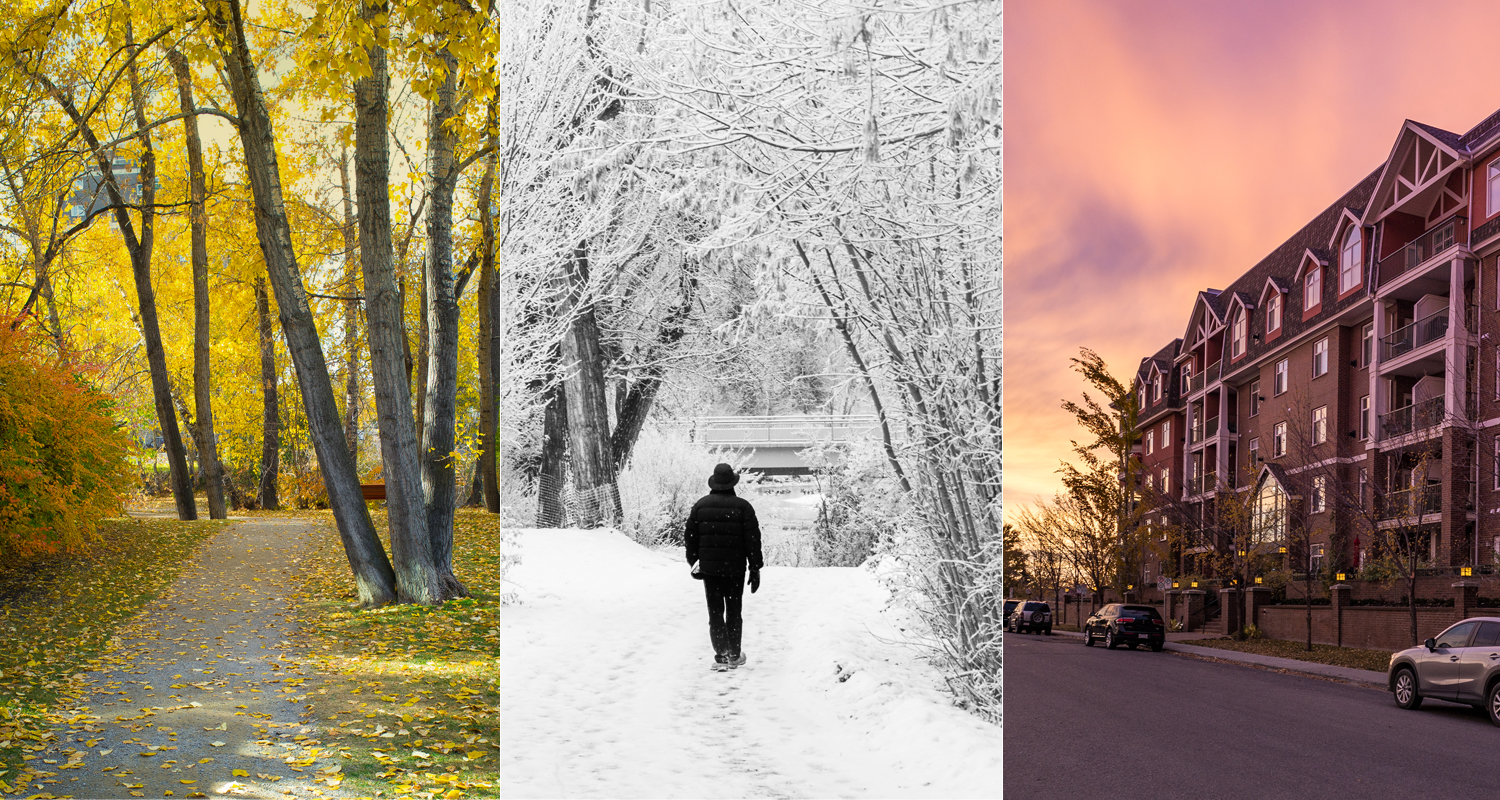 FRAM + Slokker's Verve condo development is currently under construction. Courtesy FRAM + Slokker
March 05, 2021 | Andrea Cox
Living the high life: Crescent Heights residents enjoy beautiful views and diverse amenities in the inner city
Perhaps one of Calgary's most beautiful neighbourhoods, Crescent Heights is a photographer's dream. Situated on a staggered bluff overlooking downtown to the south and the Rocky Mountains to the west, the community is peppered with two-century-old elm trees that create whimsical canopies along the streetscapes.
"We've lived in the neighbourhood for more than five years and the view just doesn't get old," said Victor Gallardo. "I'm always thinking how lucky I am to have my everyday running route include a spectacular view of downtown and the mountains."
Gallardo and his partner Kirstin Blair, who is the president of the Crescent Heights Community Association (CHCA), live on the east side of the neighbourhood close to Edmonton Trail in a 100-year-old home. "But there is wide diversity in home styles on our street – other smaller century old homes, detached new builds and duplexes and many older bungalows undergoing renovations including second storey additions," he said
Jennifer Black, who has lived in the area for two years, agrees. "We live in a new-build, semi-detached home, but there is huge variety in housing types here," she said. "Really, there is something for everyone."
"We've lived in the neighbourhood for more than five years and the view just doesn't get old." - Victor Gallardo, Crescent Heights resident
The location of the neighbourhood attracted Black and her husband to the area. "I love the proximity to downtown, the amazing parks, the walkability and the great local businesses," she said. "My spouse and I have only one car and it sits parked six days a week."
Black has a new baby, and she is excited that he'll have the opportunity to learn rock climbing, skating, hip-hop dancing, curling, tennis and swimming – all within walking distance.
"Plus, we have a dog and there are so many beautiful places to walk," she said. "Rotary Park has a fantastic off-leash area."
Gallardo says that Rotary Park is a great connector of people. "It's amazing for dogs and for building community," he said.
"There is always someone to catch up with when you are out with your dog, and although we don't have kids, this is the neighbourhood that we want to be in if we do."
Other appealing aspects of the community include walkability to a diverse selection of restaurants, grocery stores and amenities, and a great community centre designed by Jeremy Sturgess, where residents can ice skate, take a yoga class, play tennis and even attend bi-weekly concerts.
The community is well connected and hosts a multitude of events and festivals. This year marks Crescent's Heights 110th anniversary – it was incorporated as a village on May 1, 1908. In celebration, the community is hosting its first annual Village Days Placemaking Festival throughout May and June. Other events include a popular Stampede breakfast complete with pony rides and live music and Picnic in the Park, which takes place in August.
Blair says that plans for a community garden are underway. Meanwhile, community members and the CHCA wholeheartedly support the City of Calgary's Conserving Calgary's Historic Streetscapes plan to maintain and recreate the original historic pattern of boulevard vegetation designed and planted by William Reader, Calgary's first superintendent of parks and designer of the Reader Rock Garden.
"This pattern included elms, lilacs and Caragana," said Blair. "And many of the original streetscapes with these beautiful trees and shrubs are here in Crescent Heights."
Tagged: Calgary Community | City of Calgary | Crescent Heights | Crescent Heights Community Association | Downtown | Edmonton Trail | Jennifer Black | Jeremy Sturgess | Kirstin Blair | Reader Rock Gardens | Rocky Mountains | Rotary Park | Stampede | Victor Gallardo | William Reader
---
---
Connect With Us