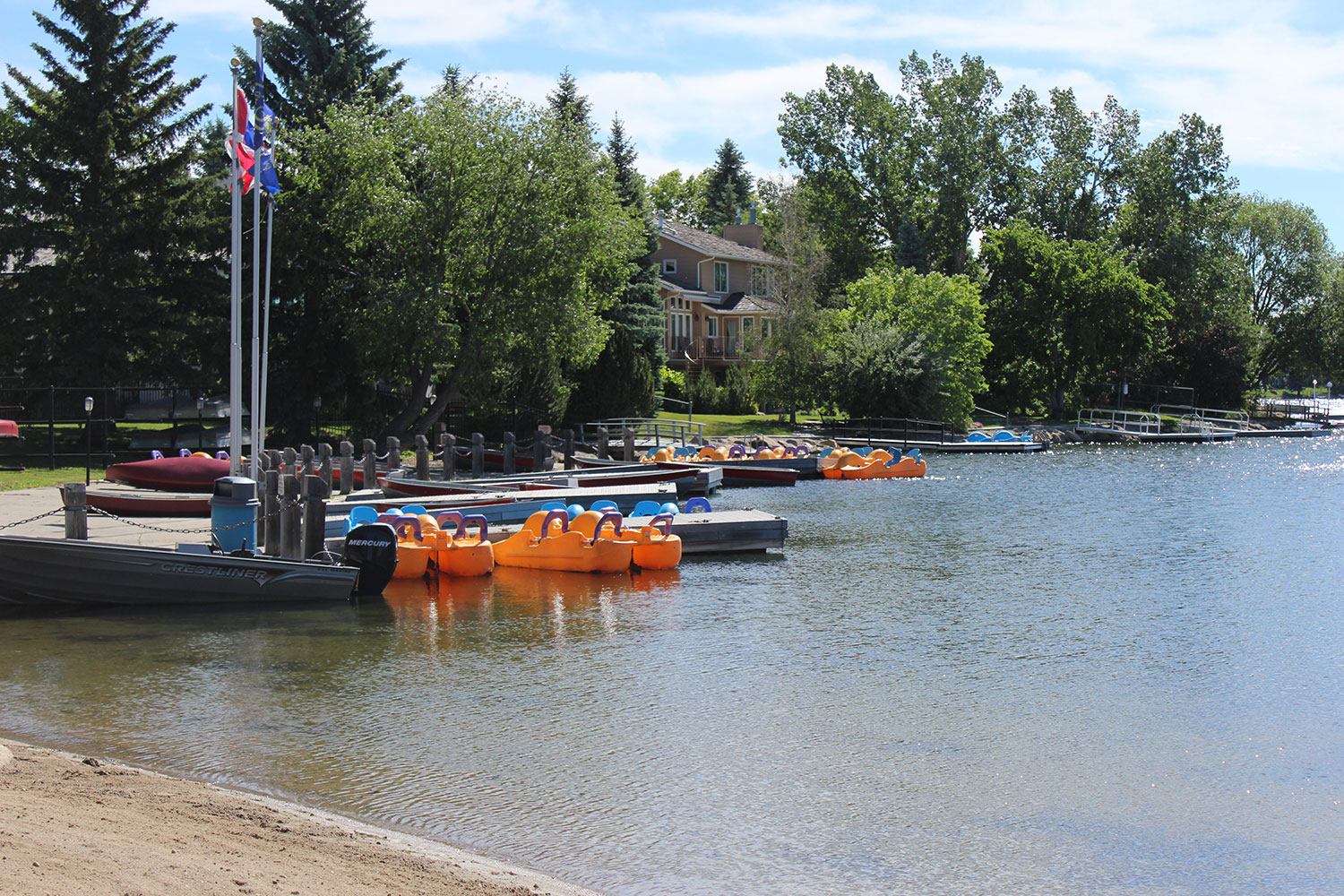 The crystal clear waters of Travers Reservoir are perfect for swimming and water sports. Courtesy Optimum Realty Group
March 05, 2021 | Andrea Cox
Old meets new: diverse residents and small-town spirit make Tuxedo Park stand out 
Anne Johnson and Jessica Klassen are two Tuxedo Park residents that can't say enough about the community's funky vibe and small-town community spirit.
"It's a really great place to live," said Johnson, who moved to the neighbourhood four years ago.
Klassen and her husband moved to the neighbourhood in 2004 as newlyweds, purchasing a charming, 1920s-era bungalow with an oversized backyard. They were drawn to the home by the location and the home's curb appeal, sense of history and great bones. They now have two boys who attend the local elementary school and ride bikes through the tree-lined streets with friends they have known since kindergarten.
However, it is not just the schools and camaraderie between the kids that make this neighbourhood a great place to live. It's the people that make it fabulous, says Klassen, whose cat went missing last year, prompting the entire community to organize a search.
"It was amazing how everyone came out to look for him," said Klassen. "And, when we were away on holidays, there was a hail storm that broke windows. Our neighbours came in and boarded them up and cleaned up the glass for us – just so nice."
Johnson agrees the neighbourhood is special. She and her husband moved from a high-rise condo in downtown Calgary and the difference between the two experiences was stark.
"We lived in the core for 10 years, and during that time, I think I met two neighbours," she said. "So, it was a bit of a shock moving here, where people were saying hello and stopping by the yard when we were outside, asking our names and chatting. It just has that really friendly small-town, inner-city feel."
That's probably why Klassen has watched the area slowly transform as more people move there, with sleek new contemporary infill-type homes replacing the 1920s and 1930s bungalows. Recently, the proliferation of new builds has started ramping up as well. "On our street alone, several new homes have gone up, including a condominium project on the corner," said Klassen.
"We've really seen a big shift in the past year or two. It used to be that seniors were our strongest demographic – it's now flipped and the greatest numbers in the community are young families with small children." - Anne Johnson, Tuxedo Park resident
Johnson, who is the president of the Tuxedo Park Community Association, says there is good reason housing diversity in Tuxedo Park is expanding exponentially. "The City has slated the area for densification, so we are seeing more condo development, brownstone-style townhomes and so on," she said.
The community is reveling in this newly created housing mix, as it is attracting a younger demographic – one that demands a funky, urban edge. This has allowed for new restaurants and amenities to creep in.
New restaurants are sprouting up along the Edmonton Trail and Centre Street corridors, adding to the mix of longstanding and eclectic retail offerings, such as Cabin Fever Books – an old-school bookstore selling a carefully curated selection of collectible, gently used and out-of-print books – and the popular Lina's Italian Market. "It's a really cool area to be in right now," said Johnson. "There is a little bit of something for everyone."
And Johnson says the community centre is really the hub of it all, catering to the community's diverse population.
"The building hadn't really been touched since the '40s, so it's going through a big upgrade right now and hopefully it will be finished in time for all of the programming to start in the fall," she said.
Residents can take classes in yoga or seniors' fitness, and recently, mom-and-tots programs and a variety of kids programming have been added to accommodate the neighbourhood's changing demographics.
"We've really seen a big shift in the past year or two," said Johnson. "It used to be that seniors were our strongest demographic – it's now flipped and the greatest numbers in the community are young families with small children."
Tuxedo Park's population is growing – according to the 2017 civic census, it currently stands at almost 5,000 residents. There is a variety of housing types in the community, and the population is split 50/50 between single-family and multi-family dwellings. The community boasts a respectable walk score of 71 and is flanked by two main roads in Calgary's northeast – Centre Street and Edmonton Trail. The area's borders encompass 16th Avenue to the south, 32nd Avenue to the north, 2nd Street NW to the west and Edmonton Trail to the east.
Although the community will be part of phase two of the city's Green Line LRT development, Tuxedo Park is already quite accessible, with access to several excellent transportation routes and a location close enough to downtown that residents can comfortably walk or cycle to work in the core.
Tagged: Anne Johnson | Cabin Fever Books | Calgary Community | Centre Street | City of Calgary | Edmonton Trail | Green Line LRT | Jessica Klassen | Lina's Italian Market | Tuxedo Park | Tuxedo Park Community Association
---
---
Connect With Us