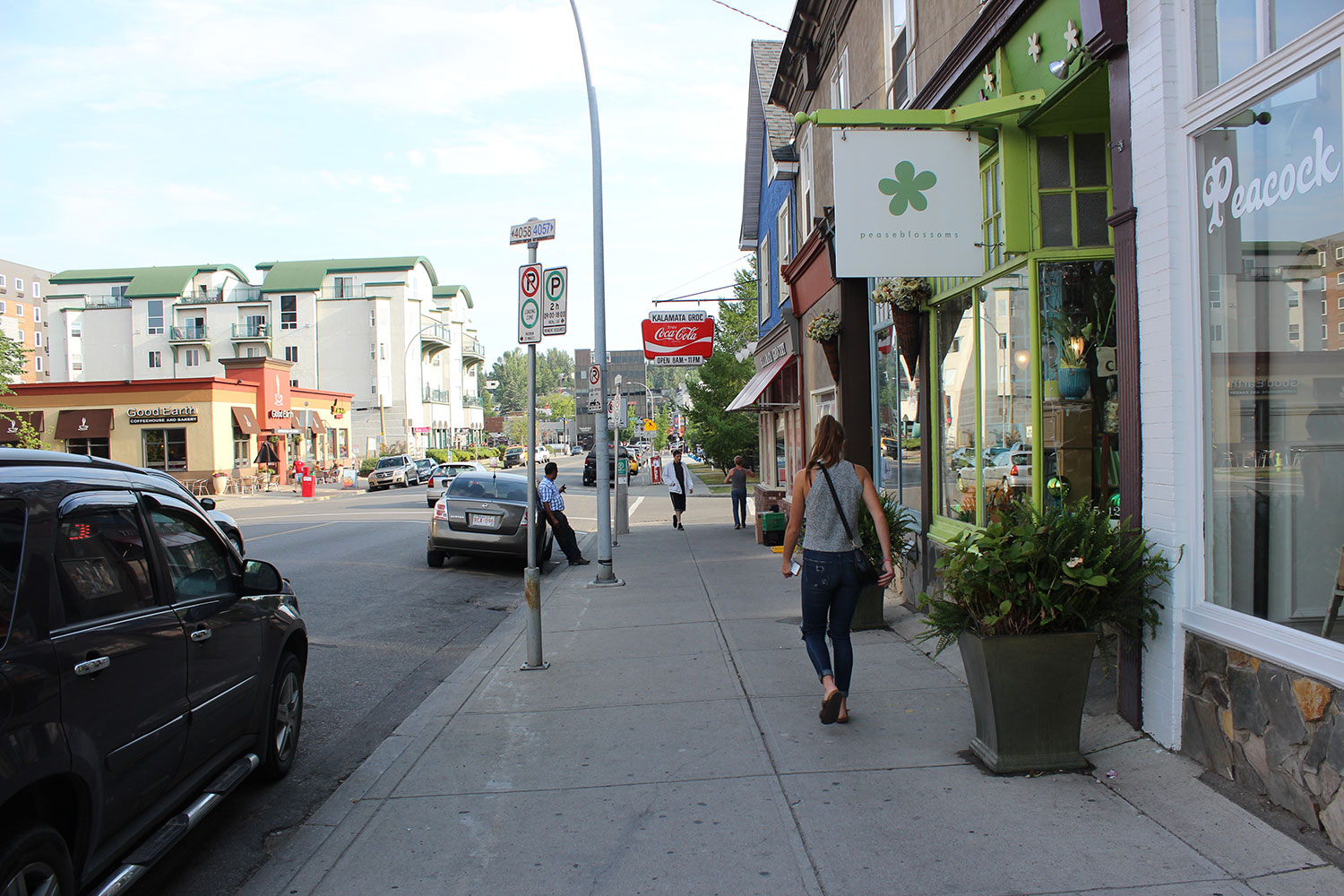 CREB®Now Archive
March 05, 2021 | Andrea Cox
Historic Connaught provides inner-city lifestyle with old-world charm
Humming with an eclectic, urban vibe, Calgary's inner-city community of Connaught attracts a variety of residents, from millennials to empty nesters. The community brims with multi-family housing, tree-lined parks, community vegetable gardens, purpose-built dog playgrounds, and a variety of unique restaurant and retail offerings. As an added bonus, many of these businesses, such as Kalamata Grocery and Analog Coffee, are spearheaded by local entrepreneurs.
"There is just this huge appeal – there are the parks and the trees and you are also in the thick of it. It's a real community where there is something for everyone," said Connaught resident Patricia Insole.
Insole and her husband purchased a penthouse condo on 15th Avenue and 13th Street S.W. in the late 1990s and, over the years, have watched the community grow and evolve.
"The skyline has changed so much since we moved here. So many new condo buildings have gone up in the area," she said, while gesturing at the sweeping expanse of cityscape in front of her from her 70-foot-long penthouse terrace. She also can't say enough about the community's walkability factor – she walks to work and her husband Mike, who is retired, enjoys walking through the community and chatting with neighbours.
Joshua Smith recently moved into a new-build condo close to 17th Avenue along 7th Street S.W. from Calgary's northeast community of Taradale on the northeastern edge of the city. The walkability factor was also a huge draw for him. He walks to his workplace in the downtown core – rain or shine – and on the weekends, he loves hanging out in his new neighbourhood.
"There is just this huge appeal – there are the parks and the trees and you are also in the thick of it. It's a real community where there is something for everyone." - Patricia Insole, Connaught resident
"Seventeenth Avenue is so electric and vibrant. There is always something moving," he said. "At 8 a.m. on a Saturday morning, the patio at Analog is full – it's a great place for coffee and to chat with neighbours or meet friends. It's a perfect way to get your day going."
Connaught is a community with deep historical roots. It was founded in 1905 and today one can stroll through old-world gardens and past heritage homes that preserve that sense of time and place – homes like Lougheed House, the estate and gardens of Senator James Lougheed and his wife Isabella Hardisty Lougheed, built in the late 1890s.
Today, Connaught has become a smaller community within the greater neighbourhood of the Beltline, but it still retains its century-old charm amidst the hustle and bustle of the inner city.
The community of Connaught covers the western part of the Beltline, encompassing the area west of 4th Street S.W., north of 17th Avenue S.W., east of 14th Street S.W. and south of 9th Avenue S.W.
Certainly, the location and amenities pulled Marina and Gavin Reeves away from the suburbs and back into the inner-city, where they both work. "We are both downtown people. We only have one car. We wanted to be able to just walk out the door and grab a cup of coffee, close to vibrancy," said Marina Reeves, an engineer. They recently purchased a townhome on 10th Avenue S.W., steps away from the Bow River and the LRT.
The couple has two dogs, so living close to parks and dog-friendly areas was also important.
"We really wanted to have a lifestyle that combined aspects of owning a house with the condominium lifestyle," said Reeves, noting that the west end of Connaught offers it all.
Smith also found the downtown lifestyle he wanted in Connaught, and he hasn't looked back. "I don't miss the suburbs at all," he said. "I have so much more time because I am not commuting."
Tagged: Analog Coffee | Beltline | Calgary Community | Calgary Downtown | connaught | Downtown | Gavin Reeves | Inner City | Isabella Hardisty Lougheed | James Lougheed | Joshua Smith | Kalamata Grocery | Lougheed House | Marina Reeves | Patricia Insole | Taradale | walkability
---
---
Connect With Us