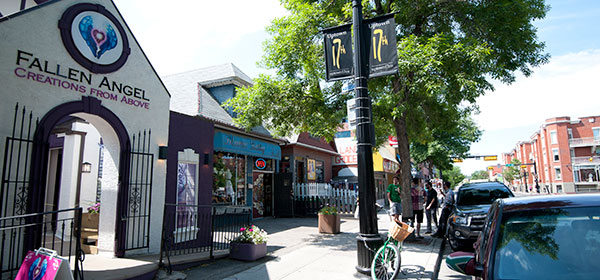 July 12, 2012 | CREBNow
Where All The Lights Are Bright
Report tags Uptown 17th Avenue with highest retail rents in Calgary
Colliers International has dubbed Calgary's Uptown 17th Avenue the city's most expensive street to rent on.
The commercial real estate company took a look at top retail corridors around the world including New York's Fifth Avenue, Hong Kong's Queen's Road Central, London's Old Bond Street and the Champs-Elysées in Paris in a Global Retail Streets survey. The survey found — out of 129 countries tracked — 51 posted higher year-over-year average rental rates, 49 remained the same and 24 were down.
"Retailers entering new markets — both developed and developing — continue to hedge risk by targeting the same one or two premier locations, generating heated competition and outsized rental rate growth in a handful of space-constrained corridors," said the report.
Uptown 17th Avenue scored the third most reasonable retail street out of Canadian cities surveyed with an average square footage rental fee of $55, the same price year-over-year in 2011 according to the report.
Uptown 17th has always been a bustling street but according to some sources has, as of late, been trading its kitschy shops for more food and drink establishments.
A March 15 Metro Calgary article stated soaring rents and land-use relaxations in the areas have been forcing independent, kiosk-style establishments out of the area while drawing food and drinking establishments in.
While that may be the case, Uptown 17th still has many retail offerings that have been there for years including Blame Betty, Gravity Pope and Rubaiyat as well as the new Hanson Square development, which is nearing completion.
Hanson Square brings 80,000 sq. ft to the 900 block of 17th Avenue with retail offerings on the first and second floor including a new Best Buy store. The third and fourth floors are set for office space and the development includes 180 underground stalls for public use.
Canada's top retail street rental rates included Toronto's Bloor Street at $310 sq. ft. and Vancouver's Robson and Alberni Streets at $150 and $105 per sq. ft. respectively.
The survey also took a look at Canada's luxury retail sector.
"Canada's luxury retail sector has never been stronger and incumbent powerhouses such as Holt Renfrew have expanded their stores in the last five years to preempt U.S competitors looking to satisfy an underserved market," stated the report.
The report touches on rumours that high-end U.S. department store chains are looking considering taking over Sears spaces at three "flagship" Cadillac Fairview properties including Calgary's Chinook Centre.
"Nordstrom, Bloomingdale's and luxury developers plans suggest that they feel consumers in some Canadian markets can support much more retail," said the report.
Is Calgary getting stores that you are looking forward to? Or do you prefer the individual small business retail?
Tagged: Calgary | Calgary Community | Calgary Real Estate News | Commercial | Commercial | Prices | Rent
---
---
Connect With Us