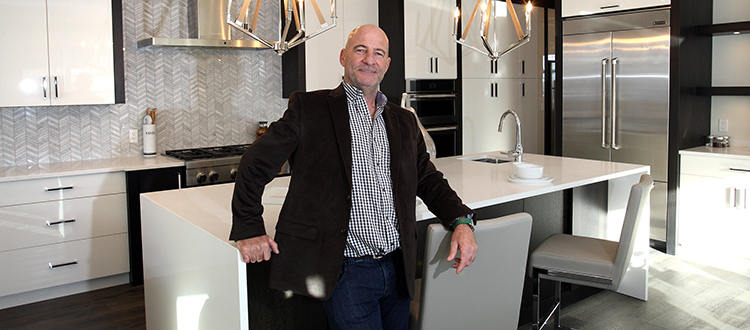 Cook Custom Homes presdient Brian Cook, pictured in his company's show home at the Point in Patterson Heights, said those who are working in economy-friendly industries are still building homes. Photo by Wil Andruschak/for CREB®Now.
April 01, 2016 | Andrea Cox
Above the curve
Small-volume builders say they've been largely unaffected by the economy
Alberta's economic downturn is not impacting all areas of the housing industry in the same way, according to small-volume builders who say their niche is, in fact, busier than ever.
"We are pretty much unaffected by the economy," said Brian Cook of Cook Custom Homes, a Calgary-based micro-builder that designs and builds five homes per year. "There is still money in Calgary and those who work in economy-friendly industries are building homes."
Cook noted one of the only differences he's seeing is in buying strategy, especially with spec homes. When the market was hot, buyers would tour a home once and put in an offer.
"Now, they are visiting a home several times over a period of months before making the final purchase decision," he said. "People are pondering longer."
Prices have also adjusted, although only slightly, added Cook.
"We've had to come down a little in pricing, but, really, the large estate homes are buffered," he said.
"It's really the micro-builders in the inner-city that are having challenges – that's where most of the people who have the oil jobs were buying."
Pedro Villamar, a real estate professional with RE/MAX House of Real Estate, agreed. He works with small-volume builders, primarily in the inner city, and has seen many of them start to get more aggressive in marketing their products – primarily custom and spec attached and detached homes.
"We've had to come down a little in pricing, but, really, the large estate homes are buffered."
"We are getting phone calls every day from micro-builders who were marketing in different ways, but they have come to us because it is a tougher market," said Villamar.
"It's not the type of market where you want to play around with cutting corners with marketing – you want to get as many eyes as possible on the product to get it sold."
According to CREB®, the benchmark price for detached properties in the city centre district in February was $658,000, down 0.6 per cent from January and 6.4 per cent from the same time last year. Semi-detached was $699,500, down 0.5 per cent from the previous month and five per cent from February 2015.
Those who are active in the inner-city infill market tend to be buyers moving up into more desirable neighbourhoods, added Villamar.
"We are seeing a lot of people moving up – which is the smart thing to do when the market is like this," he said. "What the market is doing is bumping up the strata. Buyers can now jump neighbourhoods."
For example, buyers who were once scouting side-by-side homes in Killarney are now looking at detached properties in Richmond Park; and those who were looking in Richmond Park are now focusing on South Calgary and Altadore.
"It is really hard to predict where the market is going, but it is a decent opportunity for buyers to get in and get some good deals," said Villamar. "And it is an incredible opportunity to get into communities that might have been out of reach just a year ago.
Tagged: builders | buyers | Calgary Community | Calgary Real Estate | Calgary Real Estate News | Calgary Real Estate News | construction | Home Prices | Homebuyers | infill | Inner City | New home | Residential | YYCRE
---
---
Connect With Us