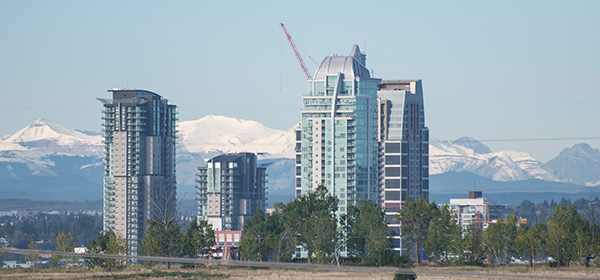 Oct. 03, 2013 | Cody Stuart
The Alberta Advantage
The temperatures around Calgary might be getting chillier, but the numbers coming out of the city's real estate industry are anything but.
Emphasized by recent numbers that show population growth in Alberta is nearly triple the Canadian average, MLS® sales in the city were up by nearly 20 per cent from a year ago. "The impact of the floods likely boosted sales throughout July and August, and it appears as though some of that additional demand is starting to ease," said Ann-Marie Lurie, CREB® chief economist. "Nonetheless, sales growth remains strong, in part because net migration has been stronger than anticipated and rental product is in short supply."
MLS® sales in Calgary numbered 1,923 units in September, 19.44 per cent higher than 2012 and 14 per cent higher than long-term averages for the month. The increase comes on the heels of population numbers from the Alberta government showed net-interprovincial migration to the province during the second quarter was the second highest on record.
Between April and June, Alberta gained 13,791 residents from other provinces, with most of those residents coming from Ontario (5,977), British Columbia (2,106) and Quebec (1,438). The influx has resulted in the province's population breaking for the four million mark for the first time in history.
"The increase to four million has been largely driven by migration," said Jessica Jacobs-Mino, spokeswoman for Alberta's Treasury Board. "We're drawing a lot of people into the province and have for some time now, and we continue to exceed expectations on a quarterly basis."
Undoubtedly playing a role in the number of homes changing hands in and around Calgary, Alberta's population increased to 4,025,074 as of July 1, a growth rate of 3.51 per cent, compared to the national average of 1.16 per cent. The increase is even more impressive when placed in a historical context, surpassing levels seen during the mid-2000s. The last time Alberta saw a similar influx was 1982, when the province welcomed 136,000 new residents for the biggest increase on record.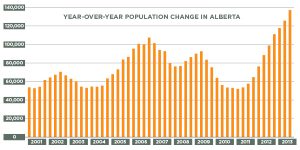 When looking for a reason so many are choosing to move to the province, August saw the addition of 15,200 new jobs in Alberta (adjusted for seasonality), marking the fourth month of significant gains since March.
According to
Statistics Canada
, the new jobs created in August were fairly evenly split between full-time positions (7,200) and part-time (8,000). Over the last 12 months, the province has gained about 77,400 new positions, giving it an annual growth rate of 3.5 per cent—the highest in the country.
A report from the Conference Board of Canada predicts Calgary's employment situation will continue to impress, with total employment increasing by an additional 2.8 per cent in 2014.
Among the changing factors greeting new Calgarians is an increasing number of homes to choose from. While monthly levels of new listings have been declining since 2011, over the past three months the levels of new listings have improved.
"The increase in new listings has given buyers more choice," said Becky Walters, CREB® President. While the growth was not enough to cause any significant changes in inventory levels, Walters said it has helped prevent further tightening in the market. However, with so many new people moving to the city, consumers searching for lower-priced single-family homes have had to adjust expectations or consider alternative communities or propertytypes.
"Selection is limited in the lower price ranges, but choice has improved for higher priced homes," said Walters. Lurie said the tight market conditions in the city have supported price growth, with benchmark singlefamily and condominium prices of $463,700 and $299,100, respectively, for the month – similar to unadjusted levels recorded in August and more than seven per cent higher on a year-over-year basis.
"Tight market conditions have supported price growth in the Calgary market," said Lurie. "But the pace of unadjusted monthly growth has eased in September. "While prices show strong year-over-year gains, if the level of new listings continues to improve relative to sales activity, prices should level off for the remainder of the year."
Monthly Housing Summary
- CREB®
Tagged: Calgary Monthly Housing Summary | Calgary Real Estate | Calgary Real Estate News | CREB® Chief Economist Ann-Marie Lurie | Statistics Canada
---
---
Connect With Us