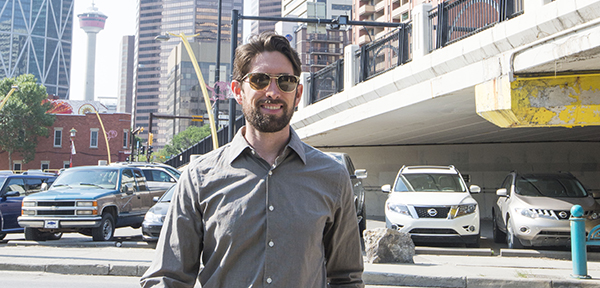 Aug. 20, 2014 | CREBNow
Parking perception
Driving only one option for Calgarians looking to access the downtown core
For Calgarian Eric Westrum, cycling to work downtown is a no-brainer.
While he now lives in close proximity to work, Westrum used to live in the northwest, meaning a 30-minute two-wheeled commute.
"I like my bike because I can get to where I need to go quickly and effortlessly, especially downtown, and not have to worry about parking," he said. "The downtown core and parts of the Beltline are probably worst for this problem and I find I can get to most places as quickly if not faster than if I were to drive."
In a 2012 report by Colliers International, Calgary's monthly parking rates were ranked the third highest in North America – placed only behind New York's midtown and downtown – averaging $439.93 a month. Canadian cities following in Calgary's pricey parking footsteps – at median
unreserved monthly rates – were Montreal ($331), Toronto ($295) and Vancouver ($278).
"I drive downtown everyday," said Alison Allen, who commutes from the southwest community of Silverado. "I actually have reasonably priced parking right now, $350 per month, however I do think the price of parking downtown Calgary is absolutely ridiculous.
"There is an Impark lot right next to our building that costs $44 per day, to park your car. Outside. Not covered."
Chris Blaschuk, manager of the Transportation Strategy Division with the City of Calgary, said there are about 47,000 parking spaces in Calgary's downtown and the price of parking is determined by the market, as the City doesn't have a policy for the matter.
Of those 47,000 spots, 6,573 on-street and 8,094 stalls, about 18 per cent of all paid stalls in the city are managed by the Calgary Parking Authority (CPA) while others are managed privately.
There are those who still choose to rebel against paid parking. Within the CPA alone there were 57,490 tickets issued between Jan. 1 and June 30 – not including handwritten tickets related to safety issues or people illegally parked in handicapped zones. The CPA did note, the compliance rate for those who pay for their parking misdeeds is between 87 and 88 per cent.
In its annual 16-hour Central Business District cordon count, the City found car travel to and from downtown decreased by six per cent between 1996 and 2013. Despite the decrease, there are some concerns some of those 47,000 parking spots will be in danger with the approval of a cycle track network pilot project in the downtown core.
The network will include routes on Fifth Street, 12th Avenue, Eighth Avenue and Macleod Trail during the year long pilot. Dubbed "madness" by Ward 4 Councillor Sean Chu, the $9.38 million track was approved 8-7 by council in late April and is expected to open in summer 2015.
"Obviously there will be some impacts to the street parking from [the pilot] but we're working on a number of options to try and mitigate that impact as much as possible," said Blaschuk. "So, looking at adding on-street parking in other areas or changing how we use some of the parking authority parkades so that's some of the things we're looking at and council's given us some direction to do that."
The news is welcome to regular cyclists like Westrum but more bikes will necessitate more bicycle parking.
"I do wish that there were a few more bike parking racks so that I don't have to seek out a signpost or other object to try to lock my bike to," he said. "I use a U-Lock and sometimes that can be tricky to lock up to things other than the city bike parking stalls that are easily configured for that type of lock."
Catering to the crowd who'd rather pedal than park, a recent East Village development will include parking for bicycles and "microcars" only. To support the marketing platform, the "No car, No parking, No problem", buyers of the N3 by Knightsbridge will receive a $500 credit for Car2Go and an urban bicycle.
"We are extremely excited about N3," said Michael Brown, president and CEO, Calgary Municipal Land Corporation. "The East Village master plan vision places enormous emphasis on the pedestrian experience. You can see this focus demonstrated across the neighbourhood with pedestrian-only streets, pedestrian bridges, wide sidewalks and public parks designed for resting and visiting."
While driving and trying to find a parking spot, or cycling to the downtown may not be your cup of tea, those preferring to take a bus or CTrain has largely increased over the past few years. In 2013, Calgary Transit reported a ridership of 107.5 million, compared to just 90.3 million recorded in 2007.
Adding to Calgarians transit options, the west leg of the LRT opened in December 2012 and the new Tuscany Station is opening Aug. 23.
Tagged: Calgary | Calgary Community | Calgary Transit | commute | CTrain | Cycle Track | East Village | monthly | N3 | Parking | Rates
---
---
Connect With Us